Art Making Activity: "Moon Masque"
#MuseumFromHome Art Making Activity
inspired by Loïs Mailou Jones' "Moon Masque"
From The Westmoreland's Studio Programs Coordinator Michael Carsone (a.k.a. The Quarantine Crafter)
Join us in creating this all ages #MuseumFromHome Art Making Activity, inspired by Loïs Mailou Jones' Moon Masque! This vividly colored work by Jones is featured in African American Art in the 20th Century, a nationally traveling exhibition organized by the Smithsonian American Art Museum, which opened at our Museum in February. Since the Museum is closed right now due to COVID-19, here's a way to engage with a work from this exhibition from your home.
We hope that you will find this to be a wonderful interactive activity to do with your child, or by yourself. Feel free to get creative and make any modifications you may need.
Supplies:


– Scrap cardboard* (Think about recyclable materials you may have around your house, like a cereal box!)
– Acrylic or tempera paint* (If you don't have paint, color the cardboard with markers or order paint from Michaels Arts & Crafts or Dick Blick.)
– Glue
– Scissors
– Some brushes and scrap paper
* For younger children, using brightly colored construction paper instead of the cardboard and paint is a nice option too.
Notes: You will need one large piece of cardboard for the backing of the art work – size is relative – plan for the backing to be large enough to fit your face shape with a border around it for placement of additional elements.
Instructions:
Step 1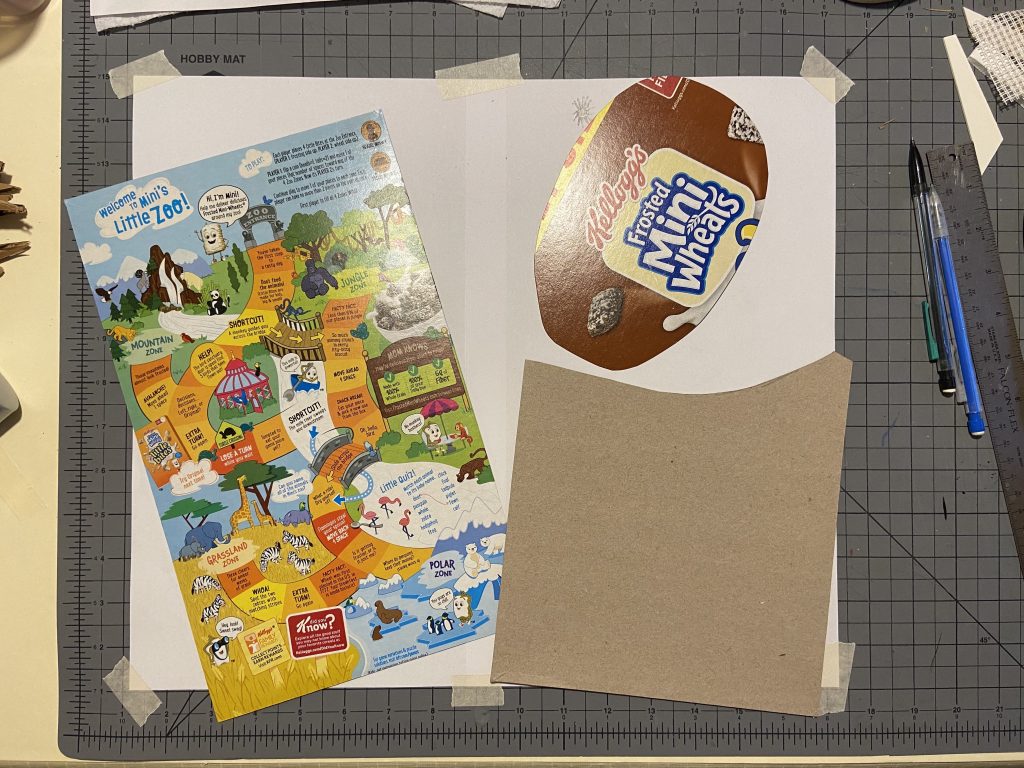 Cut out your face shape from a piece of cardboard. The remaining pieces can be cut into whatever creative shapes you choose.
Step 2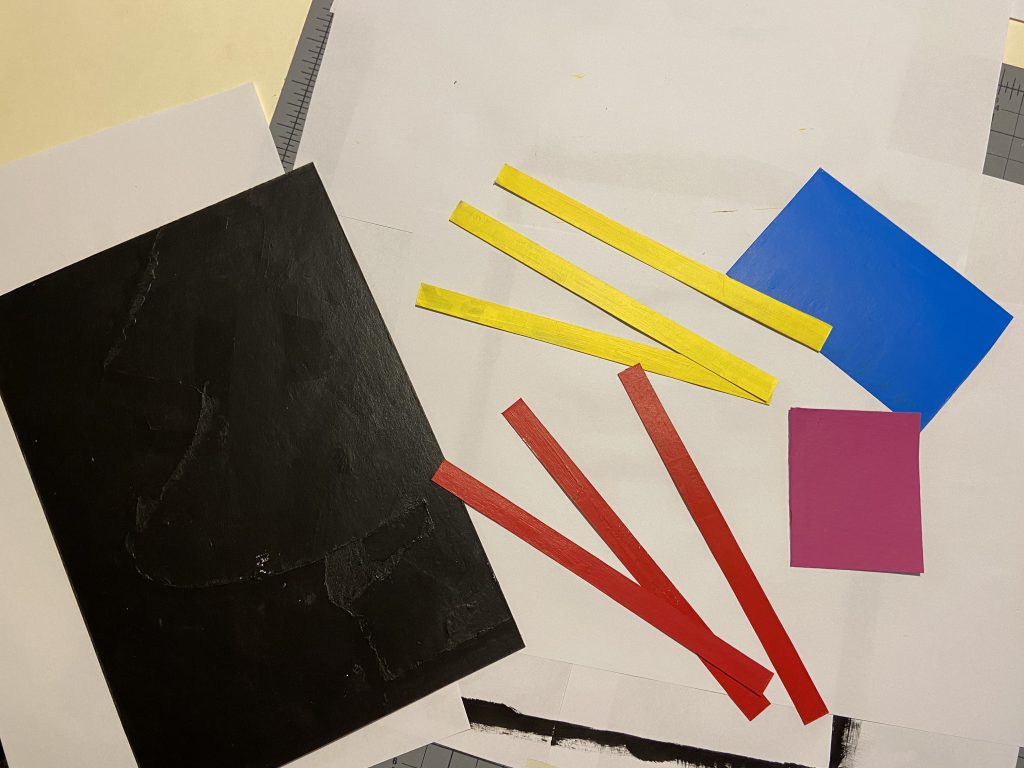 Paint the background piece a solid color. I used black, but color is subjective. Keep in mind your colors should have some contrast. I used brighter colors for the shapes; 3 or 4 additional colors is plenty. Paint the pieces and allow to dry.
Step 3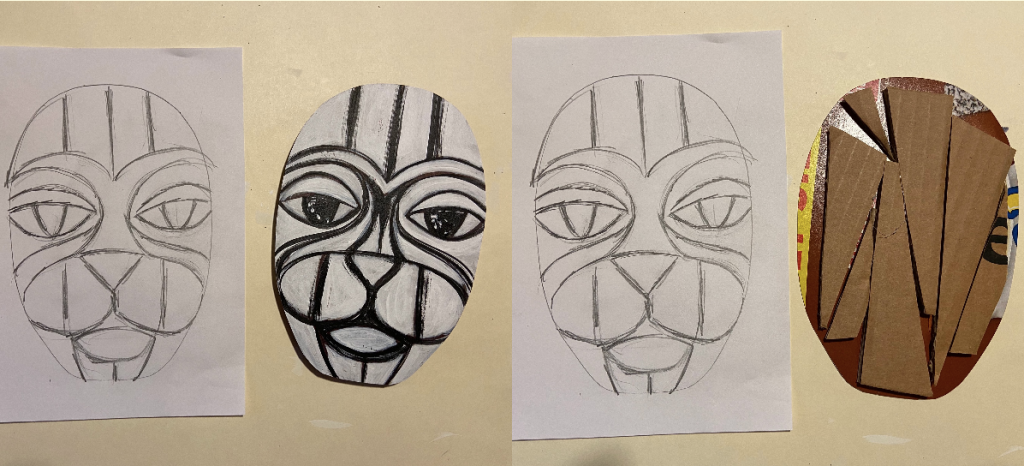 While waiting for the paint to dry, trace the face shape onto scrap paper to sketch out your mask design. Once you have a design you like, draw it onto the cardboard face shape. The flip side shows how to glue some scraps onto the back should you want to raise the mask face off the background surface in the final step. Next, make your mask drawing really come to life with paint. I used only black and white, but the choice is up to you. Again, consider contrast with the colors you have already chosen. "Less is more."
Step 4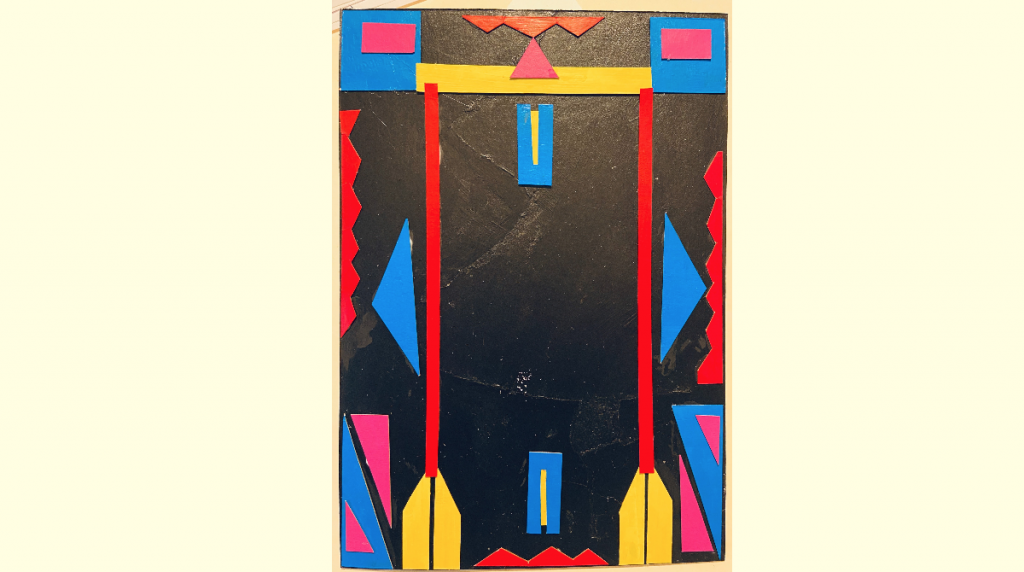 In the above instruction image, you can see that I used my painted colored cardboard to create a design. I cut shapes and played with the arrangement before gluing it all down.
Step 5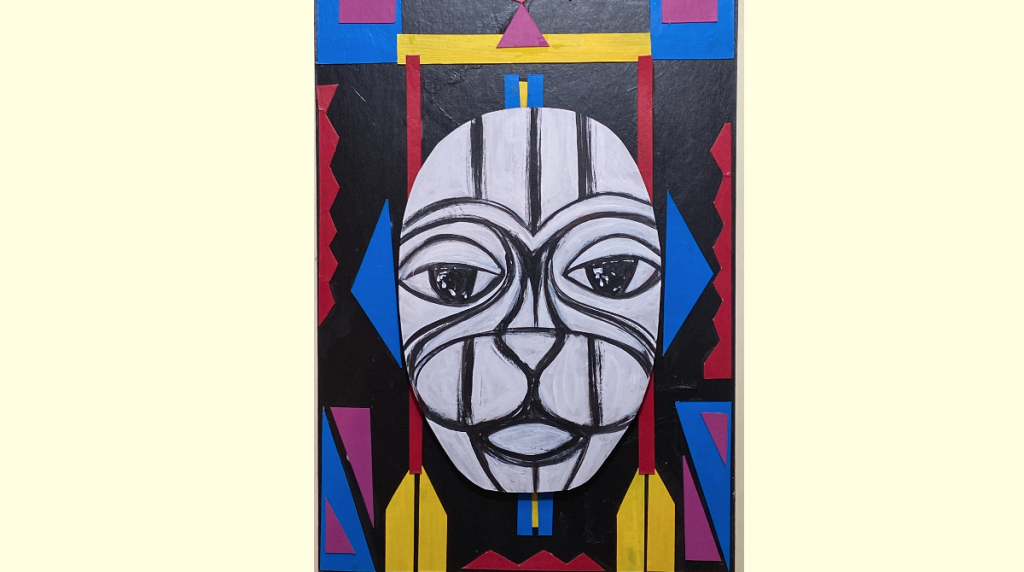 The final step is to glue down the face mask shape. You can also use additional color and/or cut shapes from your colored scraps to add embellishments to the mask shape if you like.
Be brave. Be bold. Be amazing!
The Quarantine Crafter
Create more Art Activities from home with Studio Programs Coordinator Michael!
Click here to discover more ways to connect to the Museum from home!
Credit Line: Loïs Mailou Jones, Moon Masque, 1971, oil and collage on canvas. Smithsonian American Art Museum, bequest of the artist.