3 Snowy Works of Art to View This Winter
"Walking in a winter wonderland!"❄️ Do you love walking in a winter wonderland and can't wait for more snowflakes to fall? Or, do you prefer to enjoy snow from the comfort of being indoors? Either way enjoy these 3 wonderful snowy works of art from our permanent collection!

1. Panther Hollow, c.1930, by Everett Longley Warner
We love Warner's light, bright cheerful winter landscape, Panther Hollow, an interpretation of a small neighborhood in the Oakland section of Pittsburgh. Using high-key blues, greens, yellows, and whites, he creates this impressionistic scene.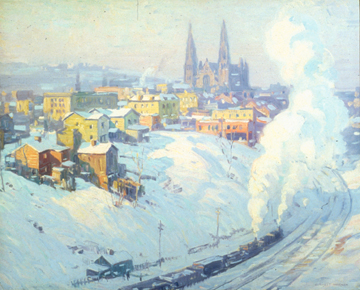 Although this neighborhood was surround by industry, Warner only includes the train puffing into the composition from the foreground. The train draws the viewers eye into the composition and to the colorful houses lining the hillside on the left. The landmark St. Paul's Cathedral with its iconic twin spires perches in the background.
His painting is about the effects of light, color, and atmosphere. The billowing smoke and pale yellow, green and tawny houses are illuminated by the warm afternoon or early morning light, softening the entire scene. By painting a clear sky and opaque white snow, Warner creates a more idyllic scene than perhaps a realistic one of what the surroundings may have been.
It's magical how Warner has created a calming pastoral scene, capturing the idea of freshly fallen snow making the world seem calmer, lighter, and brighter!
On view in the McKenna Gallery.
2. Winter Day, c.1929, by Roy Hilton
Another wintry favorite to view at The Westmoreland is Roy Hilton's Winter Day, which gives a more precise depiction of a Pittsburgh neighborhood in the winter. Before Hilton started work on a canvas, he would often visit the sight and take notes about light conditions and other details, so he would have a more accurate record of the location when he began to paint.
His Winter Day is all about repetitive pattern, line, and light, or the lack of it. Using severe straight lines, simplified shapes and geometry of the precisionist style, Warner shows the layers of houses that pepper the hillsides of the Pittsburgh. Hilton's interest in light and shadow is evident in the hard flat planes of the dark buildings set against a glowing snow-covered hillside.
Hilton's monochromatic palette suggests to the viewer the sooty atmosphere that permeated Pittsburgh at the height of steel production, which left residents no choice but to turn their lights during all hours of the day. Although there are no people in this composition, the artist alludes to the middle-class worker through both the lights in the windows of a few of the homes and the shoveled path up the steep steps leading to the top of the hill.
Hilton's Winter Day gives viewers a glimpse of the conditions that residents of Pittsburgh experienced during the age of industry.
This work is currently on view in the Southwestern Pennsylvania Gallery.
3. Winter Landscape with Deer by William Coventry Wall
Of course, we don't just like artwork that features cities and neighborhoods covered in snow; we also love wintry scenes in the woods with animals! William Coventry Wall's "Winter Landscape with Deer" is a perfect example of a peaceful, woodsy scene with, you guessed it, deer.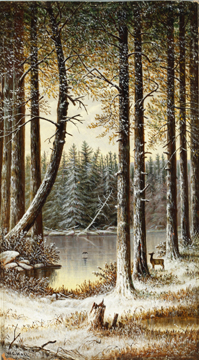 Wall's uses light, color and placement to create a charming winter wonderland. In the foreground, Wall depicts with precise detail a forest floor of brown blades of grass dusted with snow. A frozen lake curves out toward the viewer, flanked by a few tall trees with visible bark and frost. Standing next to one of the trees is a deer looking for bark to eat. A pale yellow sky, perhaps during a winter sunset, glows behind frosted, meticulously detailed tree branches and leaves. Across the lake, an evergreen forest thick with trees and snow-powdered needles stands in the background.
Many of Wall's canvases, like this one, lack atmospheric perspective (the effect that occurs as objects recede in the distance, the objects are reduced in clarity, value and color saturation), and may suggest his lack of formal training, but nonetheless, he does create a gorgeously detailed, somewhat romanticized version of a winter landscape with deer (3).
On view in the Southwestern Pennsylvania Gallery.
Now, that we've shared some of our favorite wintry works of art with you, let us know what are your favorites from The Westmoreland's permanent collection?
Bibliography:
Jones, Barbara L. "Everett Longley Warner (1877-1963), Panther Hollow, c. 1930" Picturing America: Signature Works from the Westmoreland Museum of American Art, by Barbara L. Jones et al., Westmoreland Museum of American Art, 2010, p. 217.

Jones, Barbara L. "Roy Hilton (1892-1963) Winter Day, c. 1929" Picturing America: Signature Works from the Westmoreland Museum of American Art, by Barbara L. Jones et al., Westmoreland Museum of American Art, 2010, p. 206.

O'Toole, Judith Hansen, "William Coventry Wall (1810-1866) View Along the Allegheny Near Aspinwall Pa., 1867" Picturing America: Signature Works from the Westmoreland Museum of American Art, by Barbara L. Jones et al., Westmoreland Museum of American Art, 2010, p.69.