30 Minutes with Doris Lee: Top 10 Works to See
Barbara Jones, Chief Curator of The Westmoreland, invites you to come experience the current featured exhibition Simple Pleasures: The Art of Doris Lee, before it leaves the Museum!
Only have 30 minutes to visit Simple Pleasures? No worries, to get a good overview of Lee's career, check out the ten works below that Jones, co-curator of the exhibition, recommends viewing:
1. Thanksgiving, 1935, Oil on canvas, 28 1/8 x 40 1/8 inches, The Art Institute of Chicago, Mr. and Mrs. Frank G. Logan Purchase Prize Fund, 1935.313. © Estate of Doris Lee, Courtesy D. Wigmore Fine Art, Inc. Photo: Art Resource, NY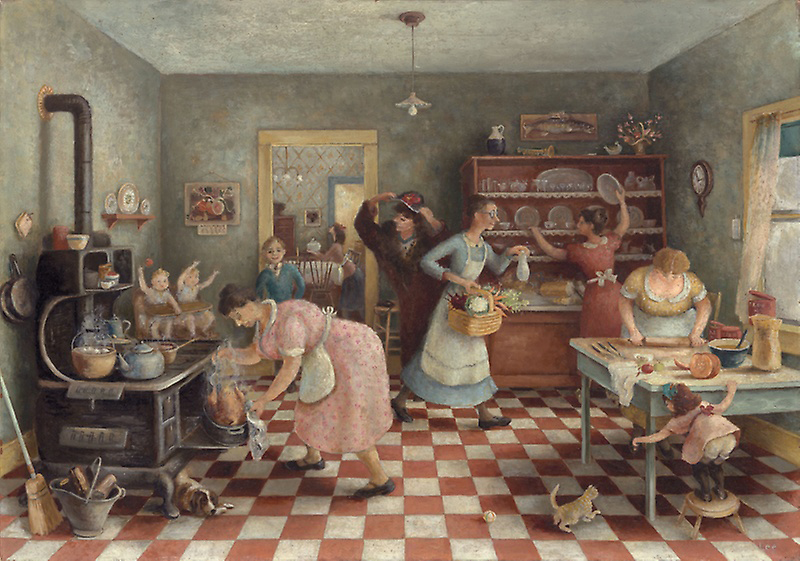 This painting catapulted Doris Lee onto the national art stage when she won the Logan Purchase Prize at the Art Institute of Chicago's 46th Annual Exhibition in 1935. Mrs. Josephine Hancock Logan, the prize's namesake, thought the painting was 'awful, atrocious, and unspeakable' and her review made it into all the newspapers. Fellow artist Waldo Pierce and her fellow Woodstock artists acknowledged Lee's by presenting her with a hand-painted award of their own titled "How little Doris brought home the Thanksgiving bacon from Chicago," 1935. Be sure to see the Logan medal and the amusing award in the case below the painting.
2. Johnny Appleseed, 1938, Oil on canvas, 36 x 42 inches, The Dicke Collection. © Estate of Doris Lee, Courtesy D. Wigmore Fine Art, Inc. Photo: Alan Geho, Ralphoto Studio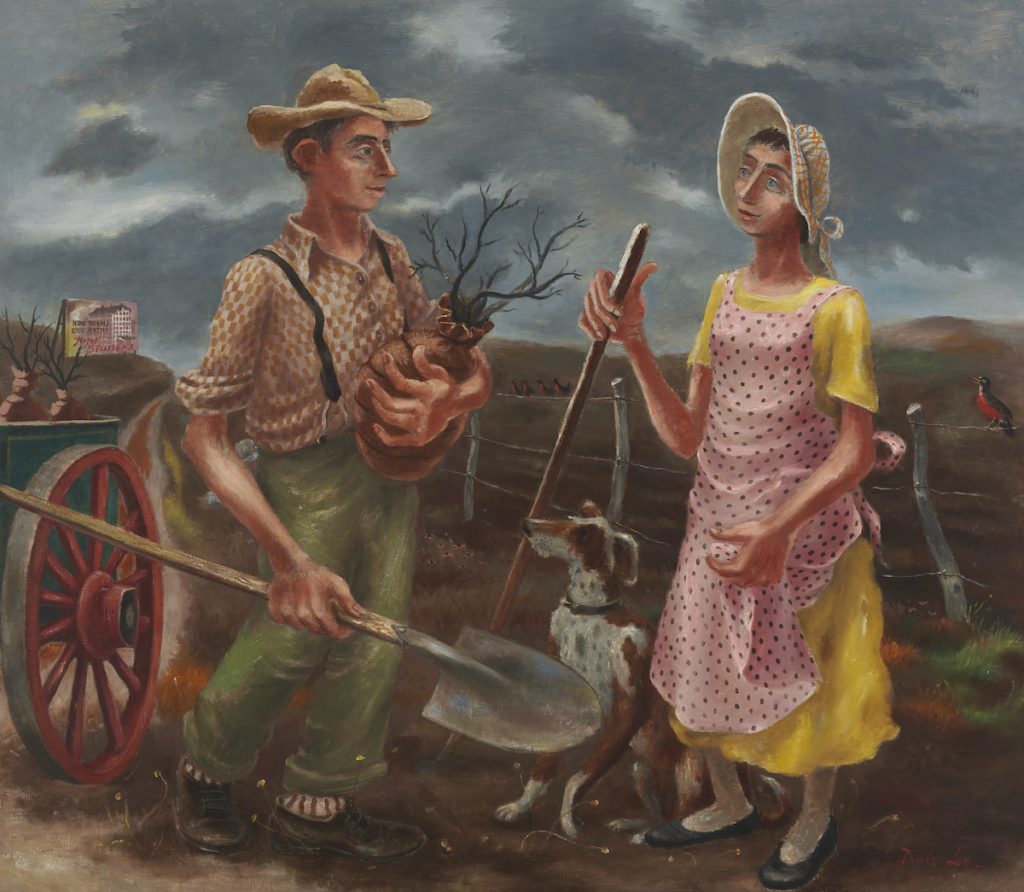 During the 1930s, Lee painted in the style of American Scene artists that became popular after World War I. She painted scenes of everyday life like this painting showing folk hero Johnny Appleseed giving a tree seedling to a farmer to plant and thus, perpetuated the bounty that this future apple tree will produce.
3. Off to Auction, 1942, Oil on canvas, 24 ½ x 35 ½ inches, Crystal Bridges Museum of American Art, Bentonville, AR, 2007.184. © Estate of Doris Lee, Courtesy D. Wigmore Fine Art, Inc. Photo: Dwight Primiano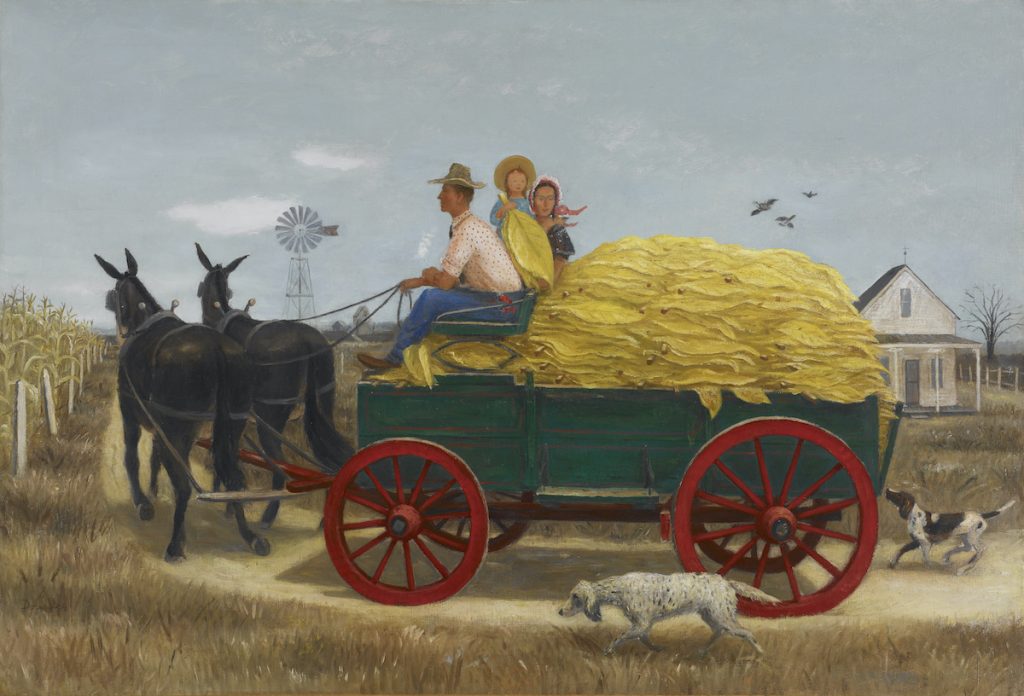 Lee made this painting on commission in 1941 for The American Tobacco Company's Lucky Strike national advertising campaign, one that emphasized the superior quality of the tobacco used in their cigarettes. She and 18 other artists traveled throughout the South to gather images of all aspects of the tobacco industry. New Yorker magazine featured this painting in the June 20, 1942 issue. See the New Yorker ad in the case below the painting as well as other examples of the artist's commercial work.
4. Garden in Moonlight, c. 1946-48, Oil on canvas, 23 x 42 inches, Collection: Hugh and Gay Eaton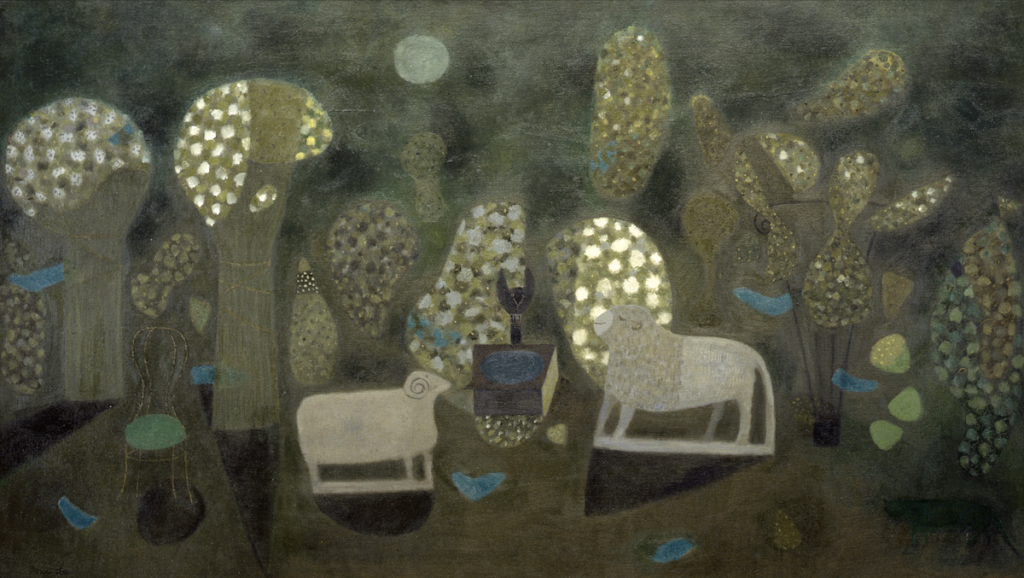 This mystical painting shows Lee's own garden illuminated by the moon. She was an avid gardener and depicts many of the plantings in her backyard as well as the ram and lion sculptures by folk artist William Edmondson that were part of a large folk art collection she owned. This work is an example showing how her style started to become more and more abstract.
5. Fisherman's Wife, 1944, Oil on canvas, 22 ½ x 28 ½ inches, Cranbrook Art Museum, Gift of George Gough Booth and Ellen Scripps Booth through The Cranbrook Foundation, CAM 1945.27. © Estate of Doris Lee, Courtesy D. Wigmore Fine Art, Inc. Photo: R.H. Hensleigh & Tim Thayer
Beginning in 1942, Lee and her partner, artist Arnold Blanch, spent the winter months in Florida. Here, Lee delights in the collections of shells, plants, and animals that her fisherman's wife has gathered around her. This colorful painting shows Lee's style changing from her earlier realistic depictions to a more abstract composition of flattened shapes and simplified forms.
6. Grauman's Chinese Theater, 1945, Oil on canvas, 28 x 32 inches, Dayton Art Institute, Museum Purchase with Funds Provided in Part by the James F. Dicke Family, 1996.273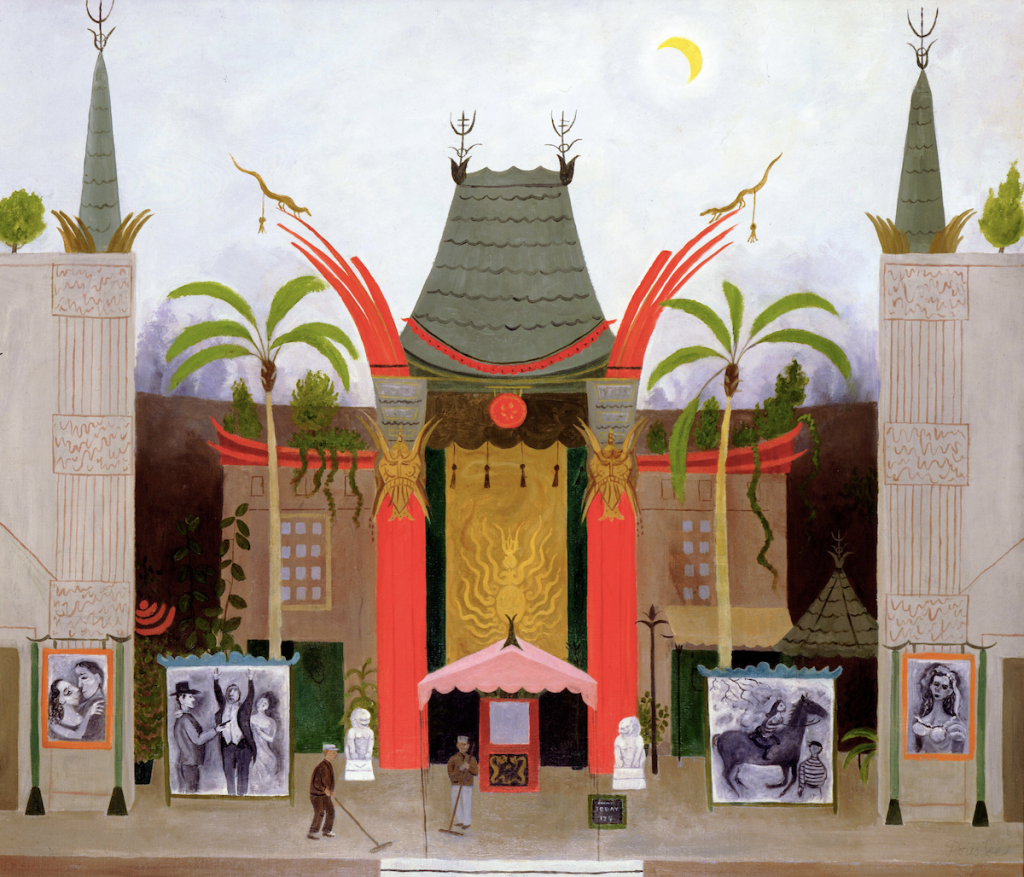 Doris Lee's foray into the glamorous world of Hollywood, California, resulted in eleven paintings for Life magazine's article "Hollywood Gallery: A Painter's Portfolio of Impressions of Movie City" (October 10, 1945).
7. The View, Woodstock, 1946, Oil on canvas, 27 ½ x 44 inches, The John and Susan Horseman Collection of American Art. © Estate of Doris Lee, Courtesy D. Wigmore Fine Art, Inc.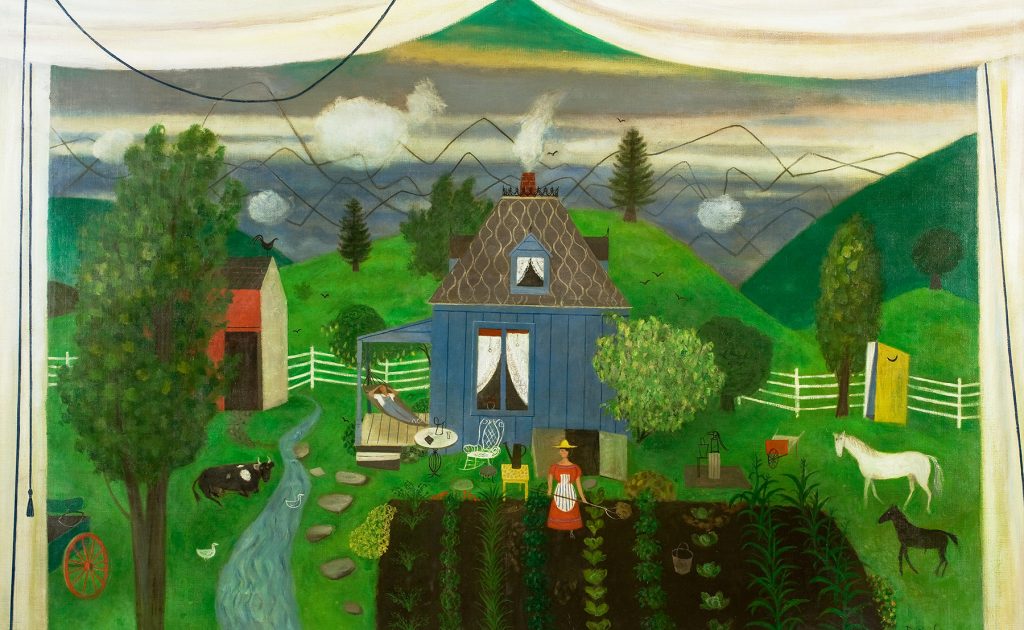 Doris Lee moved to the bohemian community of artists and intellectuals in Woodstock, New York in 1931 and called it her home during the summer months for 30 years. This painting is one of several in the exhibition in which Lee depicts a scene that she could see from her home's window. Note that Lee included a portion of the curtain and its drawstring to situate the viewer inside with her looking out.
8. Spinners, 1952, Oil on canvas, 36 x 24 inches, Courtesy: D. Wigmore Fine Art, Inc.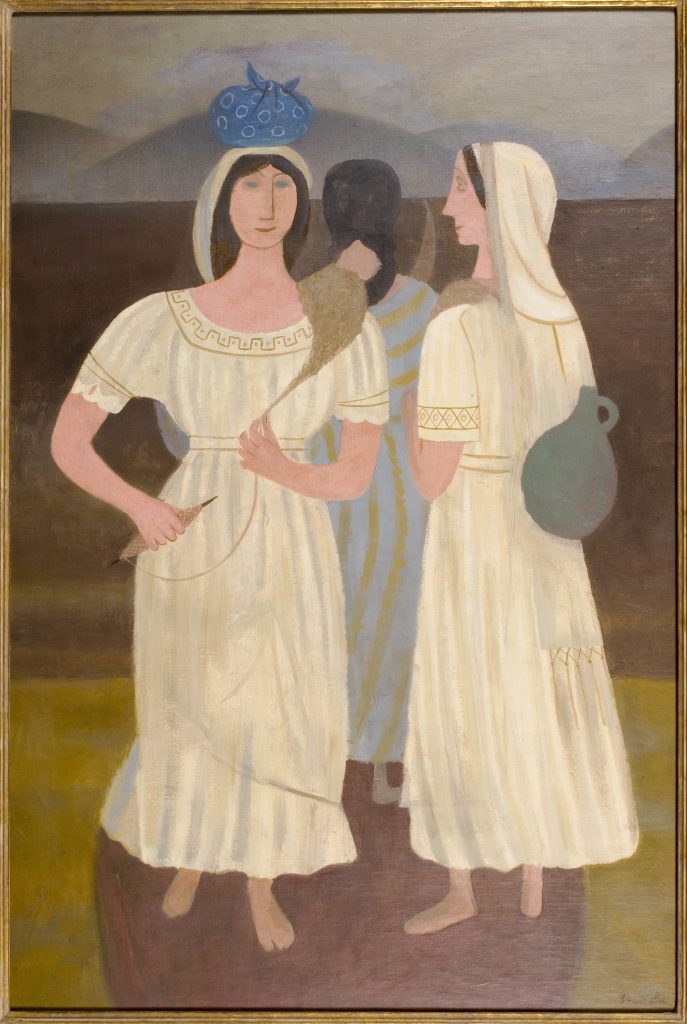 This painting and others surrounding it were made when Lee was hired as an 'artist correspondent' for Life magazine to illustrate her travels to Africa, Mexico, and Cuba.
9. Golden Pasture, mid-late 1950s, Oil on canvas, 42 x 36 inches, Courtesy: D. Wigmore Fine Art, Inc.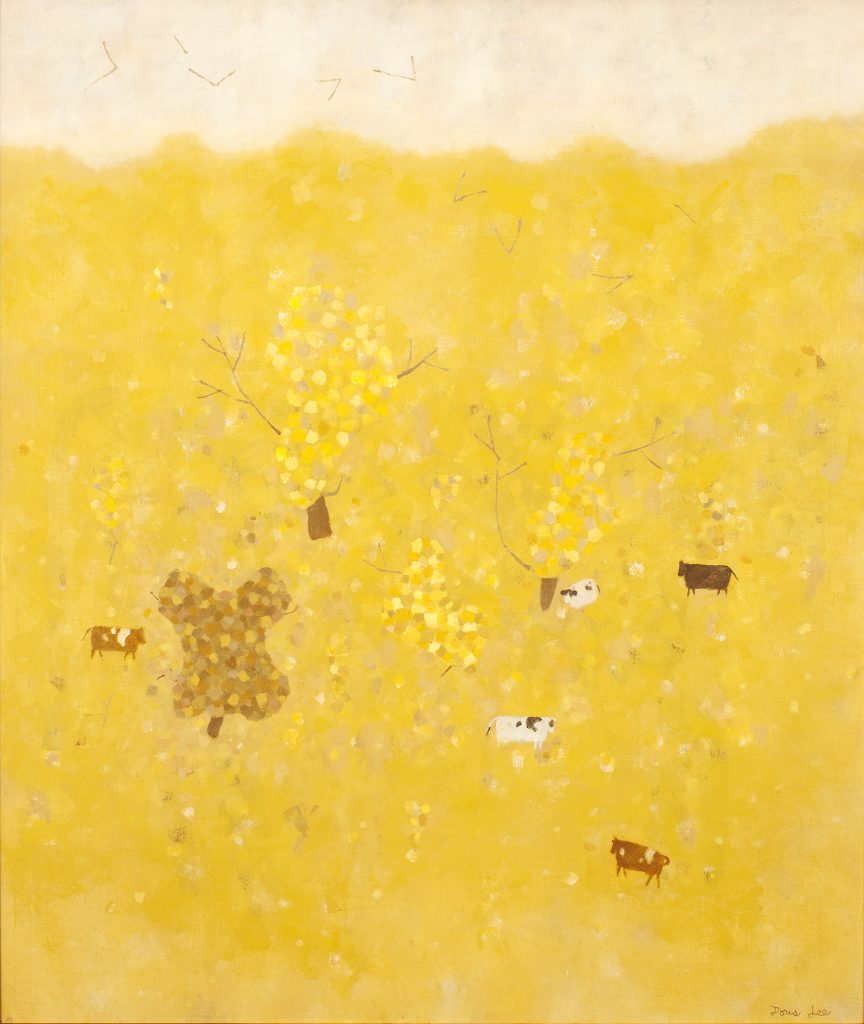 One of Lee's works that should not be skipped is, Golden Pasture, a golden landscape shimmering in an autumn sun. Lee's intense and deeply felt response to the natural world has engulfed this simplified composition in saturated color.
10. Vineland, c. 1960s, Oil on canvas, 38 x 36 inches, The Westmoreland Museum of American Art, Greensburg, PA, Gift of William P. Emrick, 2009.35. © Estate of Doris Lee, Courtesy D. Wigmore Fine Art, Inc. Photo: Richard A. Stoner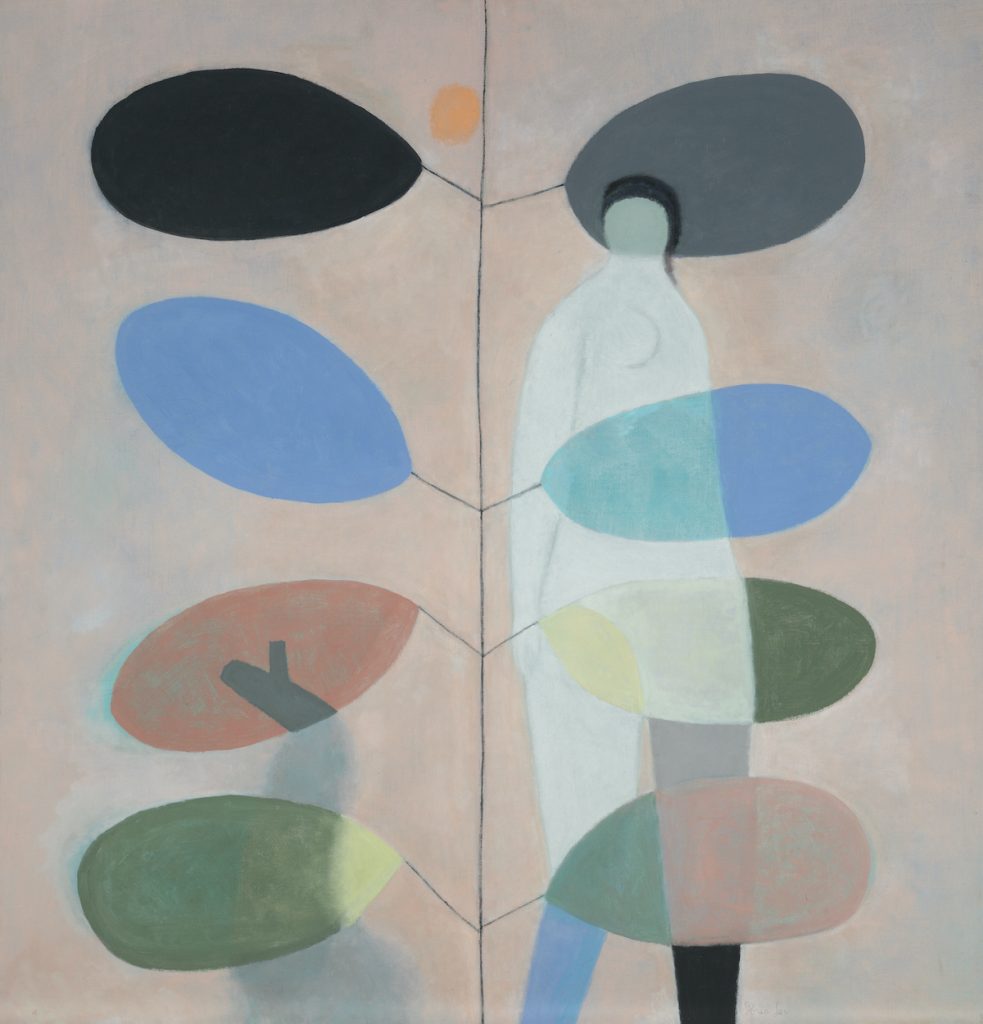 In the 1960s, Lee began using a reductive vine motif to explore her remarkably sophisticated sense of color and design. In each canvas she pushed on the subtle relationships between the colors in her chosen palette. Here she includes the female form but in others, such as Vine-Yellow shown nearby, she eliminates all extraneous details.
To find out more about Simple Pleasures, read the exhibition overview blog here.
Love the works of art you've seen here or in the exhibition? The Westmoreland Museum Shop has an array of Simple Pleasures: The Art of Doris Lee merchandise available including: prints, glass art trays, ornaments and more. Browse the collection now!
Plan your visit to view Simple Pleasures: The Art of Doris Lee, only on view through January 9 at The Westmoreland!