Acquisition Alert: "E-140A (Textured Yellow)," 1971 by Tadasky (1935)
In honor of AAPI Heritage month, we wanted to amplify and celebrate the work of Tadasky (Tadasuke Kuwayama), who surged onto the New York art scene in the early 1960s with his paintings of concentric circles exploring the interaction of color and sensory stimulation. His work was included in "The Responsive Eye" at the Museum of Modern Art and "Optic Art Today" at Albright-Knox Art Gallery in 1965, both groundbreaking exhibitions that brought Op Art to forefront of the artworld.
Over a career spanning six decades, Tadasky's work has focused on simple geometric forms, primarily the circle, and his work can be found internationally in numerous private and public collections, including: Museum of Modern Art, NY, NY; Albright-Knox Art Gallery, Buffalo, NY; Museum of Fine Arts, Houston, TX; Columbus Museum of Art, Columbus, OH; Museum Art Center, Buenos Aires, Argentina; Gutai Pinacotheca, Osaka, Japan; Museum of Contemporary Art, Nagaoka, Japan; and now The Westmoreland Museum of American Art, Greensburg, PA!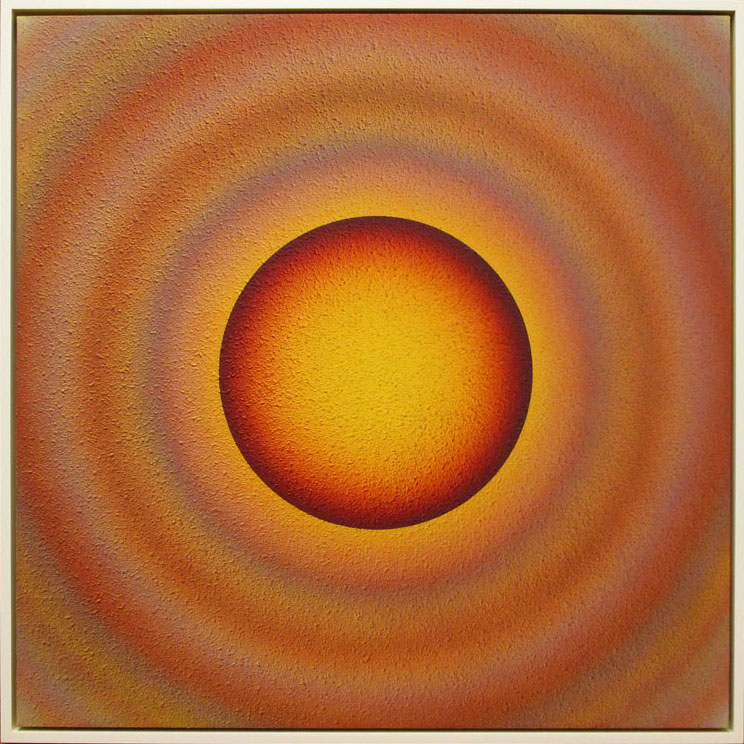 The Westmoreland has recently acquired Tadasky's E-140A (Textured Yellow), 1971, through a purchase from the William H. Jamison II Art Acquisition Fund.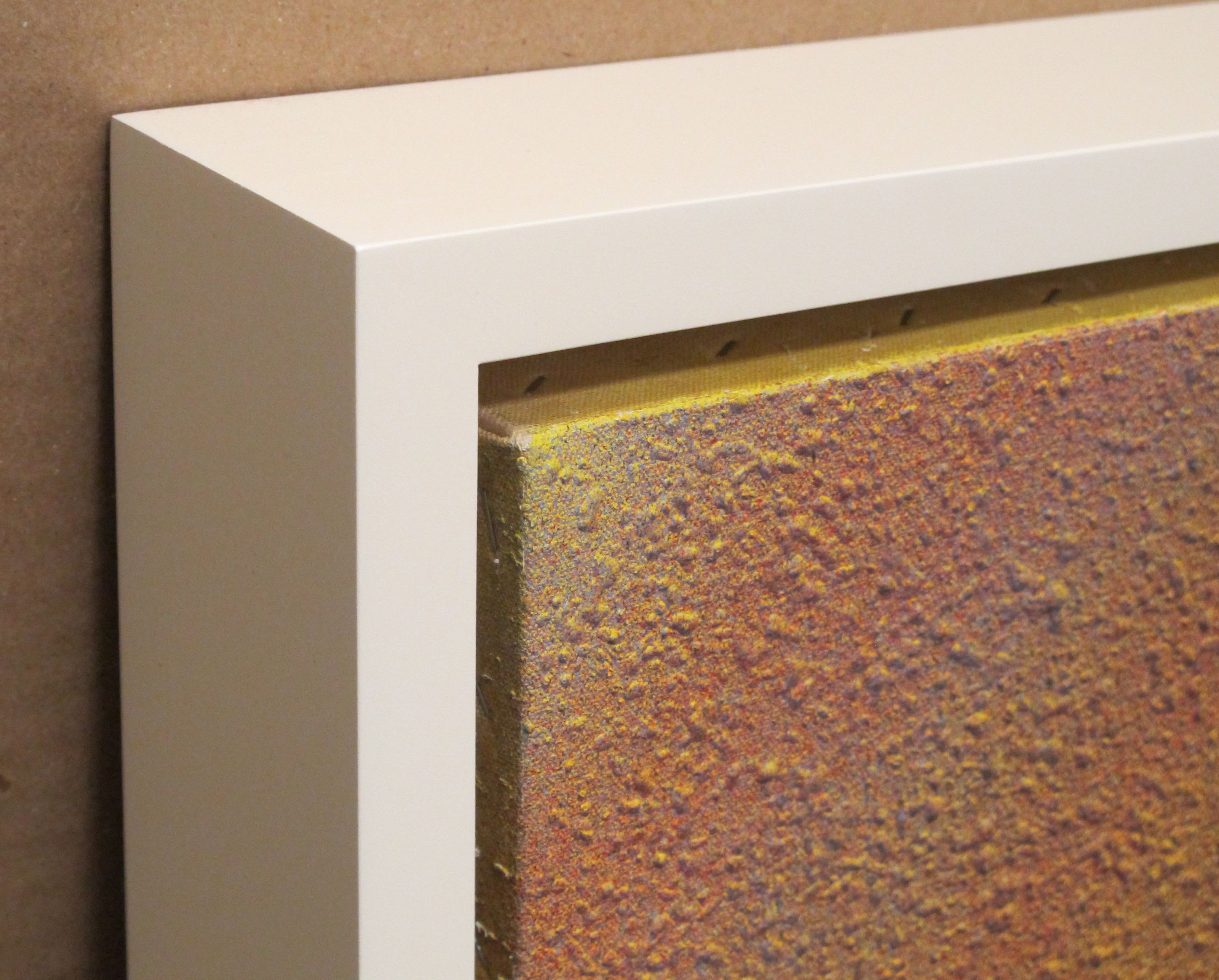 With a granular surface created by the careful build-up of sprayed paint that seems to flow from the center of the canvas outward, E-140A creates the illusion that it is hypnotically pulsating, even breathing.
"It reminds me of the sun, which I am very anxious to see again!"- Accounting Manager Gina Falcon
Tadasuke Kuwayama, or Tadasky, as he would become known, was the son of a prominent craftsman of Shinto shrines in Nagoya, Japan. While he painted during his childhood, he was steered towards his father's business of shrine building. Although he studied applied engineering at university in Tokyo and learned the craft of miyadaiku (shrine carpenters) in the family factory, he loved to paint and became enamored by modern and Western art, which he learned about from books and American magazines.
His eyes were opened to the power of abstraction through the work of Josef Albers, whose art was made up of simple squares and other geometric elements, style which was essentially prohibited in the Japanese art tradition at the time.
In Japan, Tadasky experimented with many forms of art, including representational painting, but by the time he applied for scholarships to the United States, he was experimenting with simple circles in larger constructions. Tadasky emigrated to the United States in 1961 and settled in New York where he sustained himself financially using carpentry skills honed in Japan. He stretched canvases for Leo Castelli's Gallery before winning a scholarship to the Art Students League.
In the early 1960s, Tadasky began to focus on compositions of concentric circles that create color interaction and explore sensory stimulation. These compositions are highly calculated and precisely created, consisting of thin, pulsating, vibrantly colored lines that seem to whirl and radiate outward from the center.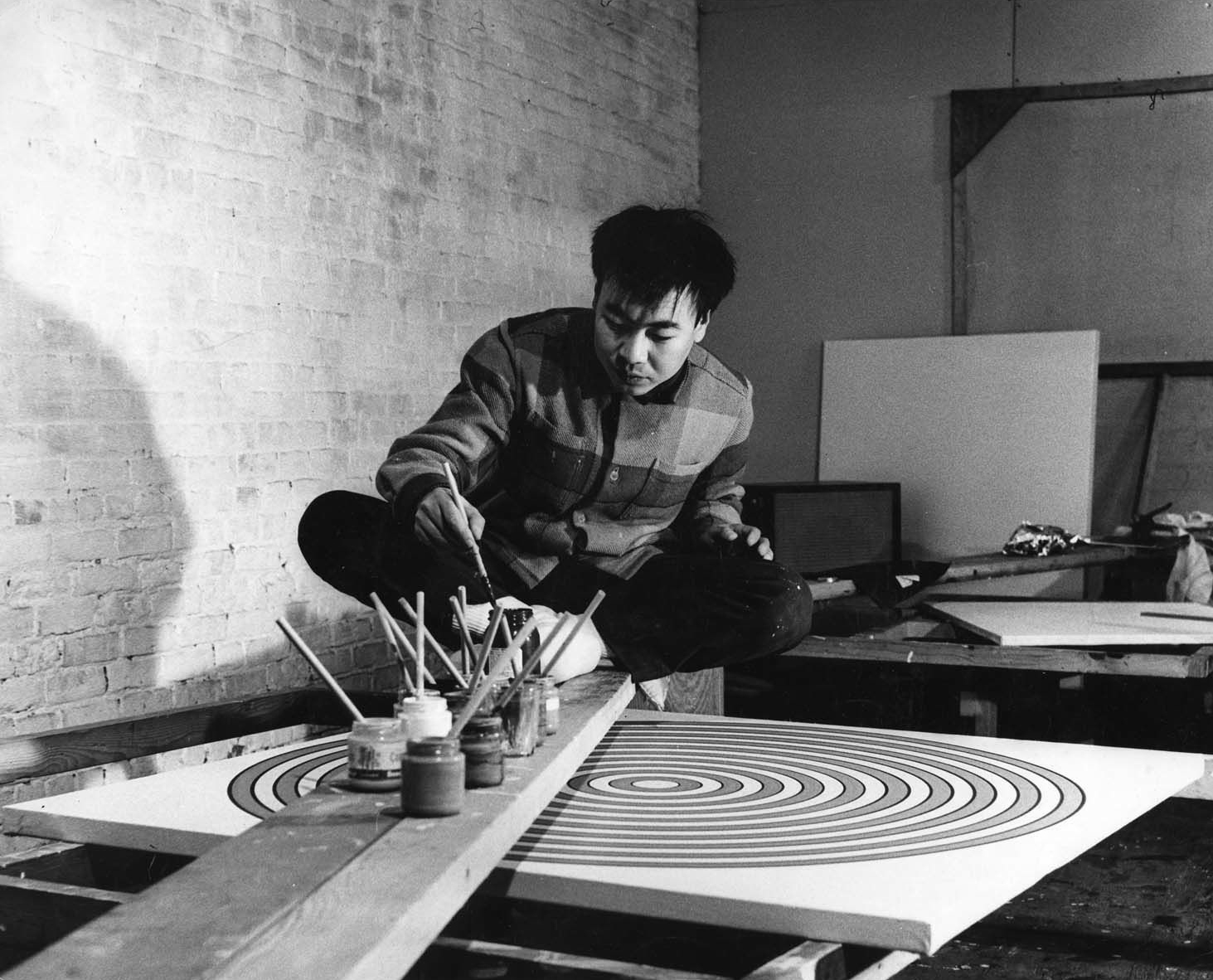 With his engineering background, Tadasky developed a special turntable to create the perfect rings. Sitting above a canvas attached to the turntable and using traditional Japanese brushes to achieve the fine detail he desired, Tadasky painted concentric circles of varying width and color to produce compositions with fluctuating effects of light, color and 3-dimensionality.
Following extensive travels throughout the Southwest, California and Hawaii in 1968, Tadasky's work changed significantly. In contrast to previous works, which placed a circular pattern within an empty background of his square canvas, his works now began to activate the entire canvas, and like E-140A, suggest the sensation of the sun's intense heat that he experienced during his travels.
At age 85 and more than 50 years since he embarked on his first circle paintings, his work continues to evolve, all while using his same turntable technique. Currently, Tadasky maintains studios in Chelsea and Ellenville, New York, and is represented by D. Wigmore Fine Art, Inc., New York.
This AAPI Heritage Month, we recognize that the AAPI community has endured racism in various forms and is still encountering violence and discrimination. As an institution, we will continue to denounce hate in all of its forms, offer an environment that welcomes all, provide a platform to reckon with the injustices of the past and present, and be a place to find healing through the power of art.
References:
"Tadasky (b.1935) Biography," D Wigmore Fine Art, Inc., New York, New York, https://www.dwigmore.com/tadasky_bio.html (Accessed 6 May 2021).