Acquisition Alert: Lilly Martin Spencer's (1822–1902), Still Life with Apples, 1891
The newest work of art to be added to The Westmoreland's permanent collection is Lilly Martin Spencer's (1822–1902), Still Life with Apples, 1891, which depicts six meticulously rendered apples hanging over a stone wall, still attached to a broken branch of their tree. October is apple season in the Hudson Valley so it was the ideal subject for the artist who was living there at the time.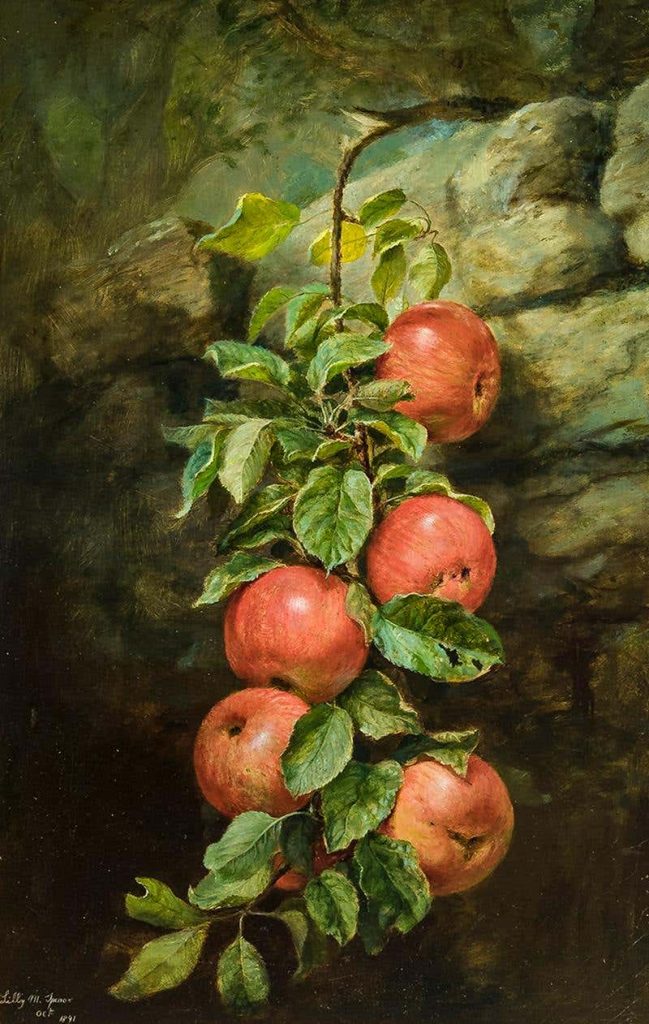 Painted with perfect fidelity to nature and sensitivity to color, light and atmosphere, Spencer's apples stand out against the dark background of the high stone wall as globes of brilliant red fruit nestled among the bright green leaves of the apple tree. Their heft, solidness, and imperfections convince the viewer that they are indeed growing in nature.
Spencer's Still Life with Apples was selected to be acquired at The Westmoreland Society's 34th Annual Dinner on December 3, 2021. This year, Westmoreland Society Members had two works of art to choose from highlighting the significance of women in the history of art, Spencer's Still Life with Apples and Honoré Desmond Sharrer's painting Young Man Standing on the Fountain (1988).
Named "Woman Artist of the Year" in 1949 by Mademoiselle Magazine, Sharrer attracted favorable critical praise and press notice for her five-panel work, Tribute to the American Working People (1946–51), and worked as an artist for the rest of her life, producing an accomplished body of work. Best known for her paintings of family and domestic scenes, Spencer, was one of the most popular American female genre painters in the mid-19th century.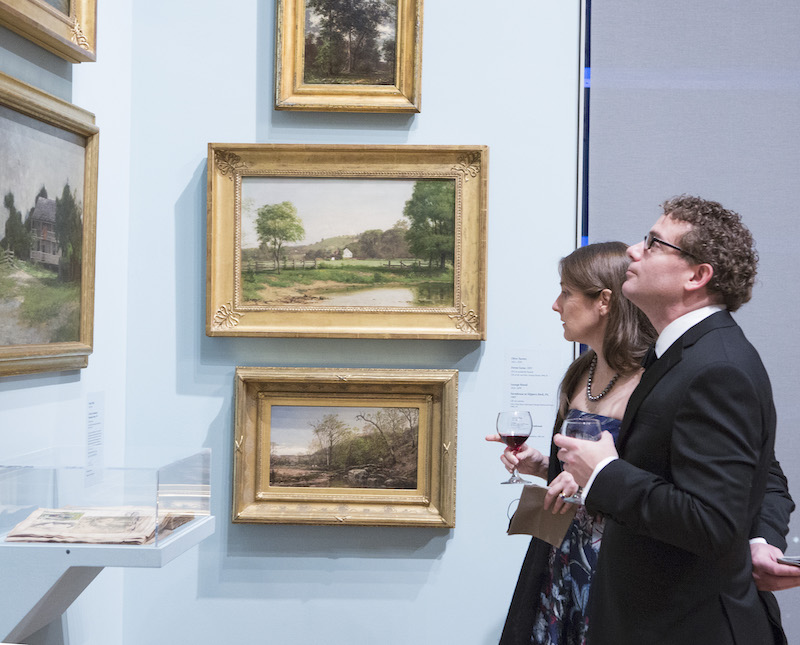 After watching mini-documentaries about each artist and the work being considered for selection as well as viewing each work, members voted resulting in the selection of Spencer's (1822–1902), Still Life with Apples. In addition to funding through Westmoreland Society membership contributions, the purchase was made possible through contributions from the Ahmanson Foundation, McKenna Foundation, and the Museum's William W. Jamison II Art Acquisition Fund. Founded in 1986, the Westmoreland Society and its annual dinner gala is committed to supporting the permanent collection of the Westmoreland Museum of American Art. Since convening, the Westmoreland Society has purchased over 40 works for the Museum's collection totaling more than $1.3 million.
For over sixty years, Spencer was a professional artist painting portraits, interior genre scenes, still lifes, and miniatures. In the 1850s to mid-1860s her genre scenes depicting often sentimental domestic scenes were engraved for wide distribution, spreading her name and fame, and they remain her best remembered work to this day.
Spencer's parents were French emigrés to England where Angélique Marie Martin (always called Lilly) was born in 1822. The family immigrated to the United States when Spencer was eight years old. Living in various locations, they eventually settled in Marietta, Ohio. As a child, she showed a natural talent for drawing, and in 1841, at just 19 years old, she had her first solo exhibition in 1841 at the St. Luke's Episcopal Church. Shortly after, Spencer moved to Cincinnati where she continued to show her work, initiating her professional career as an artist and continuing her studies with local artists
In 1844 she married Benjamin Spencer, who worked in the tailoring business but was never the primary source of income for his family. Spencer was unique in the 19th century as she was a female artist who made a living from her painting and was the sole provider for her family when that was far from the norm. Her husband assisted his wife as her business/studio manager and ran the household. The Spencers relocated to New York City in 1848, where they remained for 10 years, and where Lilly enjoyed her greatest success, exhibiting regularly at the Art-Union, the National Academy of Design where she was elected an honorary member in 1850, the Brooklyn Art Association, and the Boston Athenaeum
In 1858, the family moved again to Newark, NJ and in lieu of rent, their landlord, Marcus L. Ward (future Governor of NJ), commissioned family portraits, now in the collection of the Newark Museum. They are considered some of Spencer's finest work. The Spencers remained in NJ for 22 years. The family moved once again, this time to Highland, New York, in the Hudson River Valley across the Hudson River from Poughkeepsie. Here she began to incorporate the landscape into the backgrounds of her still life paintings showing fruit growing or posed in nature. Spencer was 'America's most famous woman artist' during the 1850s and 1860s, but as the art market changed after the Civil War and wealthy collectors began to prefer European art to American, Spencer's work fell out of fashion.
By acquiring Still Life with Apples, not only is a new an important new name added to the Museum's19th century collection, but the connections and questions that can be made with existing works deepens.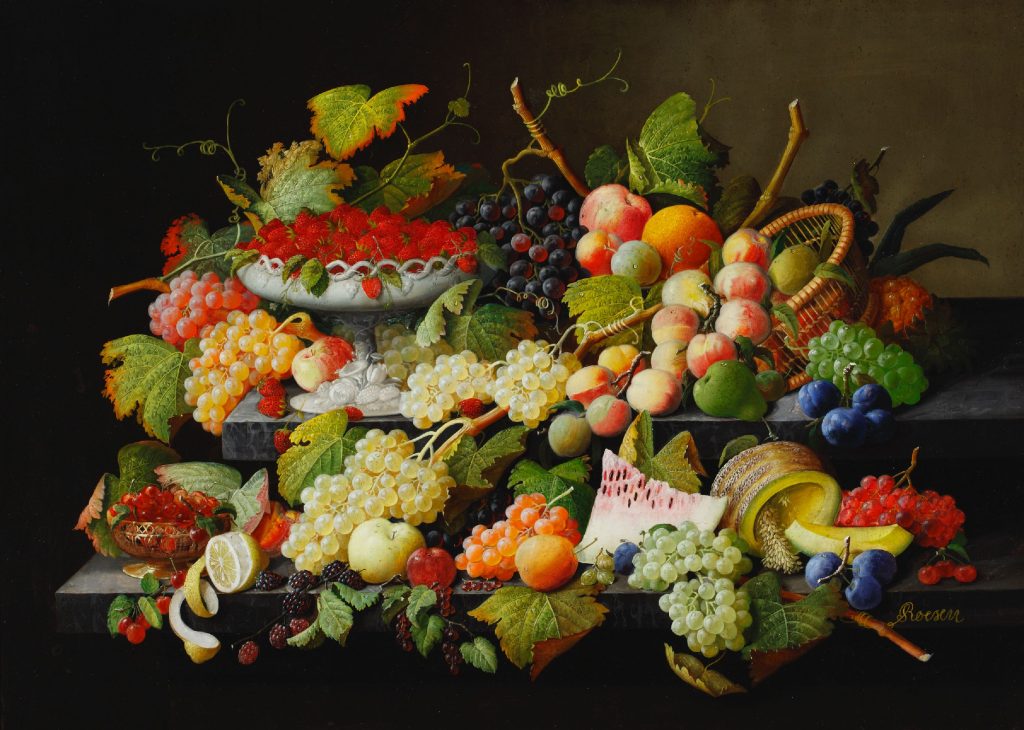 A majority of the still life examples in the Museum's collection are composed on tabletops, such as Rubens Peale's, Still Life with Watermelon and Severin Roesen's Still Life with Fruit (pictured above), and Spencer's Still Life with Apples joins Levi Wells Prentice's Apples in a Hat, as a composition situated in the natural landscape. The landscape in the background relates to the landscapes in the collection as well, and the subject can be used to discuss many themes including the 'apple in art,' labor in agriculture, and to further the story of nature's bounty.