African American Art in the 20th Century Exhibition Overview!
Written By Chief Curator Barbara Jones
This traveling exhibition, organized by the Smithsonian American Art Museum, presents 45 works dating from the 1930s to the 1990s by 34 black artists. These painters, sculptors, and printmakers participated in the multifaceted dialogues about art, identity, and the rights of the individual that engaged American society throughout the twentieth century.
These artists worked at significant social and political moments in American life. The Harlem Renaissance, World War II, the Civil Rights movement, the Cold War, and the forces for freedom around the world shaped their lives and worldviews. Family and personal history became subtexts for some while others interpreted the syncopations of jazz in visual form, and still others translated observation into powerful emotional statements. In styles that range from American scene painting to gestural expressionism to abstractions that glow with color, the artists explore myth and memory and acknowledge the heritage of Africa. The words of scholar, writer and political activist W.E.B. Du Bois, Howard University philosophy professor Alain Locke, author Zora Neale Hurston, the Reverend Dr. Martin Luther King Jr., and their contemporaries provided insight and inspiration. In response, the artists affirm community and individuality. For them art is a vehicle for understanding the complex, conflicting, and sustaining facets of the American experience. Several were expatriates, finding it easier to earn a living as an artist outside the United States.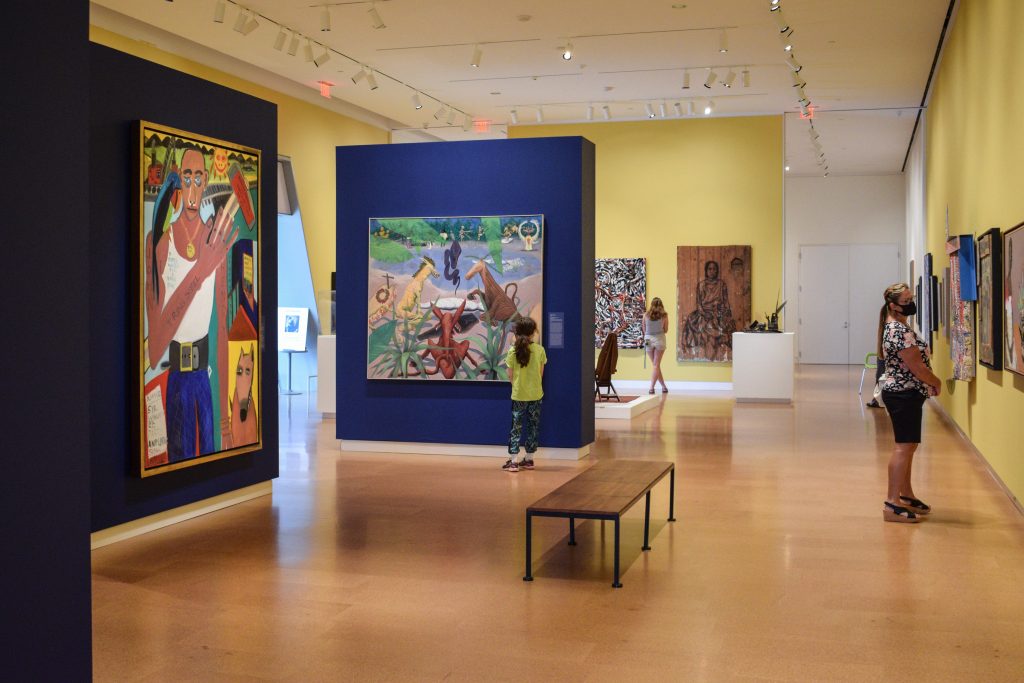 While Benny Andrews, Romare Bearden, Jacob Lawrence, Bob Thompson, Sam Gilliam, Lois Mallou Jones and Whitfield Lovell are some of the best-known names among those represented, this exhibition introduces the work of a larger number of under-recognized black artists who were their contemporaries and, in their work, considered and addressed similar subjects and personal experiences.
Hilda Wilkinson Brown, Palmer Hayden, Malvin Gray Johnson, Sargent Johnson, and Ellis Wilson depict positive aspects of their daily lives while Eldzier Cortor, Melvin Edwards, Felrath Hines, and Thornton Dial, Sr. grapple with difficult subjects like slavery, loss of jobs, tenant farming, backbreaking labor, police brutality, apartheid and the struggle for equal rights. Still others, like William H. Johnson, Romare Bearden, and Frederick Brown, celebrate the perseverance of sharecroppers, their love of music, African American women, and life in New York City. Considering himself an "artist-reporter," Boston artist Allan Rohan Crite states: "My intention in the neighborhood paintings…was to show aspects of life in the city…and to present [black people] in an ordinary light, persons enjoying the usual pleasures of life with its mixtures of both sorrow and joys…."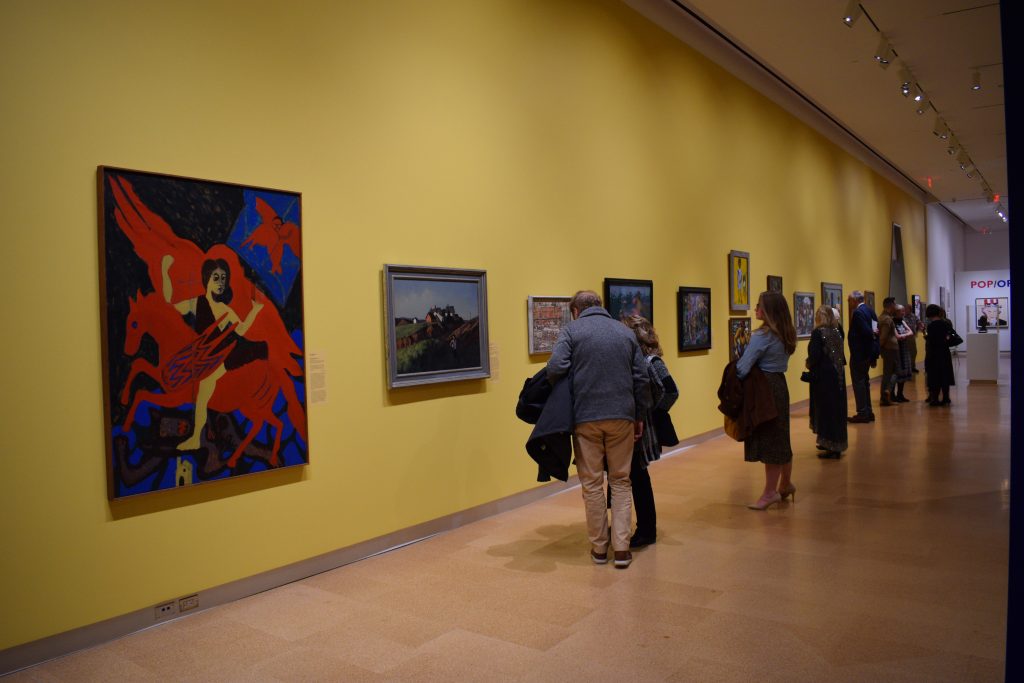 Although Emilio Cruz is known for a fusion of figuration and abstraction in his paintings, he uses the style of abstract expressionism to translate a memory and personal experience he had in Rome in 1964. As a member of the Washington Color School, Sam Gilliam captures the movement of paint as it spreads over and soaks into unprimed fabric. His experiments in color and improvisation, shifting irregular shapes and random patterns resemble African American 'crazy quilts.' Whitfield Lovell pays homage to the families of railroad workers who lived in the row houses in Houston, Texas while Renée Stout traces the life of a fictitious colonel in the tradition of a 'cabinet of curiosities.'
As Hughie Lee-Smith wrote: "If art is to survive, it must express the needs and aspirations of the people and solidify them in the struggle for the achievement of their poetical, social, and economic goals."
African American Art in the 20th Century will be on view at The Westmoreland until January 17, 2021.

African American Art in the 20th Century is organized by the Smithsonian American Art Museum. The C.F. Foundation in Atlanta supports SAAM's traveling exhibition program, Treasures to Go. The William R. Kenan Jr. Endowment Fund provided financial support.
This exhibition has been generously funded by the Hillman Exhibition Fund of The Westmoreland Museum of American Art.