Animated Landscape Autumn Edition
For this Animated Landscape installment, we turn toward fall and William Coventry Wall's View Along the Allegheny Near Aspinwall Pa., 1867.
[embedyt] https://www.youtube.com/watch?v=ftyN_OtXNa0[/embedyt]
William Coventry Wall was born in London on December 8, 1811 and immigrated to the United States with his family in the early 1820s, where they settled in Mount Pleasant, a small community 45 miles southeast of Pittsburgh. Wall's father, also named William, made his living as a stonemason and gilder.
Largely self-taught, W.C. Wall, as he is known, was surrounded by artists, including his father, who had trained as a painter. By the early 1840s, Wall had married and moved to Pittsburgh, busying himself there with several enterprises, including theatrical scene painting, making illustrations of historical sites and events, and portraiture.To further support himself and his young family, he opened a framing and art supply store, which became a gathering place for the city's painters.
In 1845, Wall woke to witness the devastating fire that destroyed most of Pittsburgh that year, including his own store and that of his father-in-law. Sketches made at the scene became paintings and later lithographs, which were widely distributed. Wall's reputation was thus made, and by 1847, his occupation—according to the city directory—indicated that he had successfully transitioned from business owner to landscape painter.
His first sketching trip may have been to rural Fayette County, south of Pittsburgh, with fellow artist Trevor McClurg (1816–1893) in 1853. Later, Wall associated with George Hetzel (1826–1899), leader of what became known as he Scalp Level school in the latter half of the nineteenth century. With McClurg among them, this group spent their summers escaping the city's dirty industrial neighborhoods to paint en plein air in the nearby countryside of western Pennsylvania.
Although he was known for painting pure landscapes, Wall completed many pieces—including View Along the Allegheny Near Aspinwall Pa.—that have a narrative motif or motifs. In this case, several different vignettes of activity within the composition serve as visual subplots.We see a farmer and his wife surveying their farmhouse across a harvested field; a factory busy with activity; and a river bustling with small craft. Wall's orderly arrangement of man's activities within the vastness of nature reflects harmonious cohabitation.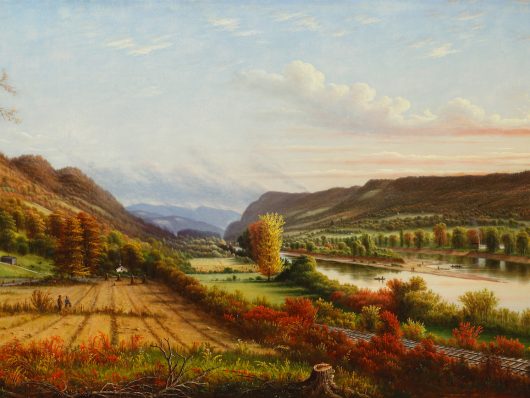 Wall demonstrates his knowledge of nineteenth-century landscape metaphors by juxtaposing a tree stump—a symbol of man's early impact on nature—with a railroad track nearly hidden by the undergrowth—a symbol of the industrial revolution to come. The brilliant yellow tree at the composition's central focal point indicates the glory of autumn, the season most visibly marked by change.The panoramic format, with the upper third devoted to a vast blue sky, is a hallmark of Wall's style.
Research has revealed that the location is a point on the right bank of the Allegheny River six miles above Pittsburgh, at the small community of Sharpsburg, looking upriver to Aspinwall. The current view from that site is not only very much changed but substantially obscured by the Highland Park Bridge. The railroad tracks were laid by the Western Pennsylvania Railroad in 1866 along an old canal route. Six Mile Island can be seen in Wall's painting, and the farm has been identified as that of James O'Hara, Esq.—a patriarch of the Darlingtons, a prominent Pittsburgh family. Painted in 1867, in the prime of Wall's oeuvre and just two years after the Civil War ended, the scene exudes the warm tranquility and domesticity characteristic of Wall's best work.