Art Making Activity: Silent Season
Will Barnet was a 20th-century American artist best known for his paintings and prints created in his distinctively flat, stylized aesthetic. Throughout his classically elegant depictions of both everyday life and dreams, Barnet tinged his work with symbolic meaning. His paintings often feature solitary figures with birds set amidst an ominous interior or landscape. With a career spanning over 80 years, the artist once remarked, "Painting is almost like a religious experience, which should go on and on. Age just gives you the freedom to do some things you've never done before. Great work can come at any stage of your life."
Gobsmacked! I found great inspiration in his work and that quote. Even the title of the work, Silent Season (Spring), really resonated. How could I not? After the intensity of perspective drawing, I wanted to make something with more emotion. Upon discovering this body of work by Barnet in our permanent collection, I found it all right there.
Life, dreams, and symbols are exactly what I needed.
Now some supplies you'll need:
Paper for practice
Pencil and ruler
Acrylic paint
Paint brushes
Optional Supplies:
Step 1: Choosing a Subject from the Theme of Life, Dreams and Symbols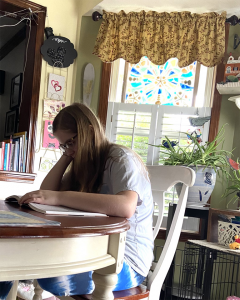 I took a photo of my daughter reading at the kitchen table. Like Barnet's work, it was quiet and peaceful in content. However, the kitchen décor is not. Learning to visualize is a huge part of creating right? I knew all the distracting elements would be removed in my rendition.
Step 2: Building the Composition
Cropping photos can aid in making the composition more pleasing and is useful in removing some of those "unwanted" elements. However, in this case with all the clutter in the frame, I needed to look through all that visual debris to visualize the shapes and forms that I wanted to translate into my work.
Here's some technical help if you are working from a photo: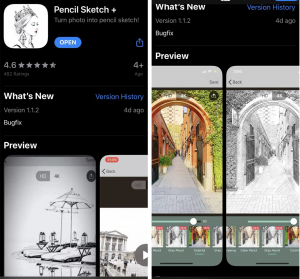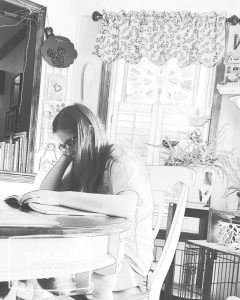 There's an app for that! Pencil Sketch + is an app that will create grayscale tonal images from your photos. The free version is enough to give you several choices. Not all photos are equal, so choose the one that gives you the information you want. You can always refer to more than one photo! In my example here, you can see the lines on the edges of the shapes in the photo a little more easily. With time and practice you will train your eye to see everything this way. It's just about being more attentive to detail and not allowing your brain to fill in gaps of what you expect to be there.
Step 3: Laying Out the Drawing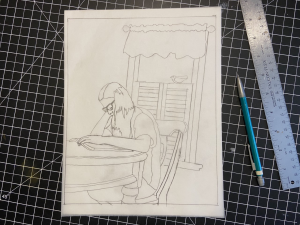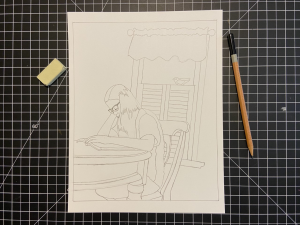 I made a quick sketch on paper (a sloppy copy, if you will) just to be sure I liked the composition. Next, I made an improved version on a piece of illustration board, because I knew I wanted to use acrylic paints. You can use whatever you have available. I have painted on cardstock, cardboard, wood, etc. Here's a link to some further information should you be interested about the differences in artist boards.
Step 4: Adding Acrylic
After the pencil drawing is complete, I used matte acrylic paints to essentially fill in the areas of the composition. Using liquid acrylics, like these matte paints available in most craft sections, I was able to create a look and feel similar to that found in the work of Will Barnet.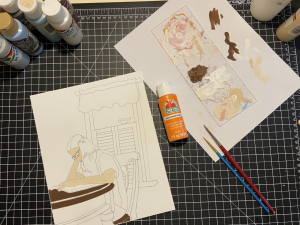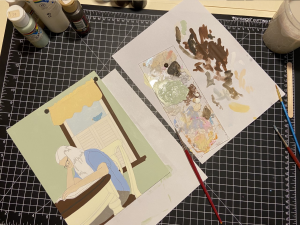 One tip for creating smooth shapes in your painting is to add just enough water to allow the paint to be fluid, like the consistency of gravy, while maintaining enough body so that it does not become like a watercolor. As you paint, take your time and allow areas to dry. I always use cover sheets to protect my work from the accidental smudge of your hand, so it is necessary to allow dry time for this purpose as well.
Step 5: Preserving Your Masterpiece

Once the paint was completely dry, I used a spray varnish to seal in the surface. If you look carefully at the finished piece, you will note that I used the pencil lines to define the edges of the shapes. I enjoyed the look of the pencil but as noted earlier, graphite is likely to smudge easily on the painted surface without a protectant. You may have a finishing spray on hand already, but make certain it is not a solvent based varnish! It must be suitable for drawing and painting. Check out my preferred brand here.
As always,
Be Brave. Be Bold. Be Amazing!
The Pensive Painter aka The Distant Draftsman aka The Wistful Watercolorist aka The Isolated Artist aka The Quarantine Crafter, Studio Programs Coordinator Michael Carsone