Baltimore artist Stephen Towns on Declaration & Resistance and Fallingwater Residency
Nationally known painter and fiber artist, Stephen Towns (Baltimore, MD) is quite busy these days creating and finishing works for his upcoming solo exhibition, Stephen Towns: Declaration & Resistance, at The Westmoreland in 2022, while in residency at Fallingwater this June.
Comprised of paintings and quilts, Declaration & Resistance is an exhibition scrutinizing the American dream through the lives of Black Americans. Using labor as a lens, Towns highlights how African Americans have shaped the economy, underscoring how their resilience, resistance, and endurance have challenged the United States to truly uphold the tenets of its Declaration of Independence.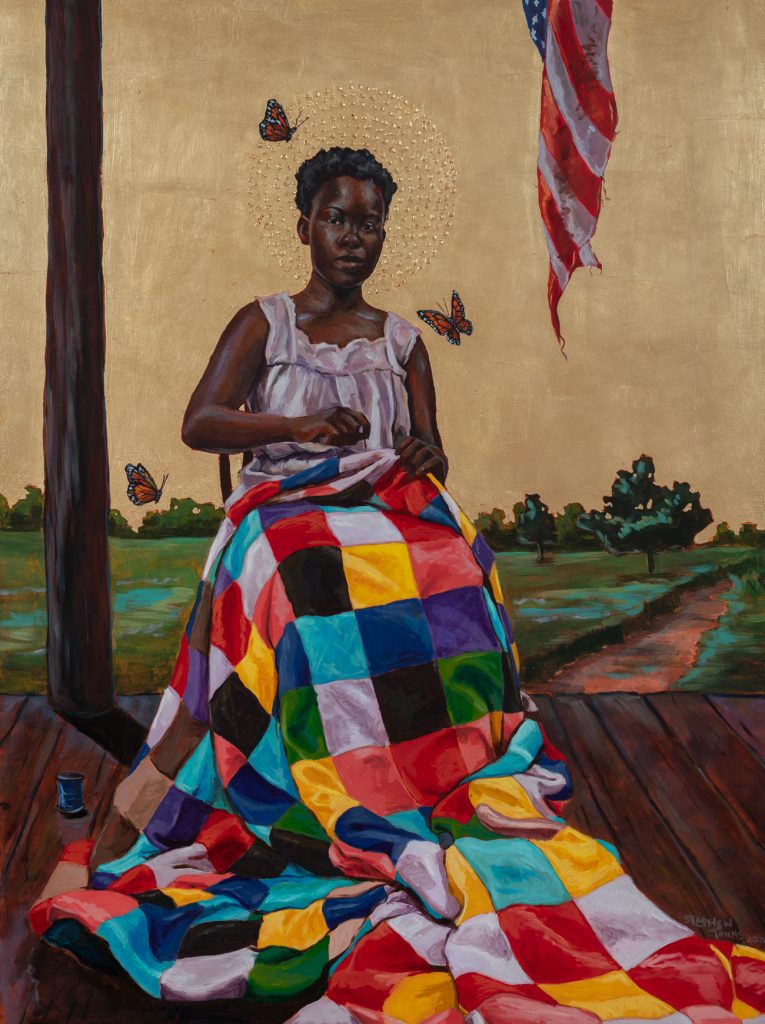 Within the exhibition, the artist further categorizes labor through several themes such as agricultural, domestic labor, and nursing. Towns decided to focus these themes because of his own background growing up in a working-class family and living a working-class life.
"The themes in this show reflect the people that I have met throughout my life. Because of my work experience and those of my family, I am aware that there are so many moving parts and people in the background that keep things moving. I think we have all become much more aware this during the COVID pandemic. I want this show to be a celebration of those people now and throughout history," commented Towns.
Anchored by several of his existing works, including his quilt Birth of a Nation, 2014, Towns will be creating a new body of figurative paintings and story quilts for Declaration & Resistance that will magnify and expand the historical narratives of enslaved and free people, with a particular emphasis on the unique experiences of Black Americans in this region. New paintings and quilts will highlight Black military workers, the history of convict leasing (commonly known as chain gangs), Black nurses and teachers, Black textile, culinary, and agricultural workers, and include a special six-painting series entitled The Coal Miners, featuring Black miners of West Virginia who were relegated to the most difficult, underpaid, most dangerous and insecure jobs.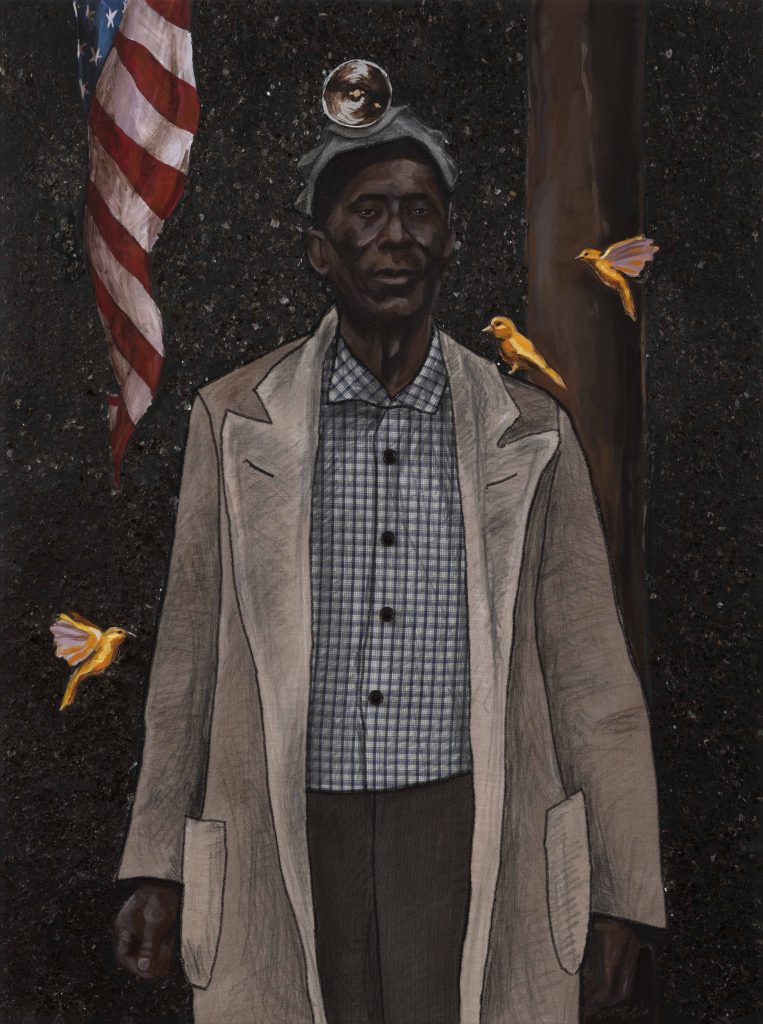 According to Towns, the residency at Fallingwater was mentioned during a developmental discussion about Declaration & Resistance, "Kilolo Luckett [guest curator for the exhibition] and I have talks about my practice and interest in labor and how much it relates to Pittsburgh's history. She and Anne [Kraybill, director/CEO of The Westmoreland] were the first to float the idea of Fallingwater and exploring the history of Elsie Henderson. It felt like such a perfect fit for what I was working on."
While in residency at Fallingwater until June 27, Towns is currently working on new story quilts addressing the history of agriculture inspired by archival images he found in South Carolina and researching Elsie Henderson, who worked as a cook for several wealthy Pittsburgh families including the Kaufmans, owners of the Frank Lloyd Wright-designed Fallingwater. Henderson recently passed away at the age of 107.
"I will also be spending time reading about Elsie and viewing archives at Fallingwater to come up with a fitting tribute to her. I am really excited about it," stated Towns.
Towns plans to honor Henderson by creating a portrait of her that will be featured in Declaration & Resistance. To create one of his signature paintings or portraits, Towns begins by combing through university and historical society archives to find a photograph to use as inspiration.
"I love reading descriptions. It is amazing how much is out there and how many stories are lost. It is difficult to say how I choose images. There is usually something in the eye of the subject being photographed. It's like they have a story they want to tell," noted Towns. "Once I get permission to use it, I spend a lot of time trying to figure out what the subject and the photographer are trying to tell me. The works are a conversation between me and subject and the photographer. They only feel done when I feel like I have done what they want."
Many of Towns' portraits and paintings for the exhibition, like Two Roses and Two Navy Soldiers, include gold-leaf halos and butterflies, and these reoccurring symbols and materials are also intentionally present in his larger body of work as well.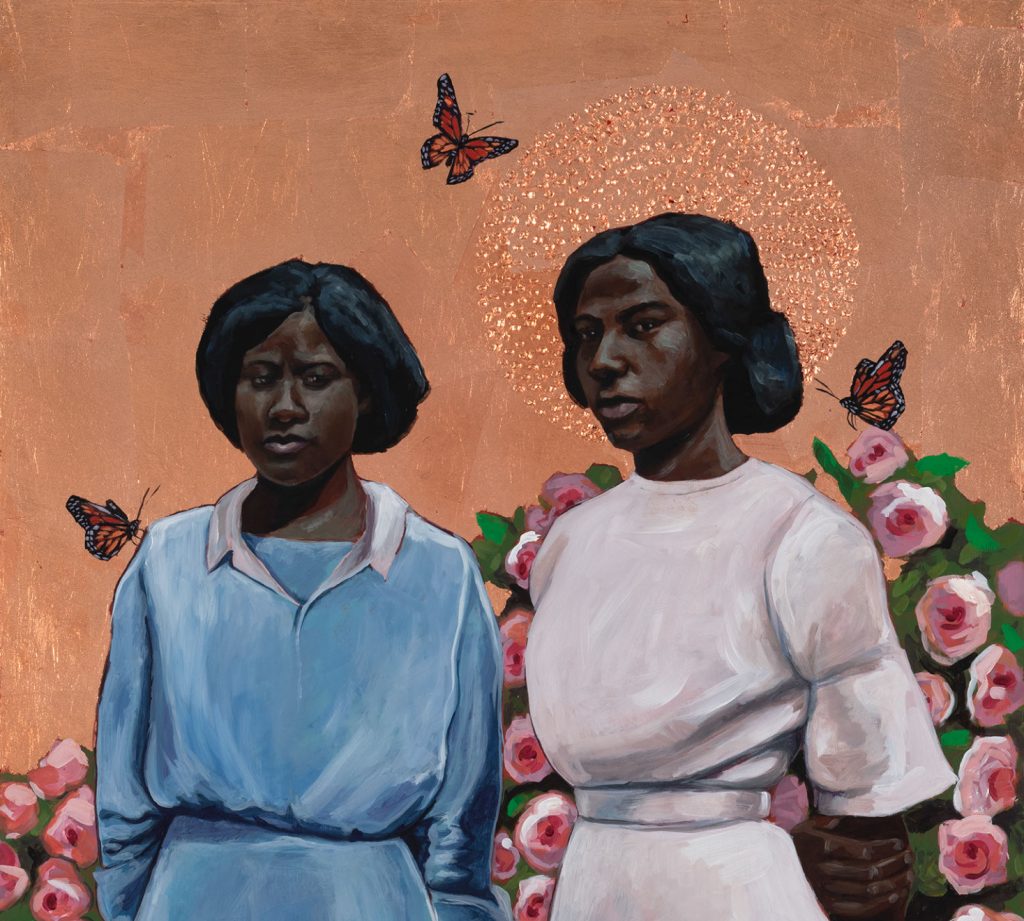 According to Towns, the inclusion of these elements in his work reflect his evolving relationship with religion, God, and spirituality: "I grew up Jehovah's Witness. For me, that upbringing felt restrictive in how I could view God and life. As I have grown into adulthood and experimented with various religions and belief systems, my beliefs have evolved. I use a lot of metal and reflective materials in my work. The light emanating from those works are reminiscent of my ever-expanding views of God and spirituality. The use of butterflies, insects, and animals that appear in my work are often reflections of how God and the Universe show up in our lives no matter the hardships."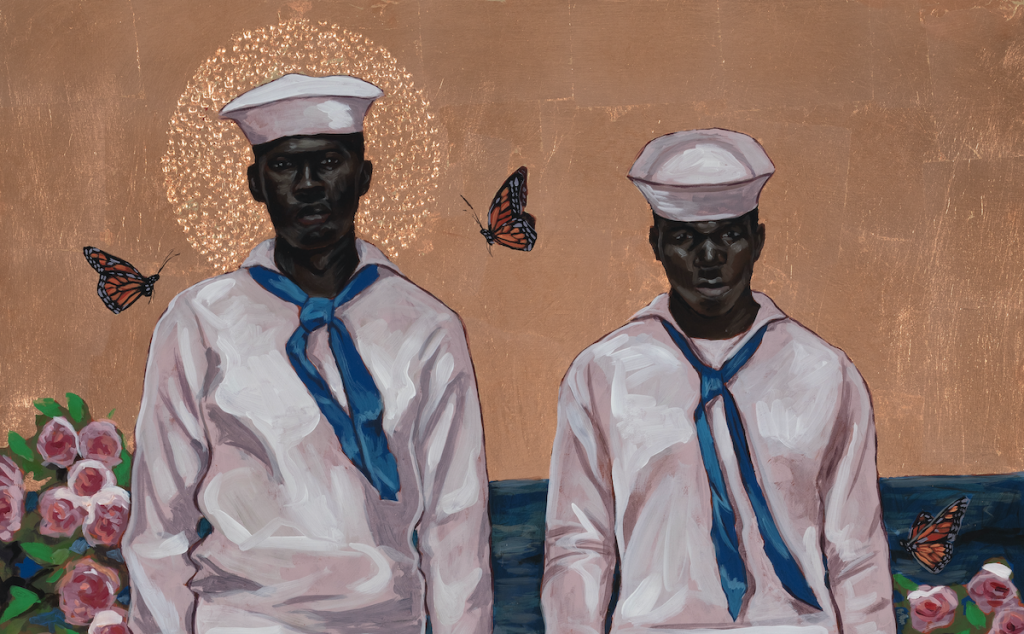 Growing up in Lincolnville, South Carolina, Towns describes himself as a shy child who found it easier to communicate by drawing, noting that even though he didn't know what it meant to be a professional artist, he knew it was something he had to do. After graduating from the University of South Carolina in Columbia, SC, in 2004 with a B.F.A., Towns worked a variety of jobs while "maintaining an art practice whenever he could find the time or funds for supplies."
"It was not until my early 30s when I moved to Baltimore and started working at Maryland Institute College of Art that I felt my work better aligned with my art practice. Attending artist talks and meeting visiting artists reinforced the idea that artists are just people and it's okay to be myself," said Towns.
After practicing professionally for nearly 20 years, Towns had his first solo museum exhibition of story quilts, Stephen Towns: Rumination and a Reckoning, at the Baltimore Museum of Art and was named a semi-finalist for Sondheim Artscape Prize in 2018. Three years later, he was awarded a MD State Arts Council's Individual Artist Award, and in 2022, will have a solo exhibition, Declaration & Resistance, at The Westmoreland.
His work has been featured in publications such as The New York Times, Artforum, The Washington Post, Hyperallergic, Cultured, AFROPUNK, HYPEBEAST and American Craft. Although Towns can be considered a rising star in the art world, the main driving factors of his artistic practice have remained the same:
"I always had this nagging feeling in the back of my mind that I was always behind—that the things me and my family experienced were not fair. I wanted to understand why life is so hard. I wanted to understand the history of where I came from and the larger context of American history—even the parts that are difficult to face. I want to create beauty from those parts of life."- Stephen Towns
Find out more about Stephen Towns, how his residency is going at Fallingwater and the body of work he is creating for his upcoming exhibition Declaration & Resistance, from the artist himself on June 23, 1pm, during the live-streamed conversation: Live from Fallingwater: Stephen Towns and Kilolo Luckett in Conversation!
---
Header Image:
Artist Stephen Towns in his Baltimore studio among works in progress for his upcoming solo exhibition, Stephen Towns: Declaration & Resistance, in 2022 at The Westmoreland Museum of American Art. Photo Credit: Jermaine Táron Bell. Image courtesy of the artist.
Full Artwork Credit Lines:
Stephen Towns (b.1980), I am the Glory, 2020, Acrylic, oil, metal leaf on panel, 48 x 36 inches, Courtesy of the Artist and De Buck Gallery.
Stephen Towns (b. 1980), The Pioneer, 2020, oil, acrylic, fabric, buttons, Bristol paper, mica flakes, graphite, glitter, charcoal on panel, 40 x 30 inches, Collection: The Westmoreland Museum of American Art, Gift of the William W. Jamison II and the Thomas Lynch Art Acquisition Fund, 2020.16.
Stephen Towns (b.1980), Two Roses (detail), 2021, Acrylic, oil, copper leaf on panel, 30 x 40 inches
Stephen Towns (b.1980), Two Navy Soldiers (detail), 2021, Acrylic, oil, copper leaf on panel, 36 x 36 inches