Celebrating LGBTQIA+ Artists in the Collection: Larry Calcagno (1913-1980)
In honor of LGBTQ+ Pride Month last month and our upcoming Pride Celebration Week, July 27-31, The Westmoreland wanted to highlight the work of LGBTQIA+ artists that are in our permanent collection.
Lawrence Calcagno, better known as Larry, was an artist who gained notoriety during the era of Abstract Expressionism of the 1950's for his series The Black Paintings and his abstractions of the natural environment. The Westmoreland owns 25 works (paintings and works on paper) by Calcagno, notably Black June (1954), and Black Foam, Paris, (1955) from the series.
Calcagno was born in San Francisco in 1913 and grew up on his father's ranch near Big Sur, California. As a child, he was interested in art and began drawing and painting, without any formal education.
After high school, he worked as a merchant seaman in Asia. From 1943 to 1946, he served in the U.S. Air Force (3). During his service, he won an award for his drawings. In 1945, he exhibited in two galleries; one in New Orleans, Louisiana, and another in Galveston, Texas.
After serving in World War II, he studied art in San Francisco, Paris, and Florence. From 1947 to 1950, he attended the California School of Fine Arts in San Francisco, where he studied with Clyfford Still and Mark Rothko, both leading figures of the abstract expressionist movement.
In 1950, he traveled to Europe and studied at the Académie de la Grande Chaumière, Paris, and at the Academia degli Belle Arte, Florence, Italy. While studying in Paris, Calcagno became friends with artist Beauford Delaney, a black American from Knoxville, Tennessee, who spent most of his life as an expatriate artist in Paris (4).
Delaney and Calcagno shared much in common. Artistically, both were dedicated to abstraction and the almost spiritual nature of painting. Both men experienced severe depression and were well aware of the social isolation that accompanied their homosexuality. They became lifelong friends, and after Calcagno returned to the U.S. in 1955, they exchanged numerous letters over the next twenty years. (4)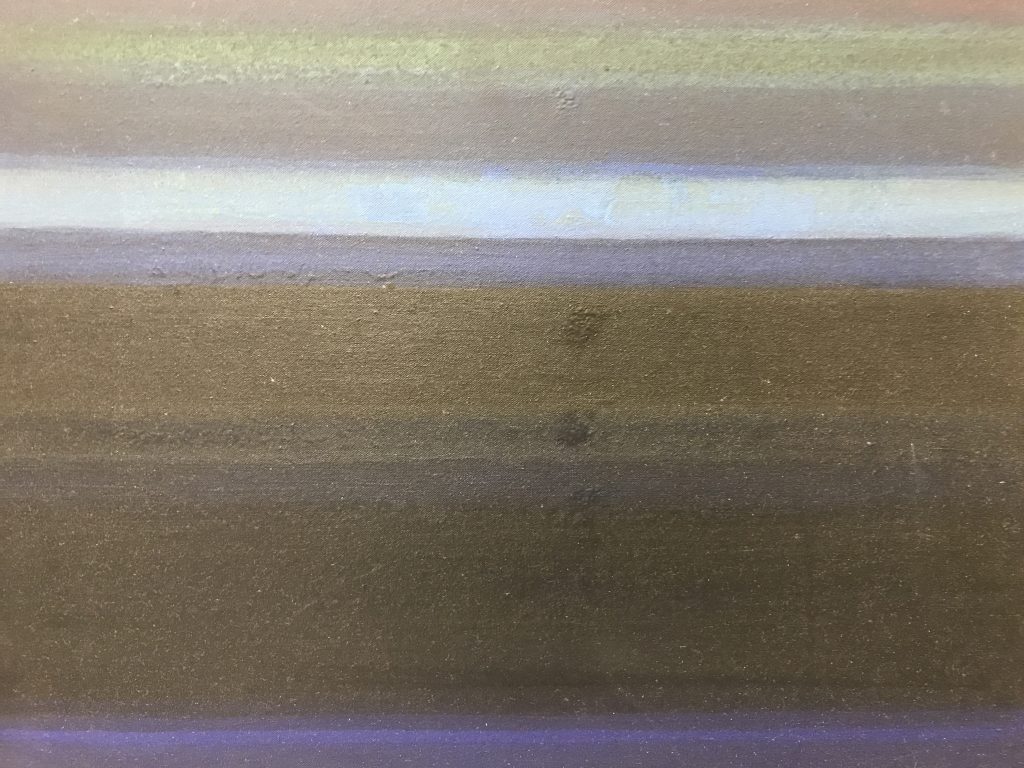 Following his return to the United States, Calcagno had his first one-man show at the Martha Jackson Gallery in New York.
Over the next few years, he taught at various institutions and received many invitations to be an artist-in-residence and guest professor. He was artist-in-residence at the University of Alabama, the Albright Art School of the University of Buffalo, and the Honolulu Academy for the Arts. From 1959-1960, he taught at New York University. In 1965, he was awarded a Ford Foundation grant and was named as the visiting Andrew Mellon Chair of Painting at Carnegie Mellon University where he taught until 1968. While in Pittsburgh, he and The Westmoreland's Director Emeritus, Paul A. Chew, became friends, and this is the reason that the Museum has so much of his work in the collection. He was also awarded three residence fellowships by the Yaddo Foundation in Saratoga Springs, New York; the Macdowell Colony in Peterborough, New Hampshire, from 1967-1968; and the Wurlitzer Foundation in Taos, New Mexico, from 1972-1973.
Over the course of his career, Calcagno's work was exhibited in 41 one-man shows and his work is represented in over 24 permanent collections, including The Westmoreland's (2). He also had two major retrospective exhibitions in his lifetime. From 1973 – 1975, his work was shown in a traveling exhibition organized by Smithsonian Institution and in 1983, the Mitchell Museum in Mount Vernon, Illinois, organized a touring retrospective exhibition of his work that traveled for two years.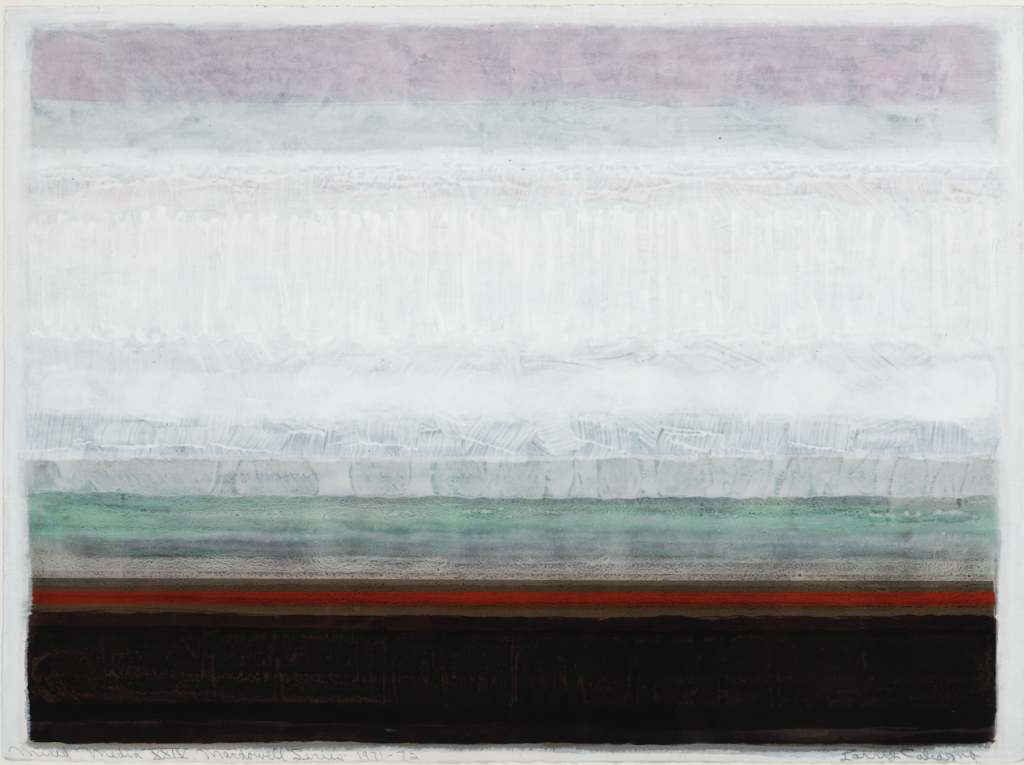 During his extensive career, Calcagno developed a personal imagery of abstract metaphors of nature. Ranging from abstract landscapes to free-form abstraction, his work is strongly reminiscent of the California landscapes of his early life in Big Sur. By using a warm, saturated palette and minimalistic, linear forms, his work evokes the horizons of seascapes and sunsets. (5) According to the artist, "we ourselves are the real mystery in the Universe." He used nature as his framework to explore and give form and expression to that mystery.
As a tribute to LGBTQ Pride Month last month and our upcoming Virtual Pride Celebration Week, July 27-31, Calcagno's Black Foam, Paris (left window) and Tom Rowland's Untitled (right window) are currently on display in the Robertshaw Gallery windows and can be viewed from outside on the Swank Terrace!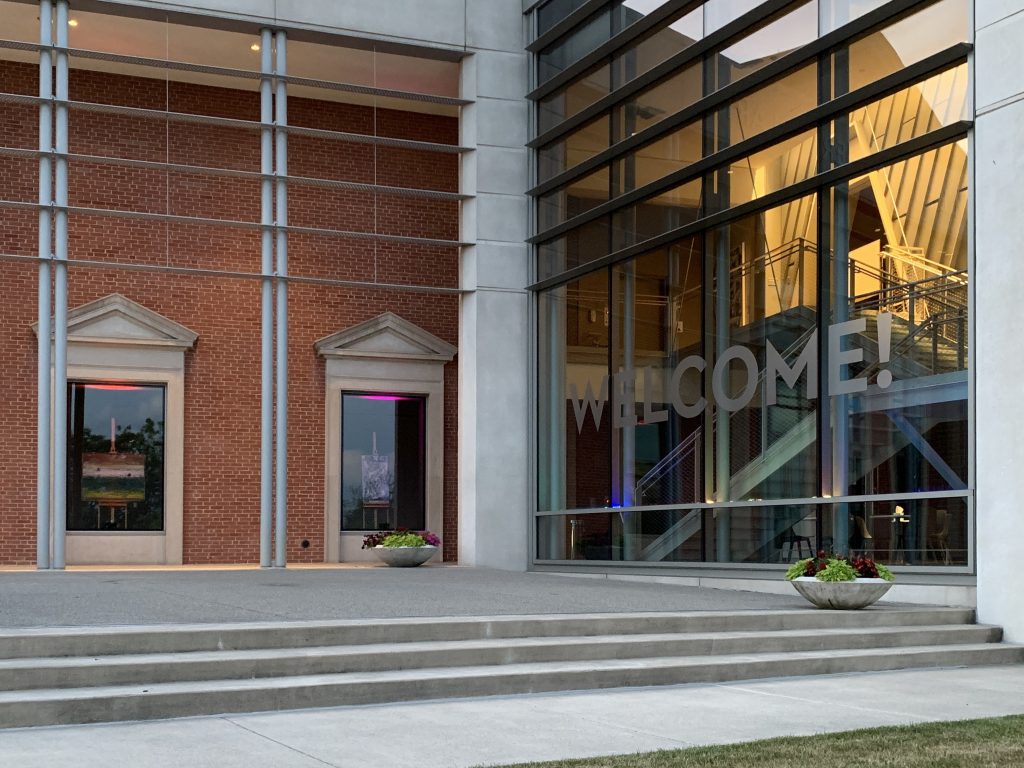 Header Credit Lines:
Top Left: Lawrence Calcagno (1913-1993), Black Foam, Paris, 1955, Oil on canvas, Gift of the Artist, 1994.7

Top Middle: Lawrence Calcagno (1913-1993), Black June, 1954, Oil on Canvas, Gift of the Estate of the Artist, 43 in. x 60 in., 1994.25.

Bottom Left: Lawrence Calcagno (1913-1980), Sea Night, 1971, Acrylic on Canvas, 20 in. x 22 in., Gift of the Estate of the Artist, 1994.8.

Bottom Middle: Lawrence Calcagno (1913-1980), MacDowell Series XXIV, 1971-1972, Mixed Media on Paper, 22 1/4 in. x 29 3/4 in., Friends of the Museum, 1972.140.

Bottom Right: Lawrence Calcagno (1913-1993), Mixed Media 42-III, 1975, Mixed Media on Paper, 22 in. x 30 in., Gift of the Estate of the Artist, 1994.14.
Bibliography:
"Lawrence Calcagno Papers," Wichita State University-University Libraries Special Collections & University Archives. http://specialcollections.wichita.edu/collections/pdf/92-13-a.pdf (Accessed June 24, 2020).
Joyce Henri Robinson, An Artistic Friendship Beauford Delaney and Lawrence Calcagno,
Distributed by Penn State University Press for the Palmer Museum of Art, 2001 http://www.psupress.org/books/titles/0-911209-53-0.html (Accessed June 24, 2020)

"Lawrence Calcagno (1913-1993) Full Biography" Peyton Wright Gallery, 2007, 237 East Palace Avenue, Santa Fe, NM 87501, USA. peytonwright.com/wp-content/uploads/2007/07/Calcagno-Lawrence_bio.pdf (Accessed June 24, 2020)

"Artists: Lawrence Calcagno," Burchfield Penney Art Center at SUNY Buffalo State, 1300 Elmwood Avenue Buffalo, New York 14222, © 2020 Burchfield Penney Art Center at SUNY Buffalo State https://www.burchfieldpenney.org/artists/artist:lawrence-calcagno/ (Accessed June 25, 2020).