Celebrating LGBTQIA+ Artists in the Collection: Tom Rowlands (1926-1991)
In honor of LGBTQ+ Pride Month last month and our upcoming Pride Celebration Week, July 27-31, we are highlighting LGBTQIA+ artists from our permanent collection and featuring their work in the Robertshaw Gallery windows.
The second LGBTQIA+ artist that we are celebrating is modernist painter Robert Thomas Rowlands, better known as Tom, who became well-known in the Pittsburgh region during the 1950s and 1960s for his abstract oil paintings. The Westmoreland's permanent collection has 3 oil paintings, 1 watercolor and 1 drawing by Rowlands, with a recent gift in 2019 of an untitled abstract painting from 1954.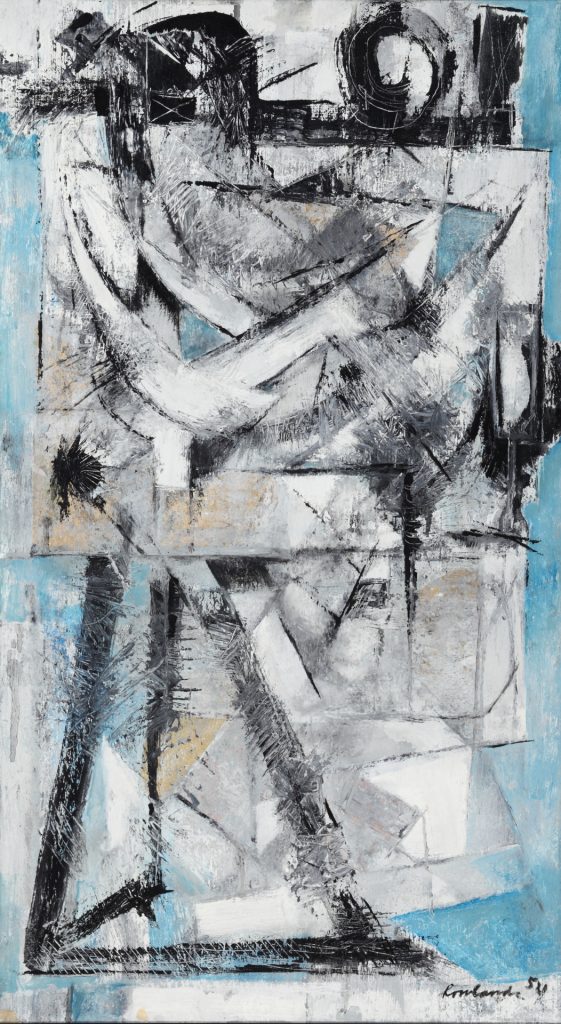 Rowlands was born in Pleasant City, Ohio, in 1926, but didn't stay in his hometown long. From 1943 to 1950, he studied at Parsons School of Design, Cooper Union, and the Art Students League in New York City. In 1951, he moved to Pittsburgh where he joined the Associated Artists of Pittsburgh (AAP).
During the 1950s, Rowlands lived in Pittsburgh, vacationed in Cape Cod during the summers and studied in Europe. He was very active in Cape Cod, exhibiting at various summer shows of the Cape Cod Art Association during the summer of 1952, earning numerous prizes. A year later, he became the Director of the Cape Code Art Association and was awarded the Henry Posner Prize for Oil Painting at the AAP exhibition. Rowlands was included in the 1955 Carnegie International, and the following year he had a solo exhibition at Carnegie Institute (now Carnegie Museum of Art) and won first prize at the Annual Playhouse Exhibit. From 1954 – 1955 and again from 1957-1958, he traveled, studied and painted in Europe and briefly lived and worked in New Orleans.
After being named artist-in-residence at The Westmoreland Museum of American Art in 1960, Rowlands moved to Greensburg, PA. He remained for two years in charge of the Museum's studio art classes. During that same year, Rowlands received the Golden Anniversary Medal Award for outstanding work in any medium from AAP for his abstract oil Fog Burning Off, and had a solo exhibition at The Westmoreland. Jeanette Jena, art critic for the Pittsburgh Post-Gazette, reviewed that exhibition:
"Here is a group of sensitive and impressive paintings which transcend the ordinary label of 'abstract expressionism' in the way they portray both an inner and outer life; a kind of landscape of the spirit which draws upon nature as well as the artist's poetic consciousness, expressed in a variety of ways. Rowlands' feeling for color is especially intense; but usually controlled, even in his most explosive canvases." – Jeanette Jena, "Rowlands Paintings Shown in Greensburg," Pittsburgh Post-Gazette, April 5, 1960.
In 1962, Rowlands exhibited at the Pennsylvania Academy of the Fine Arts Annual in Philadelphia, where his abstract seascape Black Tide was purchased by the Academy. He was awarded first prize for watercolors from AAP Patrons Fund and the J. Alfred Wilner Memorial Prize for outstanding work in painting at the AAP Exhibition that year.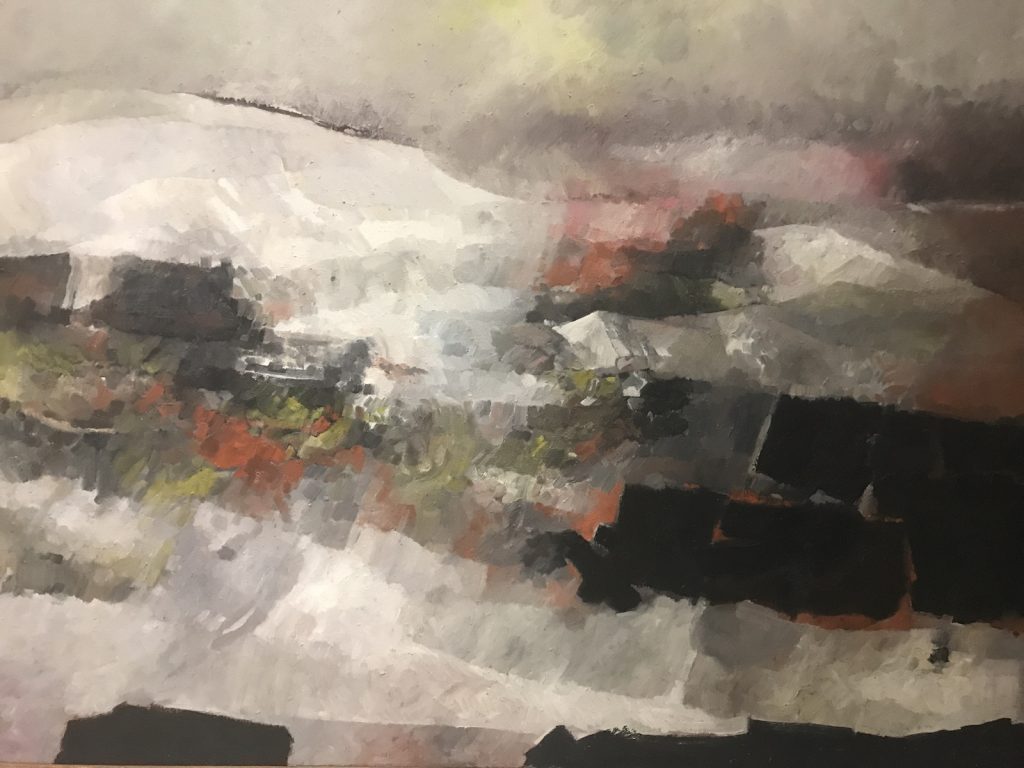 Over the next two decades, Rowlands would exhibit in 11 exhibitions and a total of 5 solo exhibitions, two at The Westmoreland Museum of American Art, two at the Ward-Nase Gallery in Boston, and one at the Arts and Crafts Center (now Pittsburgh Center for Arts & Media)  where he experimented with figuration.
In his review of the latter exhibition, Ralph Brem commented: "When it comes to art and imagination combined with craftsmanship, Tom Rowlands is a swinger and the result is one of the most interesting shows around here this season."  – Ralph Brem, "Rowlands Swings Most Interesting Art," The Pittsburgh Press, March 3, 1963. Photo on right from article.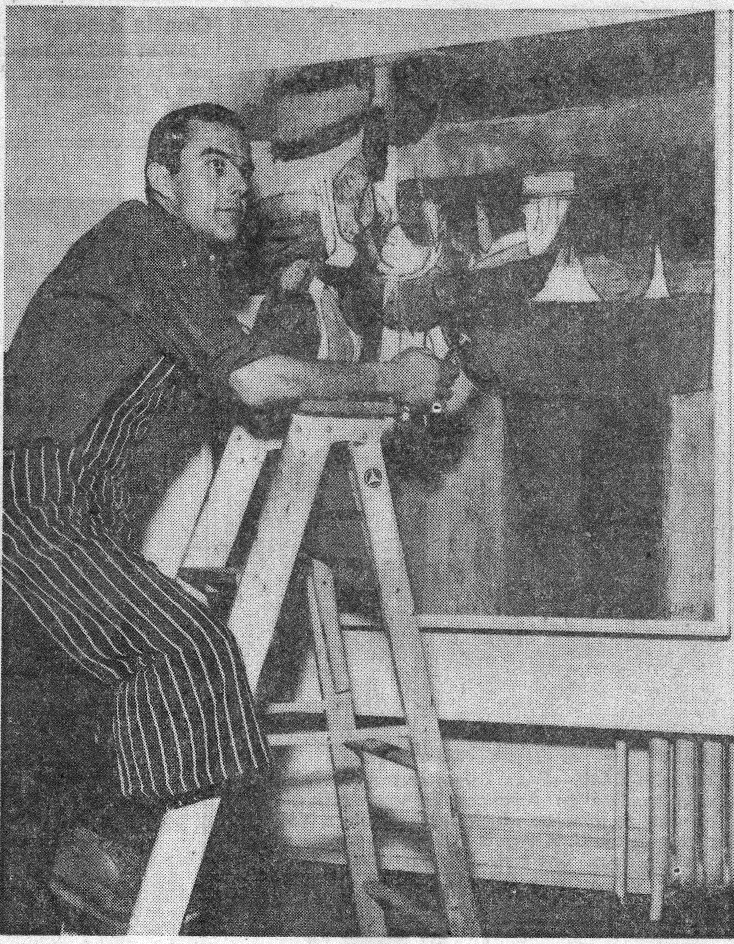 According to Donald Miller, art critic for the Pittsburgh Post-Gazette:
"Painter Tom Rowlands' one-man exhibit at the Westmoreland County Museum of Art (now The Westmoreland Museum of American Art) here  is one of the area's best shows of the year." All 17 paintings shown during his exhibition in 1969 have "a tooled precision in painted line and frame construction. Fortunately, there is variety in the flashiness. Yet all appear untouched by human hands – an almost mandatory requirement of the hard-edge movement. In view of their topicality and quality, surely some of these paintings could find a berth in New York" – Donald Miller, "Rowlands' Exhibit Is Tops," Pittsburgh Post-Gazette, April 29, 1969.
In 1969, Rowlands moved to Yarmouth Port, MA and opened the Cranberry Moose Restaurant there in 1980 with his partner Jerry Finegold. They sold the restaurant in 1988. Rowlands last exhibition was at the Judi Rotenberg Gallery, Boston, a year before his death in 1991.
Over the course of his artistic career, Rowlands explored a range of styles–Impressionism, Abstract Expressionism, Pop art and Minimalism–in his paintings, drawings and three-dimensional constructions, all of which revealed his interest in color and form. Late in his career, he turned to pencil drawings of the coastline of Cape Cod and to studies of shells, vegetables and the figure, revealing his superb draftsmanship.  While he gained recognition in Pittsburgh and Cape Cod, exhibiting regularly at various venues, he did not achieve national recognition during his lifetime. His time is yet to come.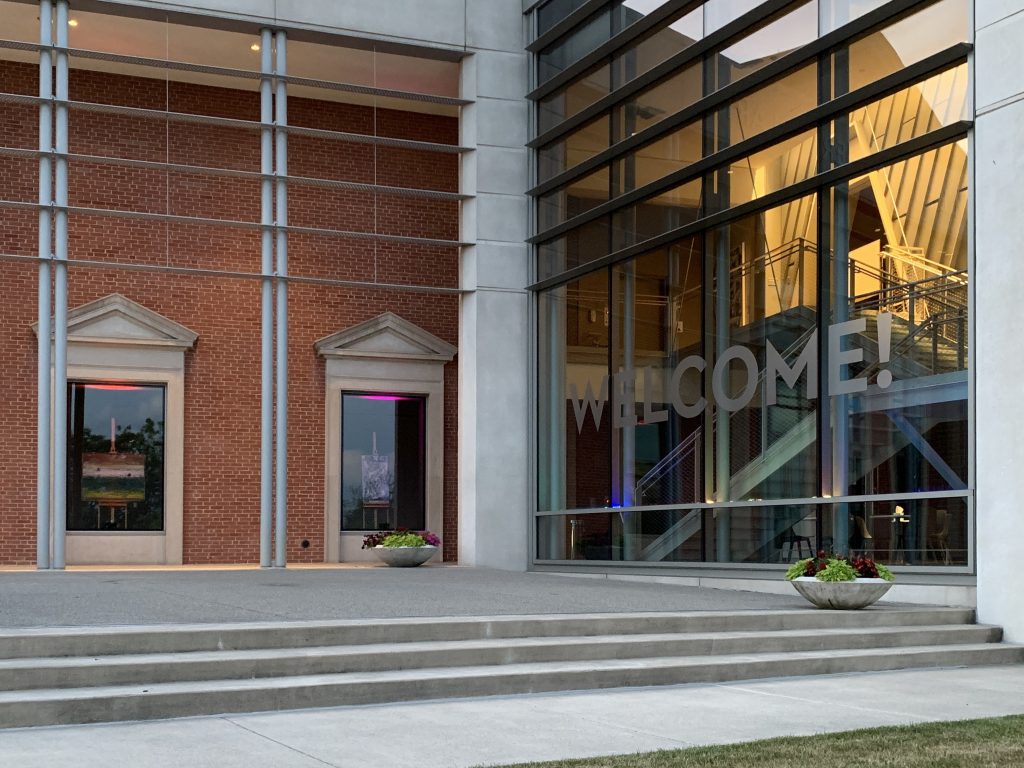 As a tribute to LGBTQ PRIDE month in June and our upcoming Virtual Pride Celebration Week, July 27-31, Rowland's Untitled and Lawrence Calcagno's Black Foam, Paris, will be on display in the Robertshaw Gallery windows and can be viewed from outside on the Swank Terrace!