Celebrating LGBTQIA+ Artists in the Collection
In celebration of LGBTQIA+ Pride Month and our upcoming Greensburg Pride Celebration, June 26, 5-9pm, you need to get to know these 5 LGBTQIA+ artists from our collection, three deceased and two active today, who have created compelling and incisive work, have made lasting contributions to the art world, and have or are pushing contemporary art forward.
1. Marsden Hartley (1877–1943)
Marsden Hartley, who is now considered one of the most famous early modernist artists of twentieth-century American art, known for landscapes, still lifes, and some portraits.
Born Edmund Hartley in Lewiston, Maine in 1877, Hartley moved to Cleveland in 1893 and after studying with several individual artists, enrolled at the Cleveland School of Art (now the Cleveland Institute of Art) in 1898. When Hartley moved to New York City at the age of twenty-two in 1899, he attended classes at both the National Academy of Design and the Art Students League.
By 1909, Hartley had his first exhibition, which was held at New York Gallery 291, run by Alfred Stieglitz (1864-1946), a photographer and art dealer who championed modernism and was the first to exhibit works by the then controversial French modernists Paul Cézanne (1839–1906) and Pablo Picasso (1881– 1973) in the United States. Hartley's exposure to cubism through the work of Cézanne and Picasso changed the way he made art.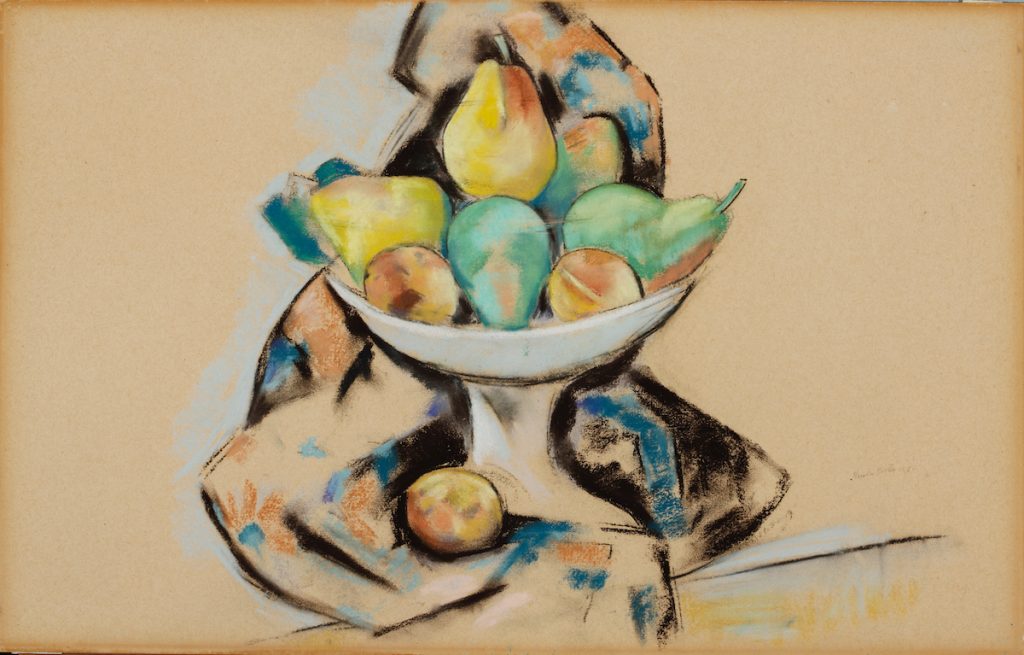 Hartley traveled to Europe in 1912, stopping in Paris, Munich, and Berlin. Stieglitz helped fund Hartley's move to Paris in 1912, where Hartley met with Gertrude Stein and her circle of avant-garde writers and artists and saw the liberalism of European sexuality.
It was in Berlin though where Hartley felt a sense of creative belonging and experienced a society that was more accepting of his homosexuality. Although Paragraph 175 became part of German's criminal code in 1871 and deemed homosexual acts between males a crime, the political authorities and law enforcement in Berlin had become more tolerant in their response to homosexuality, with records noting that more than 40 gay clubs were active during the 1910s, and during the Weimar Republic (1919-1933), there were actually several unsuccessful attempts to repeal Paragraph 175 (2). While in Berlin, Hartley met and became enamored of a German officer, Karl von Freyburg. Following Freyburg's death in 1914, Hartley made him the subject of several ambitious, nearly abstract paintings that would become the artist's first signature works
Over the course of his lifetime, Hartley experimented in various styles—from impressionism to cubism to abstraction—before developing his mature style, which is a combination of all three. During the last three years of his life, Hartley's style evolved into a blend of representation and expressionism using flat areas of color often surrounded by a dark outline. Eulogized by many as misunderstood and underappreciated, Hartley is now considered to be one of the greatest painters in the ranks of American artists.
The Westmoreland owns 6 works, two pastel drawings and four lithographs by the artist, that reflect his experimentation with printmaking in 1923 and 1933-1934.
2. Charles DeMuth (1883-1935)
Known for two signature styles, delicately lightly tinted watercolors of flowers, fruits and figures, and precisionist, cubist-derived architectural landscapes and cityscapes, Demuth was a skillfully versatile artist. He also depicted early 20th century American gay subculture with evocative, private watercolor paintings. Charles Demuth's Beach Study, Number 2, is part of the Museum's permanent collection.
Born in Lancaster, Pennsylvania, Demuth's began private art lessons in still life and landscape painting at a young age. He went on to attend Franklin and Marshall College, graduating in 1901, and first studied art at the Drexel Institute and then at the Pennsylvania Academy of Fine Arts in Philadelphia until 1911. In 1907, Demuth exhibited his work for the first time in the 8th Annual Exhibition of the Fellowship of the Pennsylvania Academy of the Fine Arts (6).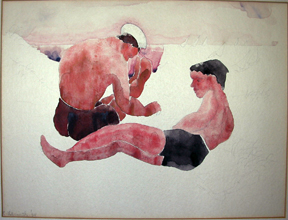 Demuth also traveled to and studied in Paris from 1907 – 1908 and again from 1912-1914, where he met and became friends with fellow American artist Marsden Hartley, and during the late 1910s and early 1920s, where he was part of the avant-garde art scene. The Parisian community was much more accepting of Demuth's homosexuality, and a number of his paintings, like Turkish Bath with Self Portrait, which were not intended for public view, depict the sexual subculture of postwar Paris and the evolving gay subculture in New York. Capturing an emerging culture that was very different from the mainstream culture at that time these works are historically significant (7).
During the 1920s, Demuth also began exploring and depicting industrial architecture, which would become a major theme in his artistic output. In 1927, he began a final major series of seven paintings based on the architecture of Lancaster, including the well-known My Egypt (1927). These works would become iconic representations of the industrialization of and its effects on small-town America.
Over the course of his short artistic career, DeMuth painted with watercolor, oil and tempura, completing about 750 paintings and 350 drawings, received favorable reviews, and sold numerous works. He was one of the first artists to embrace Modernism and give it a uniquely American point of view, and his work was crucial to the development of modern art in this country in the 20th century (6).
3. Larry Calcagno (1913-1980)
Born in San Francisco in 1913, Lawrence Calcagno, better known as Larry, gained notoriety during the era of Abstract Expressionism of the 1950s for his series The Black Paintings and his abstractions of the natural environment. The Westmoreland owns 25 works (paintings and works on paper) by Calcagno, notably Black June (1954), and Black Foam, Paris, (1955) from the series.
Ranging from abstract landscapes to free-form abstraction, Calcagno's work is strongly reminiscent of the California landscapes from his early life in Big Sur. By using a warm, saturated palette and minimalistic, linear forms, his work evokes the horizons of seascapes and sunsets (3).
As a child, he was interested in art and began drawing and painting, without any formal education. After serving in World War II, he went on to study art in San Francisco, Paris, and Florence. Largely self-taught, Calcagno attended the California School of Fine Arts in San Francisco from 1947 t0 1950, where he studied with Clyfford Still and Mark Rothko, both leading figures of the abstract expressionist movement.
While studying in Paris, Calcagno became friends with artist Beauford Delaney, a black American, who spent most of his life as an expatriate artist in Paris. Artistically, both were dedicated to abstraction and the almost spiritual nature of painting. Both men experienced severe depression and were well aware of the social isolation that accompanied their homosexuality. After Calcagno returned to the U.S. in 1955, they exchanged numerous letters over the next twenty years (3).
Over the course of his career, Calcagno's work was exhibited in 41 one-man shows and is represented in over 24 permanent collections, including The Westmoreland's (3). He also had two major retrospective exhibitions in his lifetime. The first was a traveling exhibition from 1973 -1975 that was organized by Smithsonian Institution and the second was a touring retrospective exhibition of his work that traveled for two years, 1983 – 1985, organized by the Mitchell Museum in Mount Vernon, Illinois.
4. Mickalene Thomas (b. 1971)
Drawing on and combining Western art history, political and pop-cultural references, and visual culture, contemporary queer artist Mickalene Thomas creates complex, texturally-rich portraits, landscapes, and interiors that examine, extend, and subvert concepts of femininity, celebrity, beauty, and sexuality, particularly issues around African-American gay and lesbian identities.* Thomas is a 2015 United States Artists Francie Bishop Good & David Horvitz Fellow, a distinguished visual artist, filmmaker and curator.
Born on January 28, 1971 in Camden, NJ, Thomas went on to attend Pratt Institute in Brooklyn, NY, in 2000, where she earned a B.F.A. in painting, and Yale University School of Art, New Haven, CT in 2002, where she earned an M.F.A. in painting. In 2008, she was honored with creating what is considered the first individual portrait of former First Lady Michelle Obama, "Michelle O," which is a nod to Andy Warhol's portrait of former First Lady Jacqueline Kennedy Onassis.
Her work is exhibited nationally and internationally in solo and group exhibitions and can be found in the collections of the Art Institute of Chicago, the Whitney Museum of American Art in New York, the Smithsonian Museum of American Art in Washington, D.C., the Baltimore Museum of Art, and The Westmoreland Museum of American Art, among others.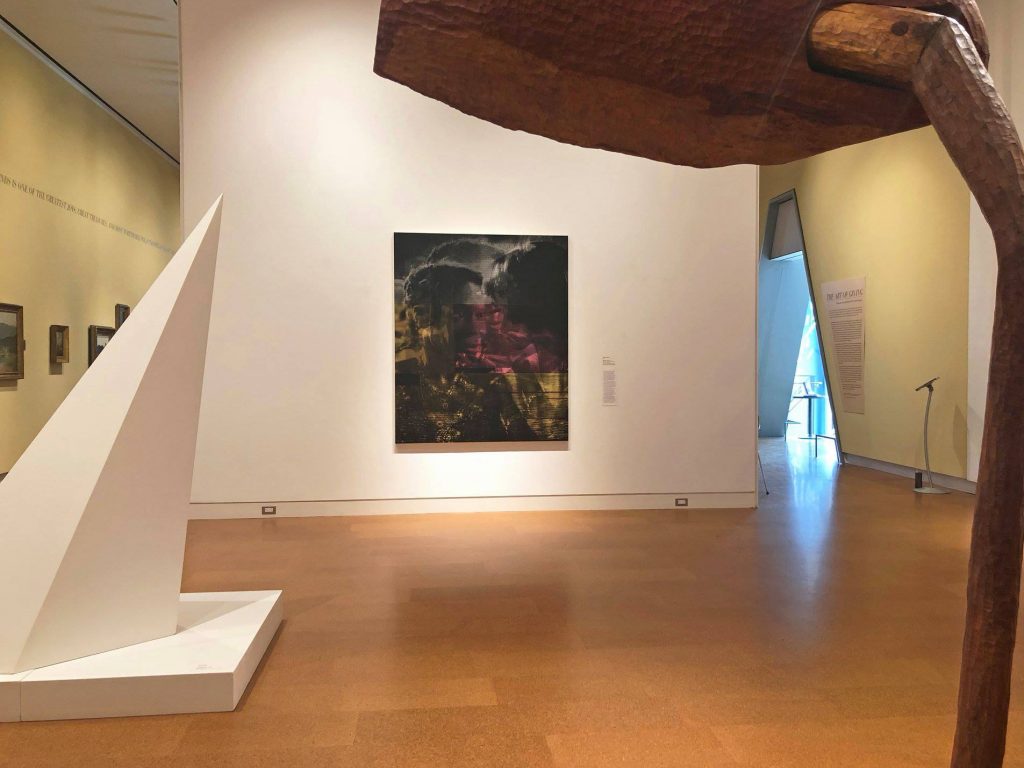 The Westmoreland owns Thomas' mixed media work, Shug Kisses Celie. In this work, the artist features a still from the film "The Color Purple," a complicated tale of male dominance, female empowerment and the healing power of love. In the still, Thomas captures the moment that Shug, a singer and dancer who befriends her lover's young wife, Celie, awakens a sense of self in the younger woman. Using several layers of ink, Thomas then lithographed the photograph on a grid of mirrored surfaces, but left one small triangle free of image. The height of the small clear mirror is at a child's height, allowing youthful visitors to see themselves in this image.
*When we use the word "queer," we are referring to a self-identification of a person that is not heterosexual or cisgender–which is having a gender identity that matches the sex assigned at birth. Please note, we are aware that for many, the term "queer" can be problematic, as it is a reflection of a negative history, but for others, "queer" is how they self-identify, which is why we use the word in this blog.
Vanessa German (b. 1976)
An award-winning multidisciplinary artist who identifies as female, African American, and queer, Vanessa German creates innovative assemblages, complex compositions, and meaningful ideas, that address today's issues dealing with identity, gender, racism, discrimination, violence, injustice, and poverty.*
Born in 1976 in Milwaukee, Wisconsin, German moved to Pittsburgh in 2000 to the Homewood community, where she founded ArtHouse, an art initiative providing a welcoming space for children to create and share. The ArtHouse was severely damaged in fire this past February and is currently undergoing repairs.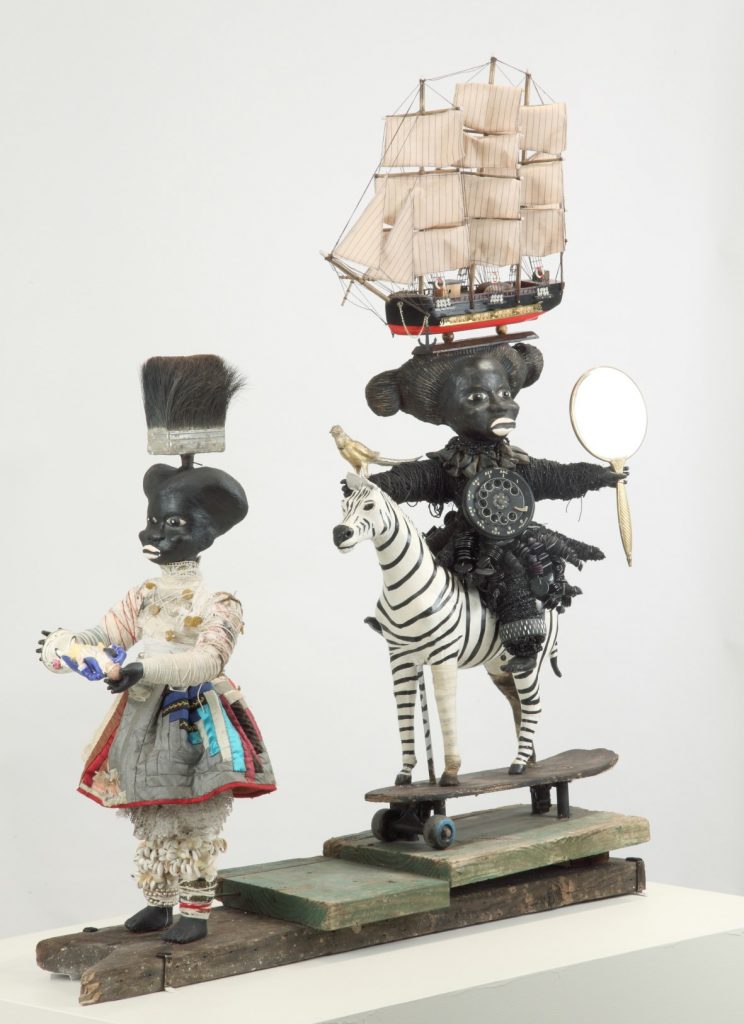 Her "contemporary power figures" combine and transform doll parts, antique tins, cowrie shells, household objects, African beads, and found objects or materials from her Homewood neighborhood into an iconography of astonishing metaphors. With these three-dimensional collage sculptures, German reclaims objects and words that symbolize the oppression of African Americans for generations, creating serene, if surreal, figures reminiscent of religious icons, Congolese minkisi sculpture, and folk art traditions. The Westmoreland owns 1 of German's intricate mixed media sculptures, Parade to the Baptism, which is imbued with symbolism, bridging the past, present and future of African American experience.
German is the recipient of the 2015 Louis Comfort Tiffany Foundation Grant, the 2017 Jacob Lawrence Award from the American Academy of Arts and Letters, the 2018 United States Artist Grant and the 2018 Don Tyson Prize from Crystal Bridges Museum of American Art.
German's work has been exhibited widely, most recently at The Frick Art Museum, Figge Art Museum, and The Union for Contemporary Art, and can be found in private and public collections, including: Everson Museum of Art, Flint Institute of Arts, Crystal Bridges Museum of American Art, David C. Driskell Center, Snite Museum of Art, Wadsworth Atheneum Museum of Art and The Westmoreland Museum of American Art, as well as in many others.
*When we use the word "queer," we are referring to a self-identification of a person that is not heterosexual or cisgender–which is having a gender identity that matches the sex assigned at birth. Please note, we are aware that for many, the term "queer" can be problematic, as it is a reflection of a negative history, but for others, "queer" is how they self-identify, which is why we use the word in this blog.
---
References
O'Toole, Judith Hansen. "Marsden Hartley (1877-1943), Still Life No. 5, 1918" in Picturing America: Signature Works from the Westmoreland Museum of American Art, Barbara L. Jones et al. (Greensburg, PA: Westmoreland Museum of American Art, 2010), 161-163.
Cirigliano II, Michael, "Marsden Hartley and Wilfred Owen: Queer Voices of Memorial in Wartime." The Met Blog, December 20, 2017. https://www.metmuseum.org/blogs/now-at-the-met/2017/marsden-hartley-wilfred-owen-world-war-i (Accessed June 9, 2021).
Robinson, Joyce Henri. An Artistic Friendship Beauford Delaney and Lawrence Calcagno,
(Penn State University Press for the Palmer Museum of Art, 2001)
http://www.psupress.org/books/titles/0-911209-53-0.html (Accessed June 24, 2020)
"San Francisco to Taos presented by 203 FINE ART" 203 Fine Art, Taos, NM, 2019.
https://issuu.com/203fineart.com/docs/san_francisco_to_taos_catalog_2017_(Accessed June 24, 2020)
"Obituary of Lawrence Calcagno, Abstract Painter, Dies at Age, 80." New York Times, April 28, 1993. Section B, Page 7, national edition.
https://www.nytimes.com/1993/04/28/obituaries/lawrence-calcagno-abstract-painter-80.html (Accessed June 25, 2020).
"Biography Charles Demuth (1883-1935)," American Art at The Phillips Collection, 2005. https://www.phillipscollection.org/research/american_art/bios/demuth-bio.htm (Accessed 14 July 2020)
Glennon, Jen. "Charles Demuth Artist Overview and Analysis," TheArtStory.org, First published on 02 Mar 2016, Edited and published by The Art Story Contributors. https://www.theartstory.org/artist/demuth-charles/life-and-legacy/ (Accessed 13 Jul 2020).