Conservation Corner: Looks Good on Paper
Or does it? Paper is a popular material used by artists because it's more affordable and versatile than other materials. The problem with paper, particularly paper from the 19th and 20th containing wood pulp, is that it's more vulnerable and susceptible to degradation, particularly from light damage.
In order to protect from light damage aka burning, works on paper are only displayed in low levels of light and for limited periods of time. When not on display, works on paper rest in the vault in archival folders (reduced acid) in complete darkness.
When a work on paper deteriorates, a conservation treatment is key to prevent further damage and to ensure that the work will survive for future enjoyment.
Four works on paper from the Museum's permanent collection recently underwent a conservation 'spa' treatment, complete with rejuvenating baths resulting in wonderfully restored artworks.
Mary Stevenson Cassatt (1844-1926), Sarah Wearing Her Bonnet and Coat, c. 1904, Lithograph on paper, 20 x 16 ½ inches, Gift of the William A. Coulter Fund, 1962.55.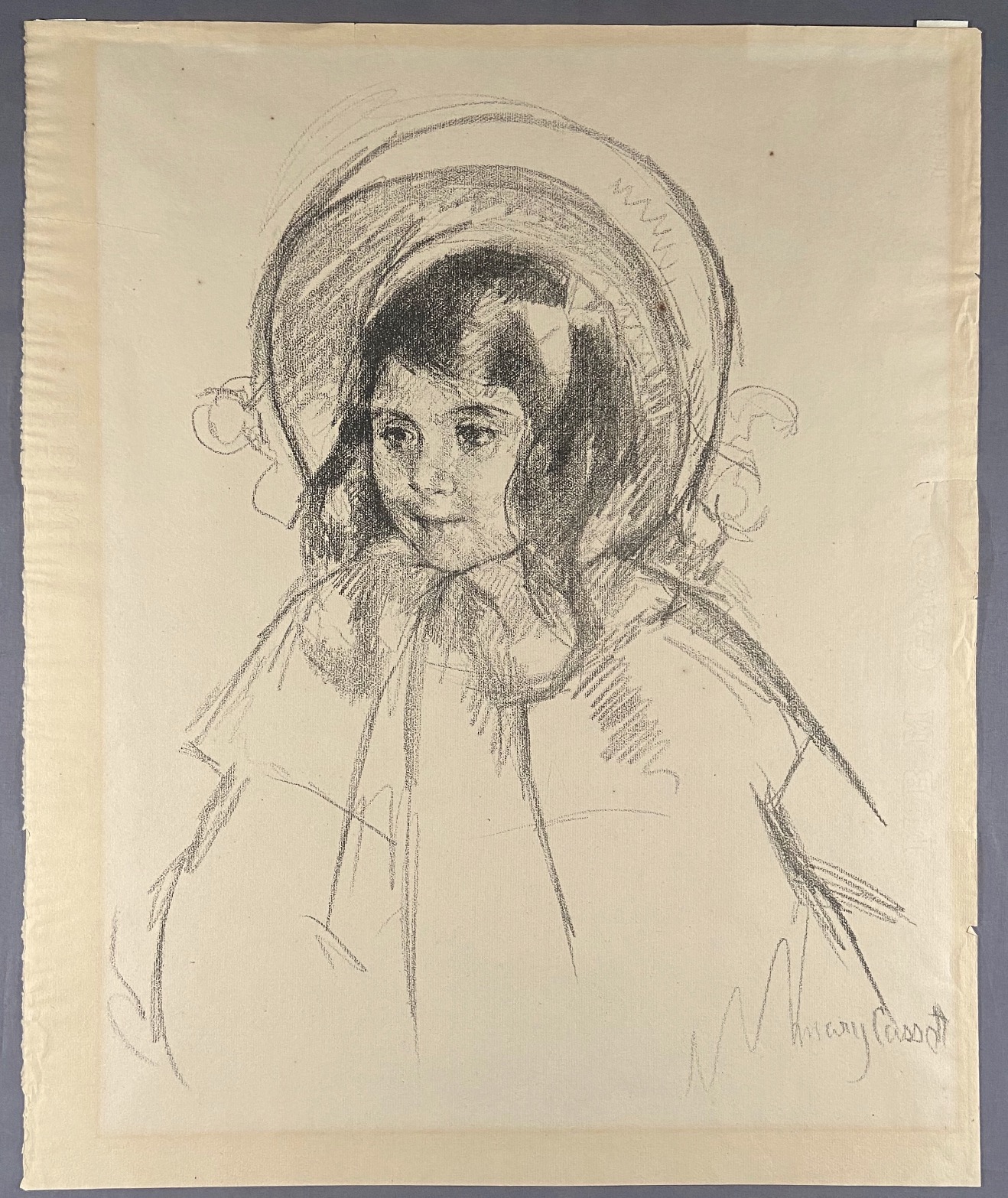 Before: The print had multiple tears, including 3 tears larger than 1" and many smaller tears. The paper was discolored, brittle, stiff, and rife with scattered red/brown stains with dark centers that were likely related to iron inclusions within the paper support. On the back at the top and right corners, old, heavy, water-activated adhesive linen tape hinges were present and on the top and bottom of the vertical edge there were thin strips of woven paper.
Treatment & Results: The print underwent surface cleaning on both sides. Then it had several water baths to reduce discoloration, remove degradation products, and remove the past hinges and thin paper strips, and a chemical bath to improve brightness of paper and improve the contrast of the printed image. Tears were then mended with paper with a neutral pH and paste, stabilizing the paper.
Childe Hassam (1859-1935), The Writing Desk, 1915, Etching on paper, 10 x 7 inches, Gift of Frank J. Kelly, 1982.43
Before: The etching had hinges, adhesive residue, numerous losses, aka missing areas or the work of art or holes, and a damaged left corner.
Treatment & Results: The etching underwent a surface cleaning, had the hinges removed, a water bath to reduce adhesive residue, a chemical bath to brighten overall paper tone and increase contrast of printed image. Losses were filed and the left corner was structurally stabilized.
James Abbott McNeill Whistler (1834-1903), La Vielle aux Loques, 1858, Etching and drypoint on cream laid paper, 8 1/8 x 5 7/8 inches, Gift of Harvey Childs, Jr., 1989.103.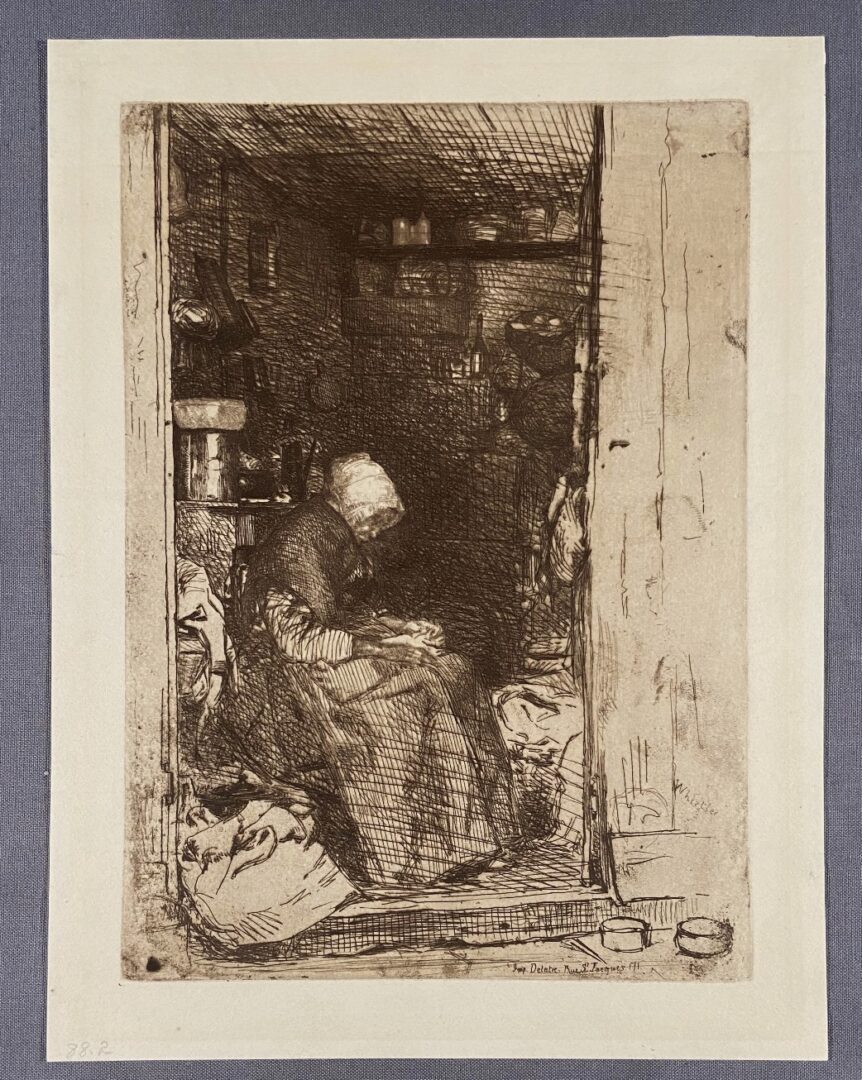 Before: The print's back had not been inspected for damage while the front was discolored and had horizontal creases.
Treatment: The window matting and backing was removed; the front underwent a surface cleaning and the horizontal creases were reduced while retaining the plate mark.
William James Glackens (1870-1938), Saint Patrick's Day Parade, New York City, n.d., Ink on paper, 11 5/8 x 16 7/8 inches, Gift of the William A. Coulter Fund, 1959.72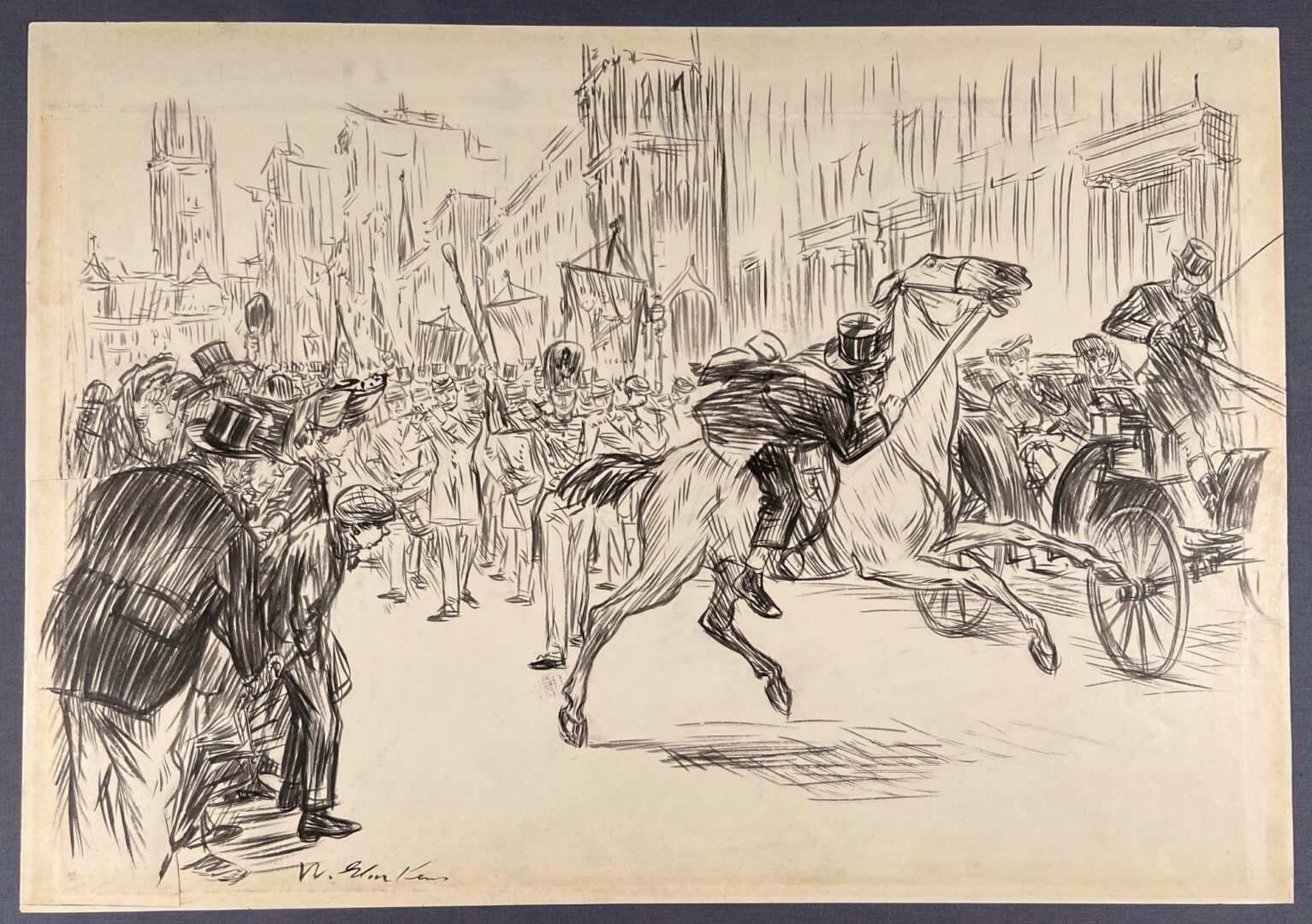 Before: The ink drawing had adhesive residue on the back, thinning of paper on the front, smalls losses and tears.
Treatment & Results: The drawing received a surface cleaning, a reduction of the adhesive glue on the back, and a consolidation and reinforcement of the thinning paper. The holes and tears were mended and the small losses, damaged or missing parts of the work, were inpainted. The drawing now has structurally stabilized paper support and the viewer's eye will now focus on the image and not the losses or other areas of previously existing damage.
Though most guests to The Westmoreland may never be aware of the meticulous conservation performed on these works on paper when they are viewing them we know that they will now be able to enjoy the resulting restored artworks now and years to come.
Be on the lookout for the next Conservation Corner highlighting another recent conservation project that involved reframing a popular piece from the 19th Century Gallery.