Tina Williams Brewer | Cultivation: Journey of the Work Overview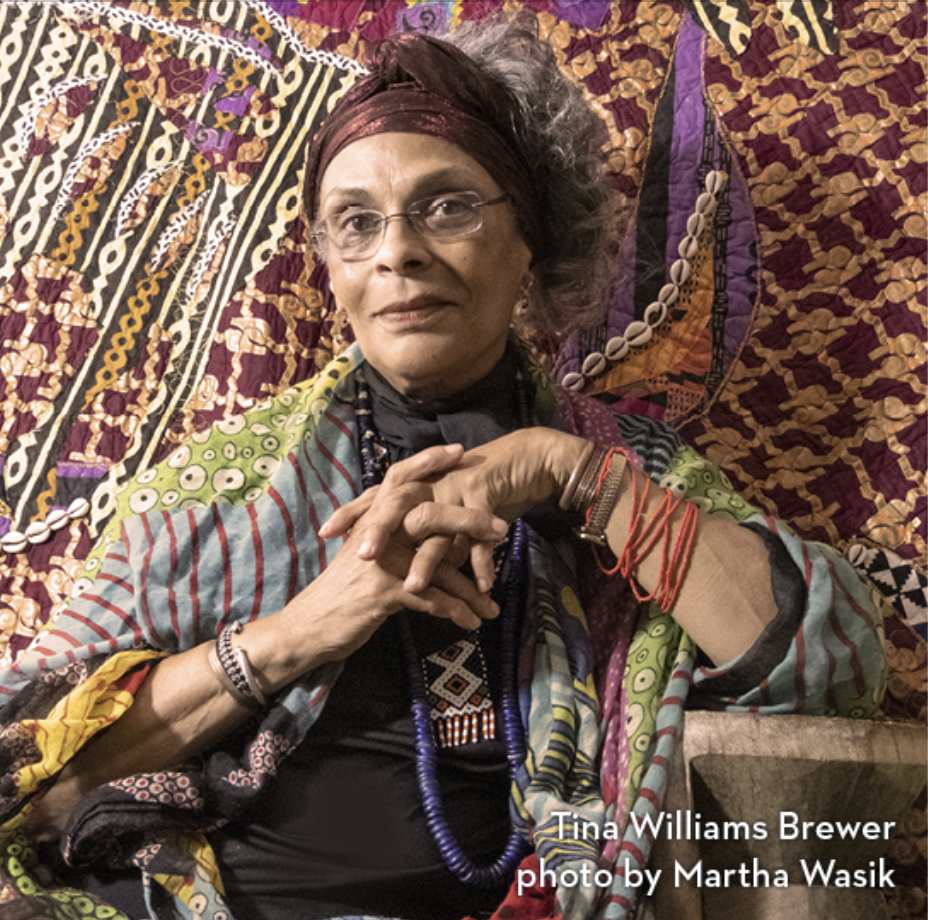 Renowned fiber artist Tina Williams Brewer creates thoughtful and astounding stories through story quilts that explore African and African American history, the current identity, and the ever-evolving spirituality of African and African American people. Brewer's solo retrospective exhibition Cultivation: Journey of the Work features works from the beginning of her quilting career to her latest pieces as of last year, and is only on view for 3 more weeks, through April 24, 2022.
Chronologically arranged, the exhibition feature works starting from 1989 up until 2021. Representing the many phases and issues Brewer has explored through the decades, the quilts vary in topic, ranging from the history of slavery to the roots of racism and move to the breakdown of African and African American family dynamics, women, spirituality, and hope.
"For me, it's been a life-long experience, piece, after piece after piece," Brewer says about the evolvement of her career as a quilter, storyteller, and artist.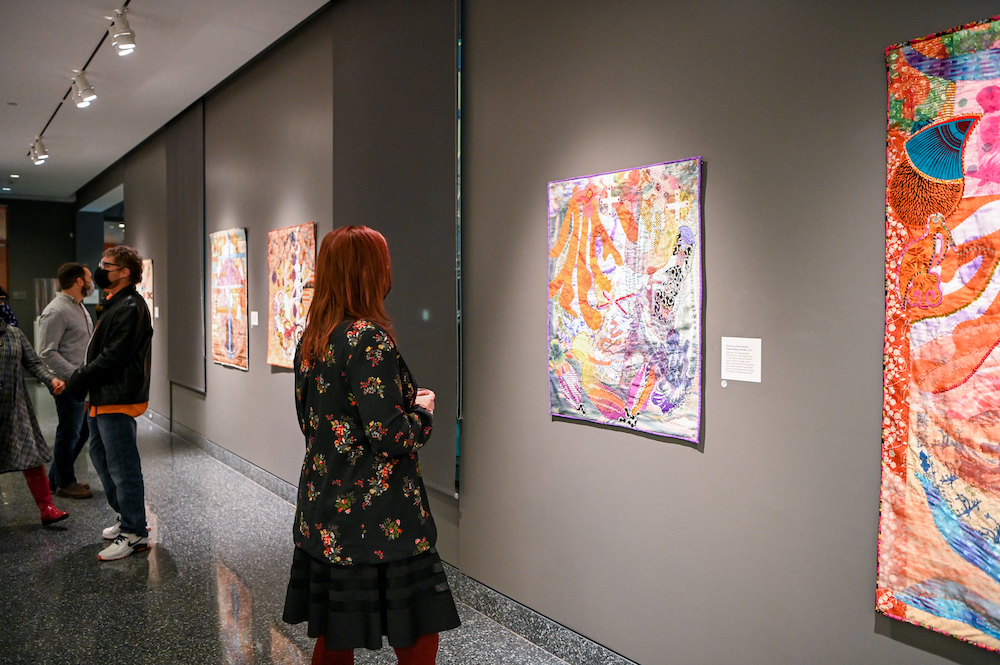 Brewer began quilting in the early 1980s when she joined a quilting group that was very meticulous about traditional quilting. She learned some techniques, but was creatively uninspired by the rigidity of the traditional patterns and left the group soon after to pursue her style of quilting, which involves a strip piecing technique.
The strip piecing technique is the joining of fabric strips to create a whole cloth. Brewer's process incorporates layering additional fabric or embellishment to the whole cloth that brings the images of the story quilt to life, a type of animation, a talking cloth. This technique works as a memory device inspired by the Lukasa memory board, a wooden mnemonic device used to maintain the recording of the oral history of the Luba culture.
Brewer wanted to tell the story of the African and African American experience through her quilts and began to research African American culture and history. She remembers going to the library while her children were in school to do research and noted that the Internet has made knowledge much more accessible.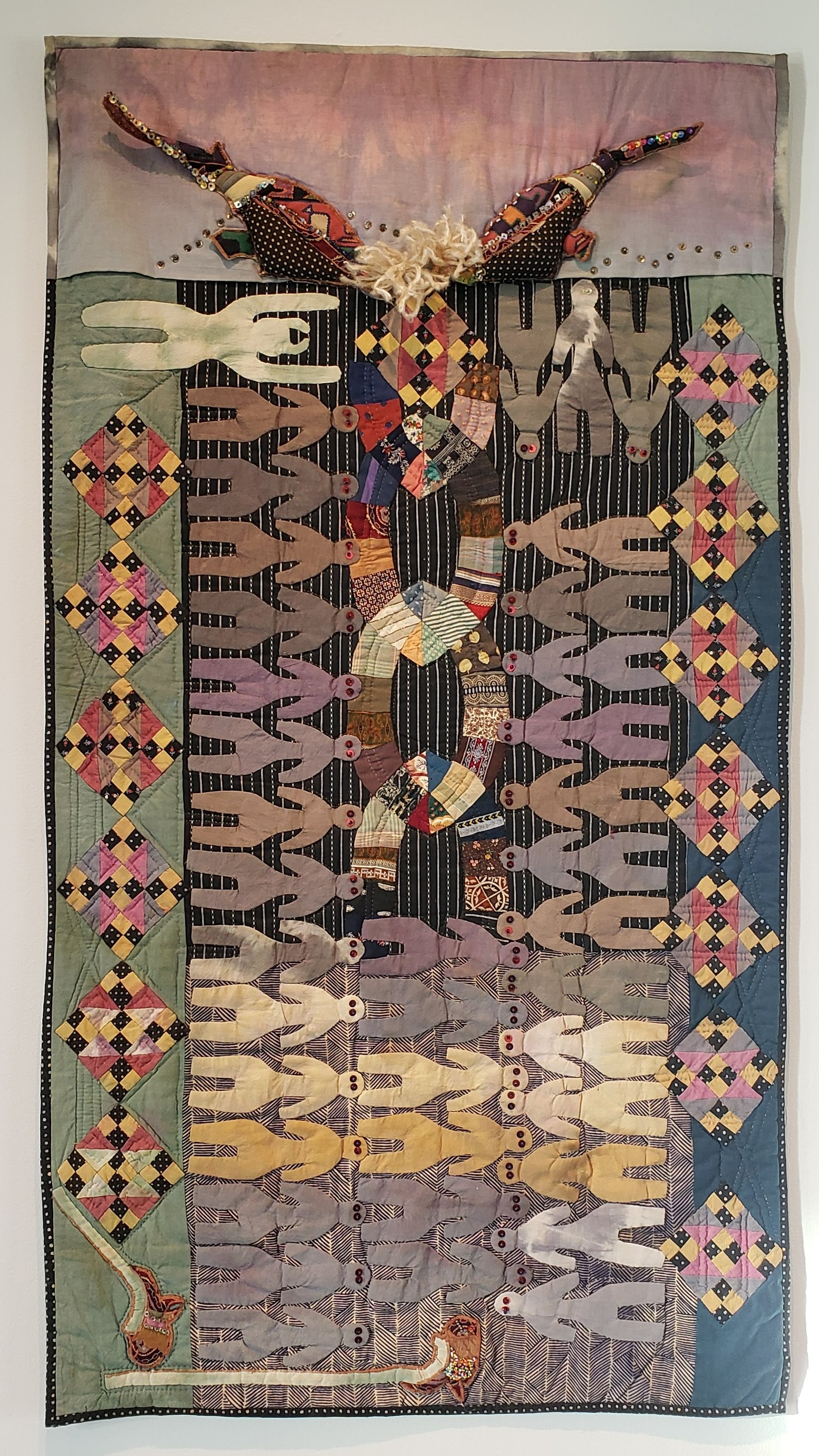 Within the exhibition is one of Brewer's first pieces, The Harvest (1989), which tells the story of the middle passage, depicting the way Africans were transported on slave ships. The Harvest, along with three additional quilts See the Music (1990), Oh to Gory (1993) and Yo Bloodline (1997), (not included in the exhibition) tell the story of slavery, enslavement, slave trade, and the impact on the African Diaspora.
"I had to work through understanding the heavy parts of my culture's history. I had to settle with not just slavery, but the culture prior to slavery. Consider oral history, primitive cultures were all but ignorant. Holistic by nature, one with the earth, were highly valued ways of being. I had to travel back to discover these things," states Brewer. "The next phase I went through was addressing the struggles of African American family as they strove to access the promise contained in the constitution. I am at the point where I want to speak in a triumphant voice of the dream. In the words of Langston Hughes, 'I, too, am America.'"
Her Diaspora series, represented by Fractals of the African Diaspora (2014) and Struggle, Friction, Rebirth, Sankofa (2014) in the exhibition, reinvestigates and explores physical movement of peoples and cultural blending throughout the African Diaspora.
These quilts are reminiscent of maps and within these quilts, Brewer incorporates symbols from Northern Africa, the Middle East, and Europe, with overlays of ocean currents and migration patterns.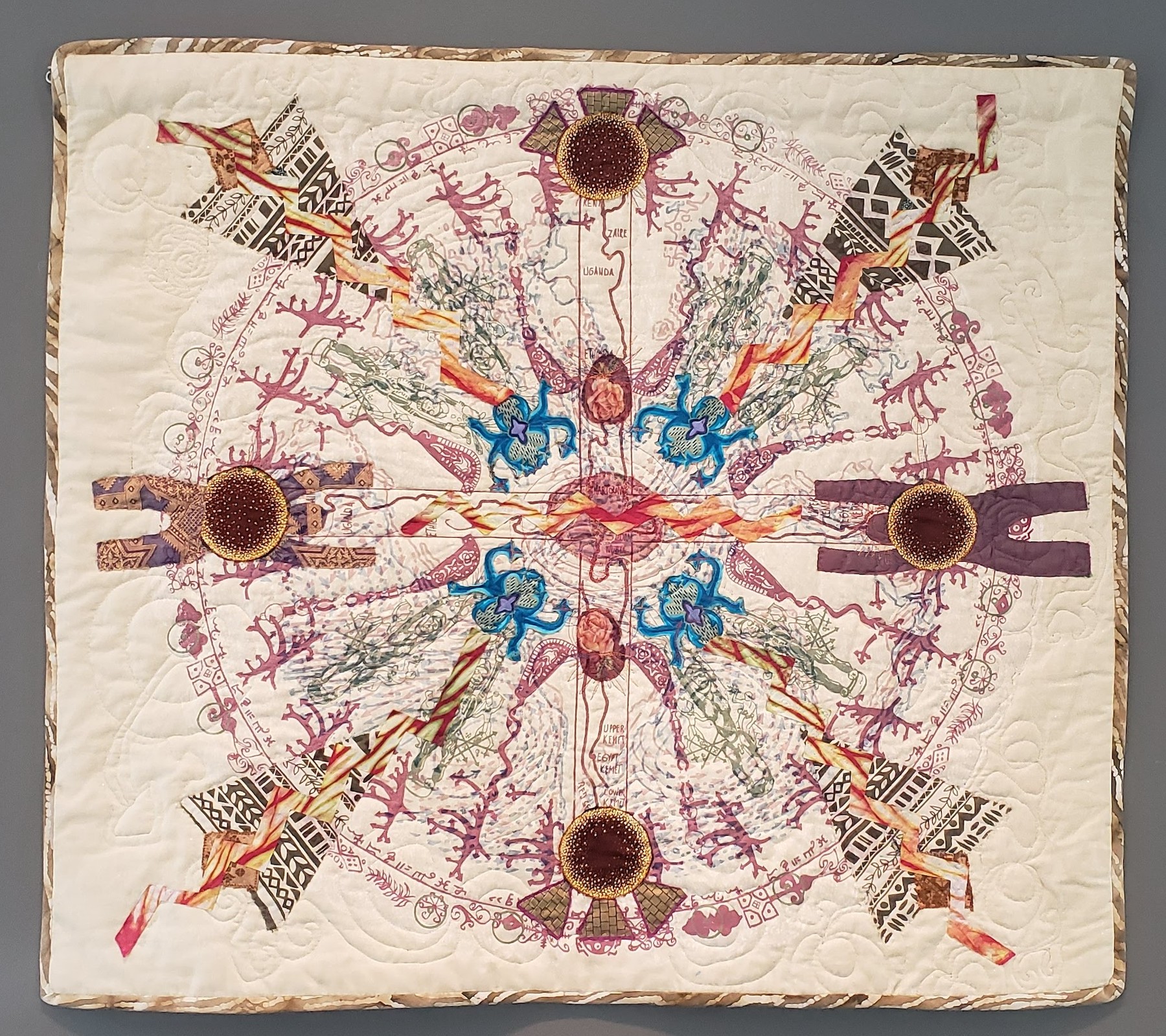 "I've been accused of focusing on very heavy and dark subjects, and you can see that in my older works. My new works are very spiritual and celebratory,"comments Brewer. "Cultivation's story is the story of understanding where you came from and the fuller circle of people on the journey who concealed and revealed, who unearth knowledge and planted seeds along the way."
Some of her newest works, Out of Troubled Waters Comes Bliss (2021) and two works from her Oar Up, or Down series are featured in the exhibition.
Created during the period of forced isolation due to COVID in 2020, Out of Troubled Waters Comes Bliss (2021) is reflection of Brewer locating and redefining her sense of self without the pressures of and social connections to the outside world.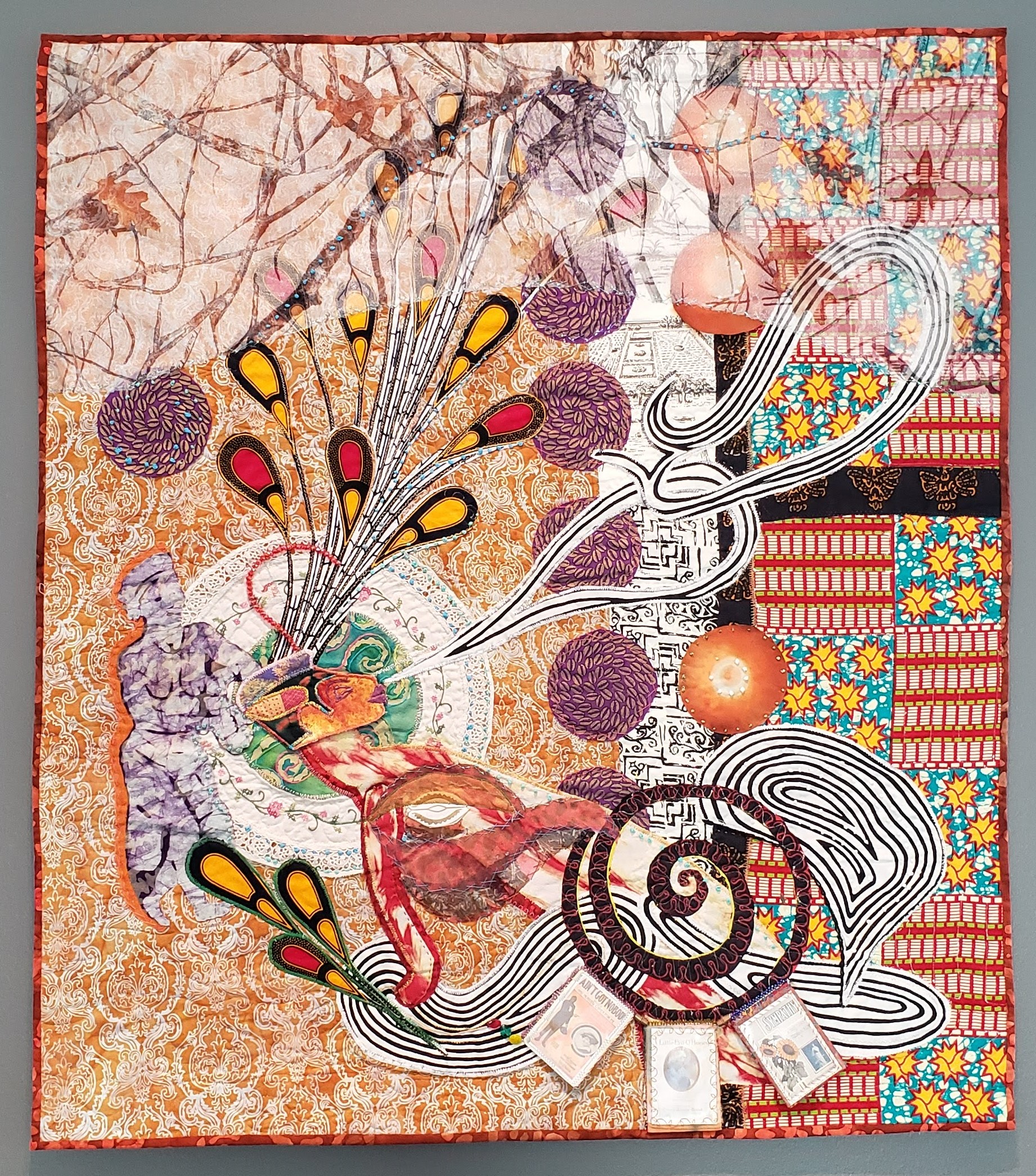 Within the quilt, a figure relaxes in a pool of swirling water, symbolizing cleansing and rebirth. The pale purple angel on a layer behind the figure's head watches over, reminding Brewer and the viewer that they are never alone. The eye of Horus on the figure's chest promises protection and good health. Behind the figures in the background, Brewer asserts that the gridlike pattern to the right represents order and organization while the black and white strip is reminiscent of colonialism, "a reference to how African Americans were presented and how they had to fight through these systems to find our Africanisms that have been suppressed."
Out of Troubled Waters (2021) features imported batik fabric, shibori, wax print from Ghana, an antique doily, French knots with embroidery thread, and in comparison to Brewer's older works has a lightness and brightness to it.
At the very beginning of her artistic career, Brewer used repurposed scrap fabrics along with jute, African embroidery lace, and other mixed media to make her quilts. These early quilts have more muted hues compared to her more recent works.
"Now, you can see the upgrade in materials is apparent," observes Brewer. "I've turned a corner where I can be a bit more selective, and I have a larger palette to work from."
Brewer now combines hand-dyed fabrics from Nigeria, Morocco, mud cloth, and more transparent fabrics like printed silk screen, Jamaican lace, and netting as well as metallic threads, sequins, charms and photographs, through an image transfer process, to create complex multi-layered quilts acknowledging and celebrating the African American heritage that are rich with meaning.
"The thread of imagery in my newest works revolves around children, I am impassioned about children and how they maneuver in this world," says Brewer.
Brewer's Oar Up or Down series was inspired by a picture of a Young West African girl that the artist came across. Brewer remembers thinking about how young men and women who live in communities on water go out and explore their surroundings, how adaptable young people are, how floating on water can be an almost out of body experience.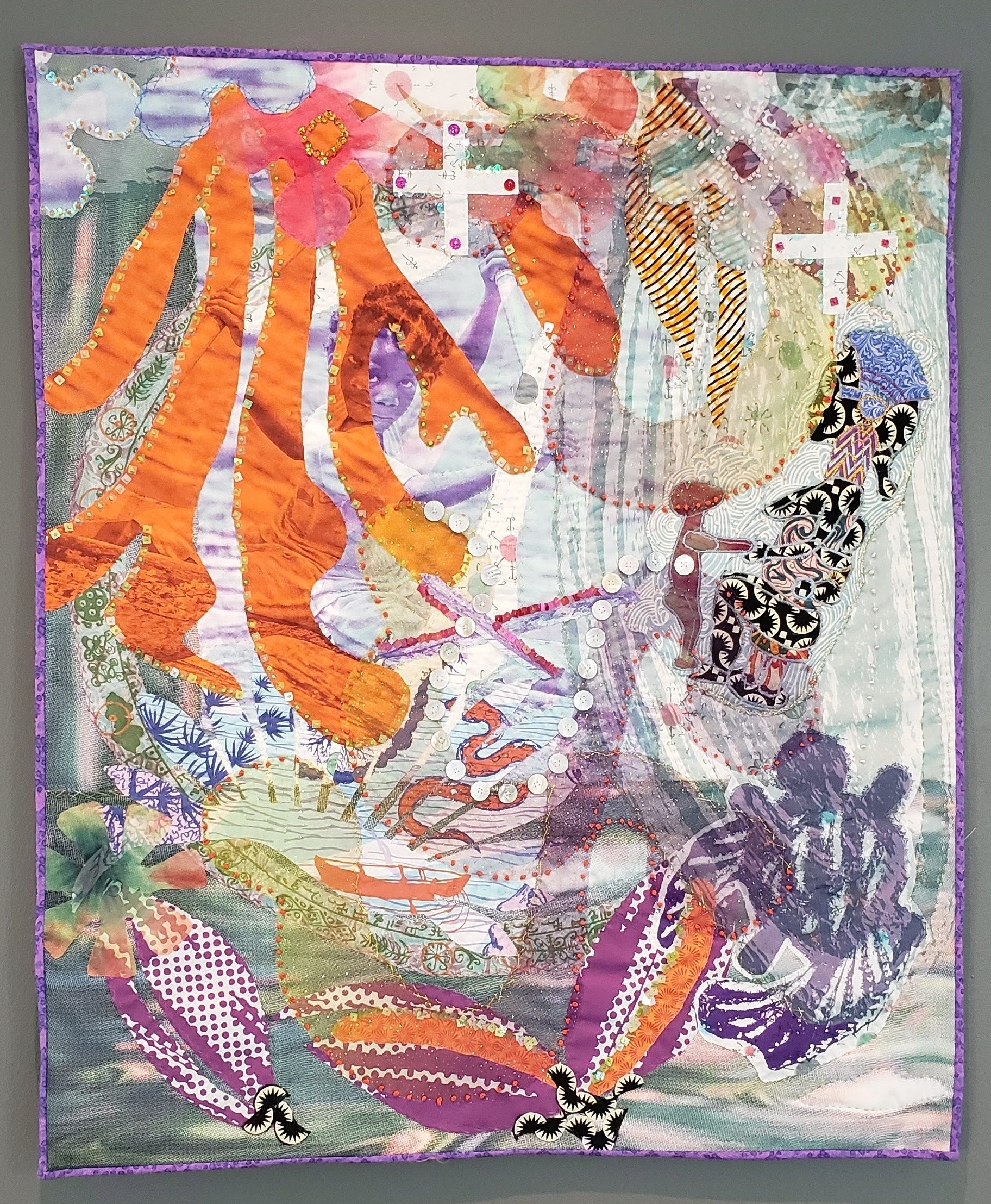 The works in this series feature the young West African girl's face while her arms hold an oar reflected on the orange tentacles of an octopus-like shape, which in African culture symbolizes moving with persistence and determination.
Both Transcending Travelers and Living Waters are comprised of a digital print on silk-georgette, silkscreen on muslin, digital print on silk organza, shibori, domestic cotton, Santeria vintage cotton fabric, iridescent tulle, french knots and sequins, mother of pearl shell buttons, clear filament and a variety of reflective and iridescent threads.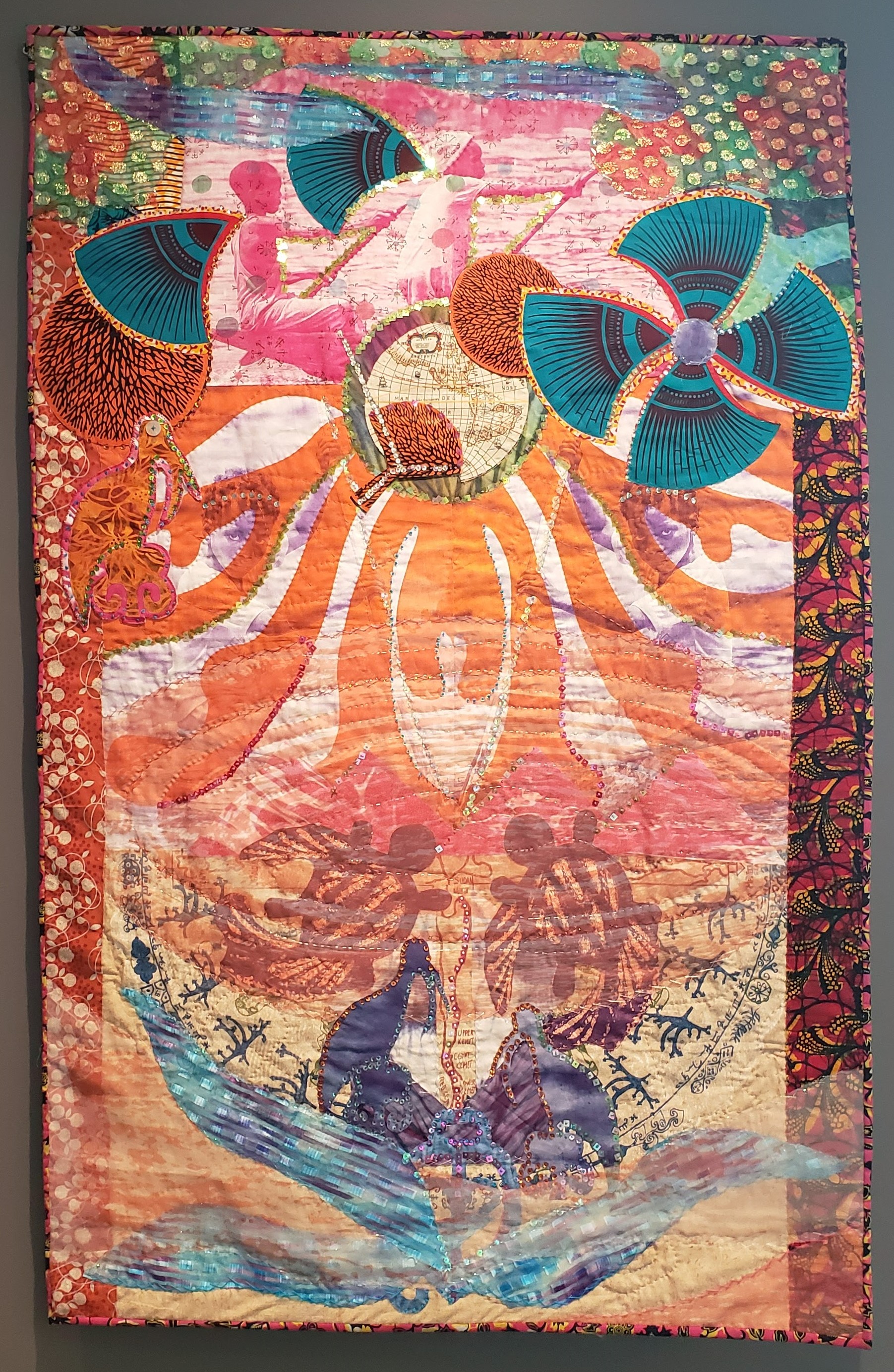 "The Oar Up, or Down series is ultimately about encouraging young people, encouraging people to draw beyond their circumstances, to dream about possibilities. It's about leaning into possibilities of a dream world, not just earthly, but the spiritual or third eye realm, which is why the figures have capes and sparkles. It's about dreaming it and giving a vision to your dream," states Brewer.
Although each of her works or series of works revolve around or address specific issues, Brewer asserts that they are more importantly about cultivating an awareness, cultivating a spark in adults and children that emboldens them to question and examine their own history, to ruminate on it, to study it, and ultimately to connect to it.
"Cultivation: Journey of the Work is intended to provide a reimagining of our authentic and inclusive history and is a guide into a truly truthful realm," writes Brewer in her artist's statement for the exhibition. "Reminding us of the importance of reaching back to the knowledge gained in the past and bringing it to the present to cultivate a new empowered future."