Dive into Dorothy Lauer Davids' The Swimming Pool
In The Swimming Pool, Davids depicts the end of an idyllic summer day at a swimming pool in a rural area, shown by the rolling hills dotted with the occasional house in the background. Interestingly, many of the figures are faceless, lending an air of an anonymity to the vignette, that this could be a pool in any small rural town, even today perhaps; however upon closer inspection the full body swim suits that the people are wearing dates the scene, which was painted in 1938.
Skillfully utilizing geometric shapes, defined lines, and shadowed versus light areas of the canvas, Davids adds dimension, depth and a 3d like quality to this work with the long shadows suggesting a sun setting to the left off of the canvas.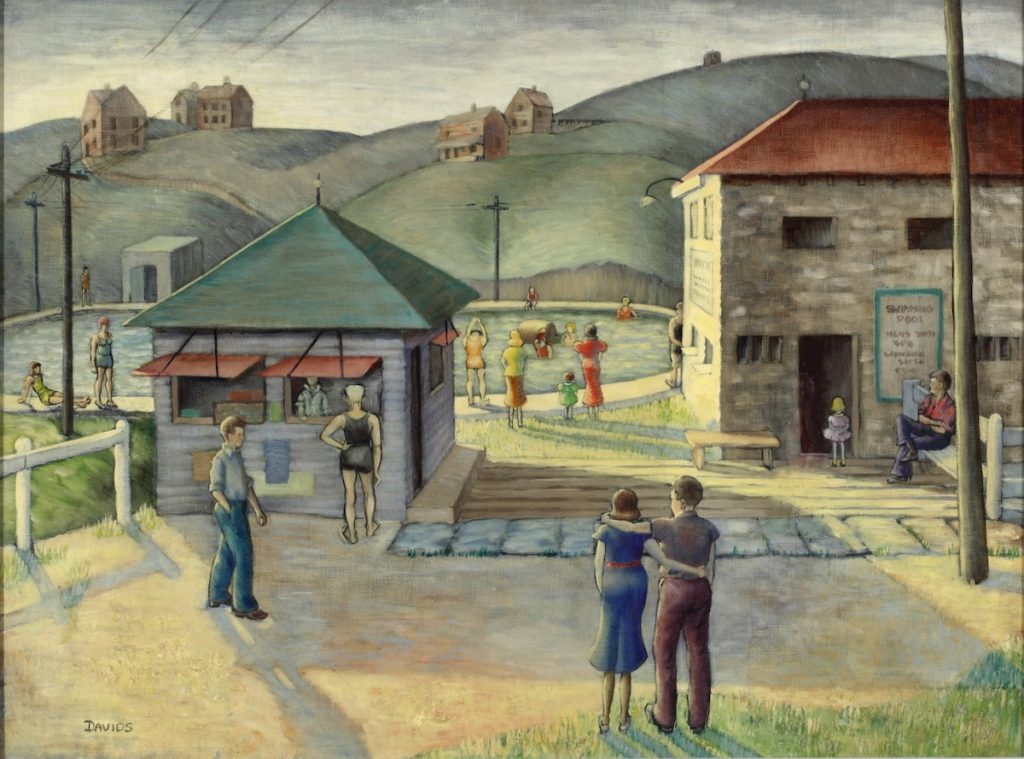 Born in 1905 in York, PA, Dorothy Lauer Davids graduated from Edinboro College and shortly after settled in Greensburg with her husband Paul. Professionally trained, Davids attended Seton Hill College and the Carnegie Institute of Technology, where she studied under Sam Rosenberg and Roy Hilton. Frequently exhibiting with the Associated Artists of Pittsburgh, Davids become a well-known local artist and in the early 1930s, a traveling exhibition of her work was shown in a number of museums regionally.
She was a realistic painter from 1930 to 1952, painting everyday scenes of daily life in her community, such as individuals at a gas station, people watching a carnival game at a county fair, shoppers in a local market, and people enjoying the local swimming pool.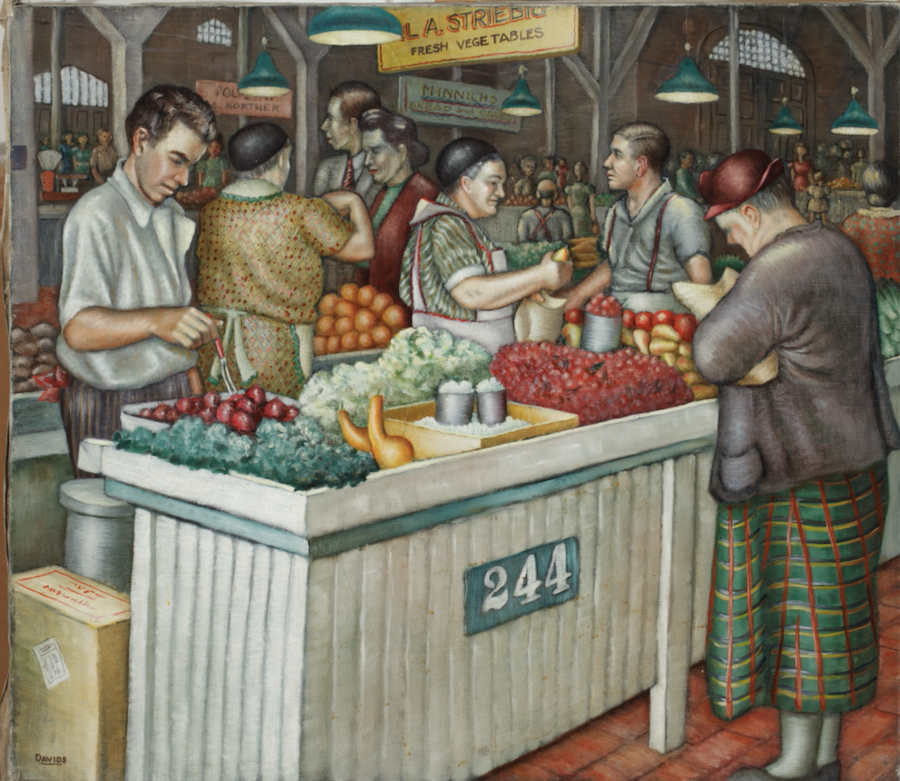 Davids' paintings are reflective the American realism movement and the American scene that prevailed in the 1930s. Led by Edward Hopper and Charles Burcherfield, this new wave of realism in the Depression years was characterized by subjects painted from everyday life in a naturalistic manner. The Westmoreland has twelve of Davids paintings in the permanent collection. To view all of these works, click here.
In 1933, Davids and her husband Paul, Alex Fletcher, Mary A. Hornish and Mrs. Margie C. Bell organized the first Greensburg Community Art Exhibition, which in 1935 became known as the Greensburg Art Club, which is still in operation today. Davids exhibited at the club's local exhibitions until she stopped painting in 1951.
A year later, Davids, who always had an avid interest in collecting American antiques, became manager of the Greensburg Antique Show, which from 1956 on became a major event a Mountain View Inn. Along with her talents as a painter and antique collector, she was also a skilled violinist. Davids passed away in 1980, and The Westmoreland had a memorial exhibition of her work in 1982.