Border Cantos | Sonic Border Exhibition Overview
Written by Chief Curator Barbara Jones
Opening on Sunday, May 30, Border Cantos | Sonic Border is a collaboration between American photographer Richard Misrach and Mexican American artist/composer Guillermo Galindo. Together, they explore the complexities of the Mexican-American border through photography, sculpture, and sound, inviting us to bridge boundaries and initiate conversations.
Both artists address complex topics that touch on politics, environmental concerns, and humanitarian issues. Richard Misrach is well known for his largescale expansive images focusing on the ways humans interact with and impact the natural environment. Guillermo Galindo's composition Sonic Border is a 260-minute piece using eight musical instruments that he created from objects discarded near the Mexican-American border. Misrach found these objects on his visits there and sent them to Galindo. Together, the photographs, objects, and sonic composition introduce distinct yet interrelated ways of experiencing the human consequences of immigration policies.
In his series Border Cantos, Misrach focuses his lens on places and objects in ways that reveal the traces of human impact on the land, bringing social commentary into his compositions. Since 2009, he has photographed along the entire length of the border and captured its diverse landscapes and communities. In many cases, what appears to be arrestingly beautiful on the surface reveals, on closer study, a more complicated story.
Since Misrach began his Desert Cantos series in 1979, he has organized his projects into sections he calls "cantos." This structure, found in Border Cantos as well, was inspired by an epic poem by the American poet Ezra Pound titled The Cantos. Each of Misrach's cantos from Border Cantos appears in themes such as the border wall, effigy sculptures, border patrol target practice and methods of surveillance, water barrels, and discarded personal items. In Spanish, the word cantos also means "song," adding a poetic nod to Galindo's work as a sound artist.
In 2006, in response to the steady increase of unauthorized immigration across the southern border of the United States, the U.S. Secure Fence Act was approved, leading to more than 700 miles of new construction and surveillance. Misrach's image, Wall, Los Indios, Texas, 2015, of a lone barrier surrounded by numerous tire tracks highlights how easily circumnavigated many sections of the wall can be. He first photographed this isolated segment of the wall in 2012. Misrach returned three years later expecting much more of the fence to be constructed, but the only difference was the patch of green grass growing underneath.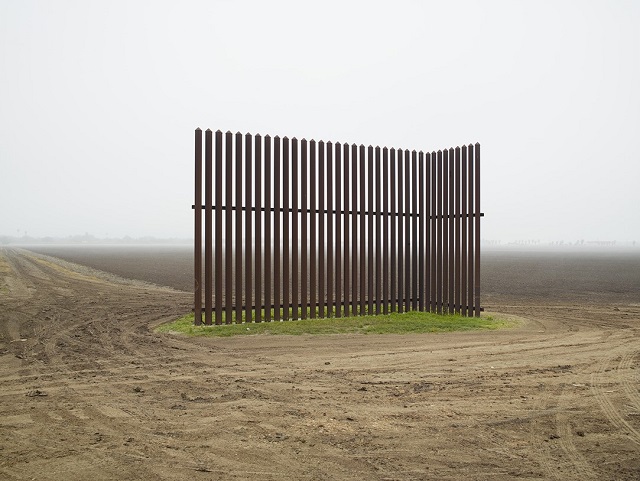 Misrach's photograph Wall, Jacumba, California, 2009, places the viewer on a high vantage point overlooking the land. The sandy terrain stretches far into the background. The small, man-made barrier seems to follow, continuing endlessly as it disappears behind the hills.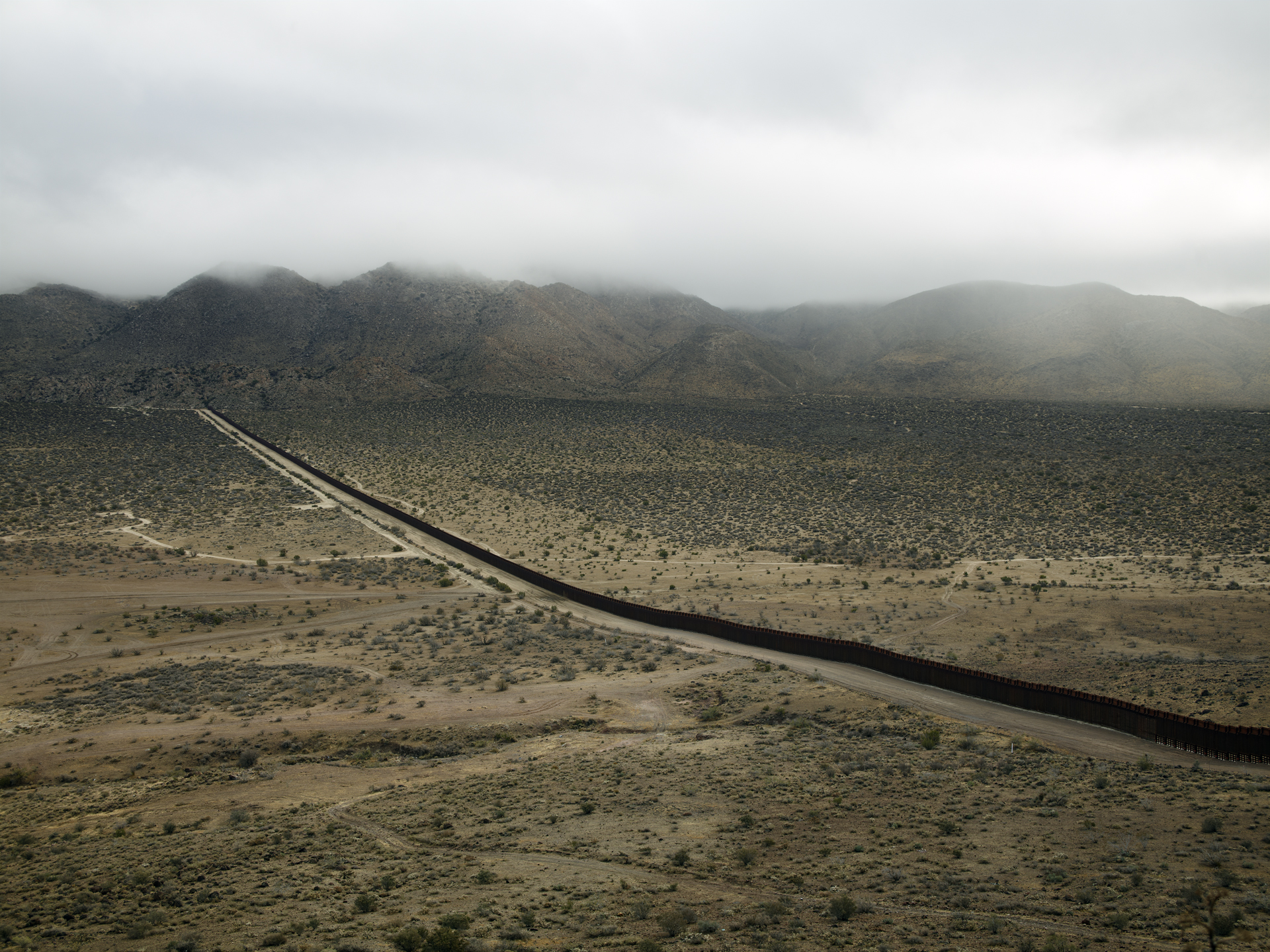 The extreme environment of the desert is a severe threat to migrants. Since the Border Patrol began to track migrant deaths in 1998, it is estimated that more than 6,000 fatalities have occurred as a result of conditions such as dehydration and hyperthermia. For Agua #1, near Calexico, California, 2004, Misrach photographed a tattered flag flying above a blue barrel labeled "AGUA," without knowing its purpose. When he began focusing on the border in 2009, he learned of Water Station, a non-profit group based north of San Diego that installs water barrels in the most remote, deadly portions of the Southern California desert. While some Border Patrol agents and local citizens support these relief efforts, others shoot holes in the barrels to prevent their reuse in an attempt to deter people who might try to cross.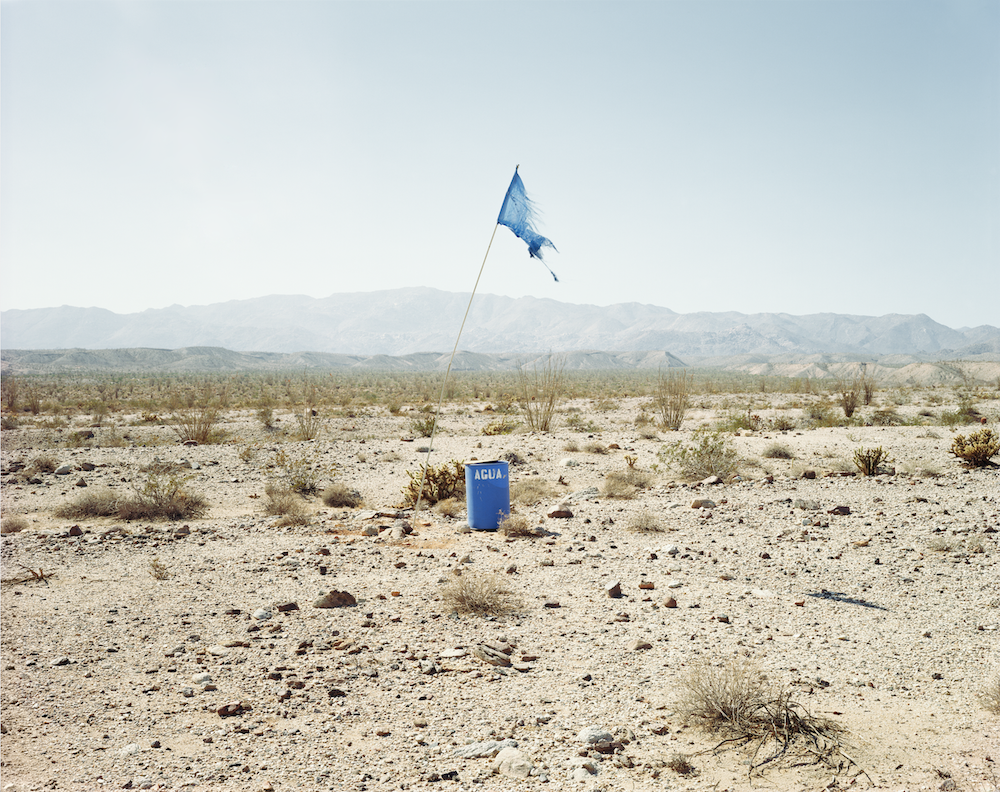 Guillermo Galindo's sound installation Sonic Border is an original score for eight instruments. Based on the Mesoamerican tonalpohuali, or "Venus calendar," which is composed of 260 days divided into 20 weeks of 13 days, Sonic Border plays for a total of 260 minutes and is separated into 13 cycles of 20 minutes. Within these cycles, the instruments may play in small groups of two or more, or all together as an orchestra. This, to Galindo, expresses "the internal journey evoking what is happening inside the minds and hearts of the people that are crossing the border." The composition embraces the pre-Columbian belief that there was an intimate connection between an instrument and the material from which it was made, with no separation between spiritual and physical worlds. Galindo explains, "Mesoamerican instruments were talismans between worlds, and the sound of each instrument was never separate from its essence, origin, and meaning." With this concept in mind, he "lets each instrument talk to me in its own voice as opposed to shaping it or playing it in search of a particular sound."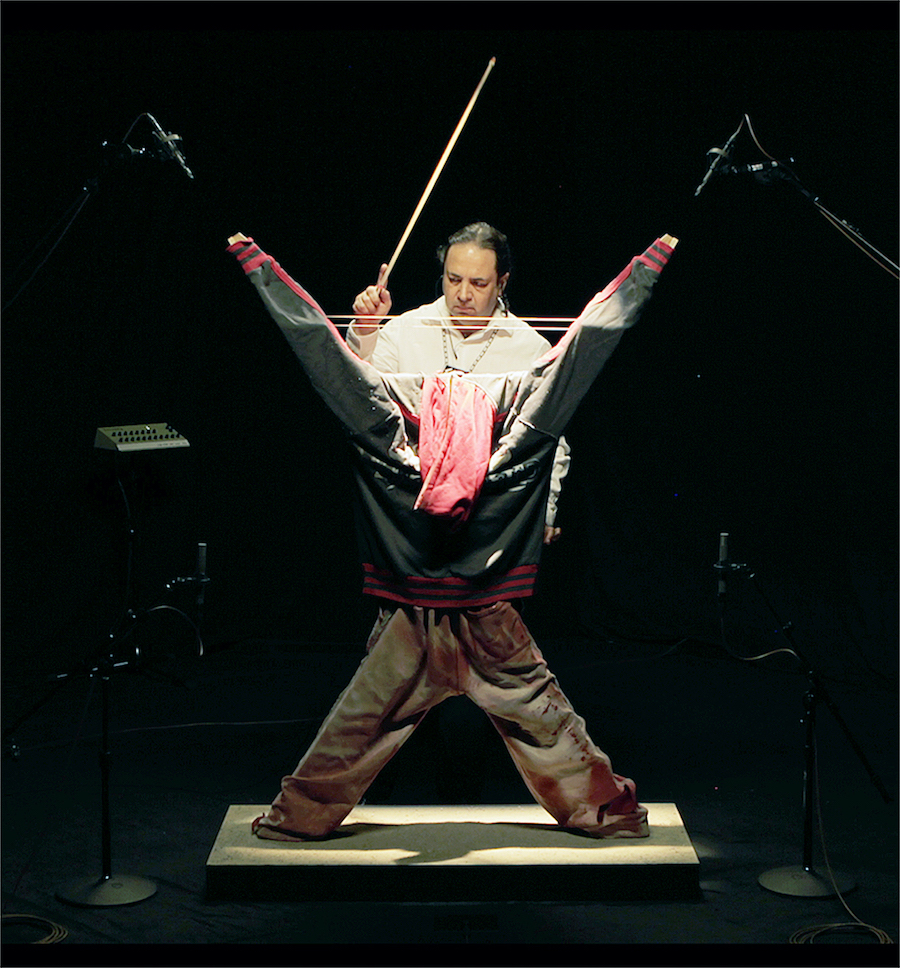 Galindo often finds a musical or sculptural element in Richard Misrach's imagery which he then incorporates into his creations. Misrach found figures scattered throughout an isolated canyon near Jacumba, California, and named them "effigies" because of their resemblance to the human form. Constructed from agave stalks and draped in tattered clothing, their purpose is mysterious. Galindo's striking sculpture based on these effigies is made of clothing found at the border. This instrument, also titled Efigie (Effigy), 2014, is made of crossed pieces of hollow wood—two larger strings at the top create a deep tone, while thinner sets of strings vibrate in the chest area. Galindo's hollow wooden instrument, Soundscape, 2014, was inspired by one of Misrach's landscape photographs. The object is reminiscent of an Aztec drum called a teponaztli, typically made from a hollowed log with slits cut to allow varied pitch when struck. When activated by Galindo, the rusted nails, suggesting the border wall, can be plucked or stroked to make noise. The "valley floor" is covered with pages of a Bible inscribed to a girl.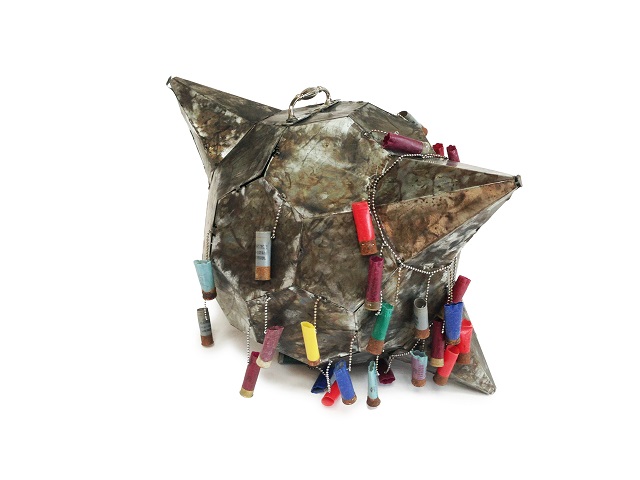 Piñatas are typically associated with Mexican parties. Shaped like a soccer ball found stranded on the U.S. side of the border, Shell Piñata, 2014, was inspired by a West African instrument called a shekeré, a gourd traditionally covered in a net of beads or seashells (shown in the illustration). Here, brightly colored shotgun shell casings adorn the surface, giving the festive colors and shape an ominous quality. Richard Misrach found the casings littering the ground at a Border Patrol shooting range and collected them for Galindo. Misrach stated "they had great sound qualities, and they were so colorful, like candy."
The exhibition opens in the Museum's Cantilever and Post 1950s Galleries on Sunday, May 30, with a special preview opportunity for Museum Members on Saturday, May 29, and visitors will be invited to share their stories of movement or migration on a map in the exhibition. Public programming, including a virtual Sonic Border performance with Galindo, a virtual conversation with Misrach, a lecture series on the history of the Mexican-American border, a LatinX and Proud! Virtual Reading Series, and more, will provide opportunities for meaningful community dialogue. Please click here for a list of upcoming events and programs related to this exhibition. Register in advance for your visit or call 1-888-718-4253.
Support for this exhibition has been provided by Art Bridges, the Hillman Exhibition Fund of The Westmoreland Museum of American Art, and Opportunity Fund.

Header Image Left to Right:
Richard Misrach photographing at night on the Nogales border
Guillermo Galindo playing Effigy, 2014