Eye-Popping Pop/Op Art!
POP/OP is a visually stimulating exhibition featuring works of art from both Pop and Op artists on view at The Westmoreland.
Pop art was an art movement that emerged in the late 1950s and '60s as a reaction to abstract expressionism. It was a celebration, and critique, of popular culture, mass media advertising, television, and film. Pop artists drew inspiration from popular imagery and everyday objects, and used new printmaking technology to create and produce editions of fine art prints in large quantities, making them available to a broader public. Pop art and its artists raised the questions of: What is art? What is the purpose of art? What makes art art? Who should possess art?
If you're familiar with Pop art, you've probably heard of Andy Warhol (1928-1987) and his iconic Campbell's Soup Cans and Marilyn Diptychs, printed during the 1960s. Warhol was a leading figure in the movement, and no Pop art exhibition would be complete without one of his works.
Warhol's colorful diamond dust print Uncle Sam, 1981, is on view in POP/OP.  Part of a suite of prints comprising his Myths series, it is one of ten screenprints that also includes other mythic figures from American popular culture like Santa Claus, Superman, Dracula and Mickey Mouse. While Warhol typically used found images, like publicity photos, for his portraits of celebrities, for Myths he invited friends and actors to pose for his Polaroid camera dressed up as these fictional characters. He even included his own self-portrait in this series, standing in for The Shadow, a crime-fighting hero from radio and comic strips in the 1930s.
Another one of Warhol's works, Zebra, 1983 which is part of the series entitled Endangered Species, is also on view in POP/OP. Endangered Species features 10 screenprints of animals, rendered in Warhol's signature high-key color palette, listed on the endangered species list in 1983.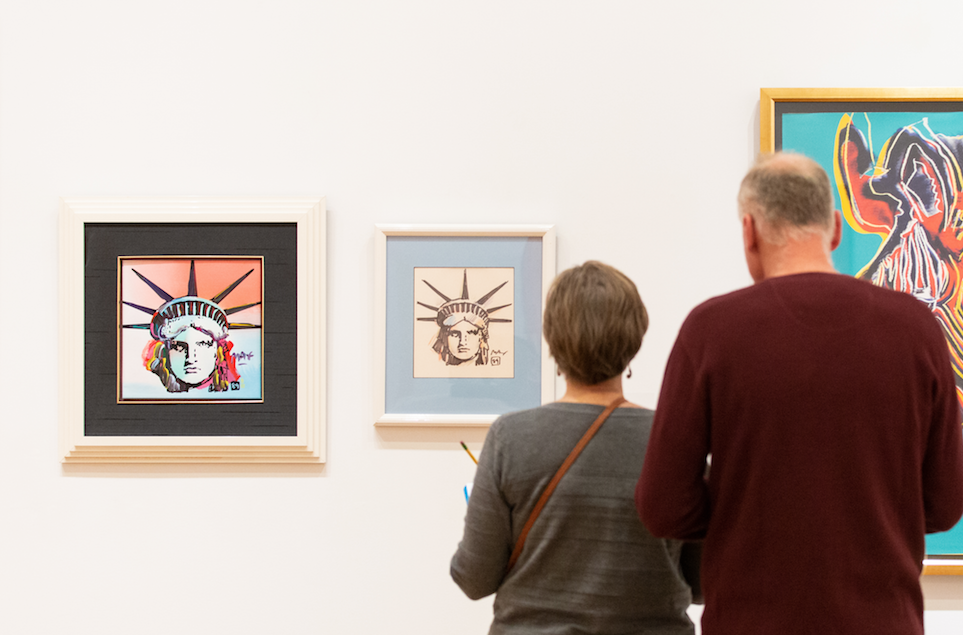 More Pop art that can be viewed in this exhibition includes Peter Max's (b.1937) Liberty #3, 1996, and Preparatory drawing for Liberty #3 paintings, which were part of an ongoing series that led to the Statue of Liberty's conservation and restoration in 1986; Claes Oldenburg's (b.1929) Miniature Soft Drum Set, 1969, an iconic example of the artist's reimagining common everyday objects in a new range of materials; and Warhol's older brother Paul Warhola's (1922-2014), Paul and Andy, a silkscreen and acrylic on canvas, and two prints, Heinz Tomato Ketchup and Heinz Vegetarian Beans.
Just like a Pop art exhibition wouldn't be complete without a Warhol, an Op art exhibition wouldn't be complete without a Julian Stanczak (1928-2017) or Richard Anuszkiewicz (b.1930).
Op art, short for Optical Art, is a style of art using geometric forms and/or abstract patterns that gives the optical illusion of movement in a two-dimensional work of art. The Op art movement was named after an exhibition of Stanczak's work at New York's Martha Jackson Gallery in 1964, and Anuszkiewicz was featured as one of the country's preeminent Op artists when he was included in the Museum of Modern Art's exhibition of optical art, The Responsive Eye, in 1965.
Gaze upon Stanczak's mesmerizing Obedient Square, 1970, a series of overlapping squares and lines painted in bright yellow on an orange background creating the illusion of a square in continuous motion, and decide for yourself if the square is really obedient to the eye.
View Anuszkiewicz's iconic illusionistic painting, Knowledge and Disappearance, 1961, a series of squares of alternating light and dark bands, and experience the unnerving feeling of being drawn into a deep, three-dimensional container, even though you know it's a two-dimensional flat plane.
POP/OP also includes Frances Celentano's (1928-2016) Alpha Red and Orange Alternates, 1970, a painting where solid red and orange stripes float in front of a hazy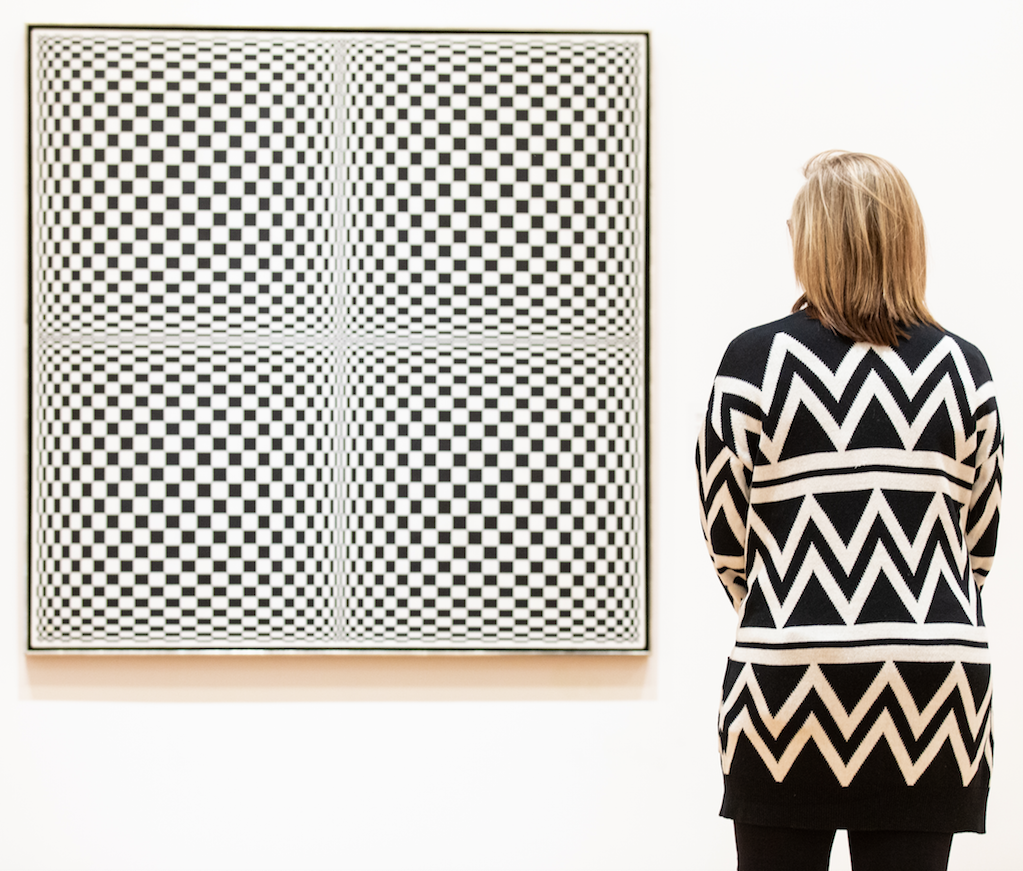 gradient of sprayed color, ranging from green at the bottom to purple at the top, and Edna Andrade's Color Motion 4-64, a work featuring advancing and receding black and white squares that make the canvas appear to bulge outward and curve under.
Challenge, excite and perhaps confuse your eyes and mind with a visit to POP/OP! Make plans to take in the iconic art of Andy Warhol, Claes Oldenburg, Julian Stanczak, and Richard Anuszkiewicz before this exhibition closes. POP/OP is only on view until Sunday, March 1!
POP/OP is one in a series of American art exhibitions created through a multi-year, multi-institutional partnership formed by the Philadelphia Museum of Art as part of the Art Bridges + Terra Foundation Initiative.
Graphic Image Credit Lines:
Top Right: Paul Warhola (1922-2014), "Heinz Tomato Ketchup," n.d., silkscreen, 34 in. x 23 in., Collection: The Westmoreland Museum of American Art, Gift of the Artist, 1990.235.
Top Left: Edna Andrade (1917-2008), "Color Motion 4-64," 1964. Oil on canvas, 48 x 48 inches. Collection of Philadelphia Museum of Art. Gift of Frederick R. McBrien III, 2003-94-1. This collaboration with the Philadelphia Museum of Art is made possible through the Art Bridges+Terra Foundation Initiative to share American Art.