In Progress: 6 Questions with Artist in Residence Janel Young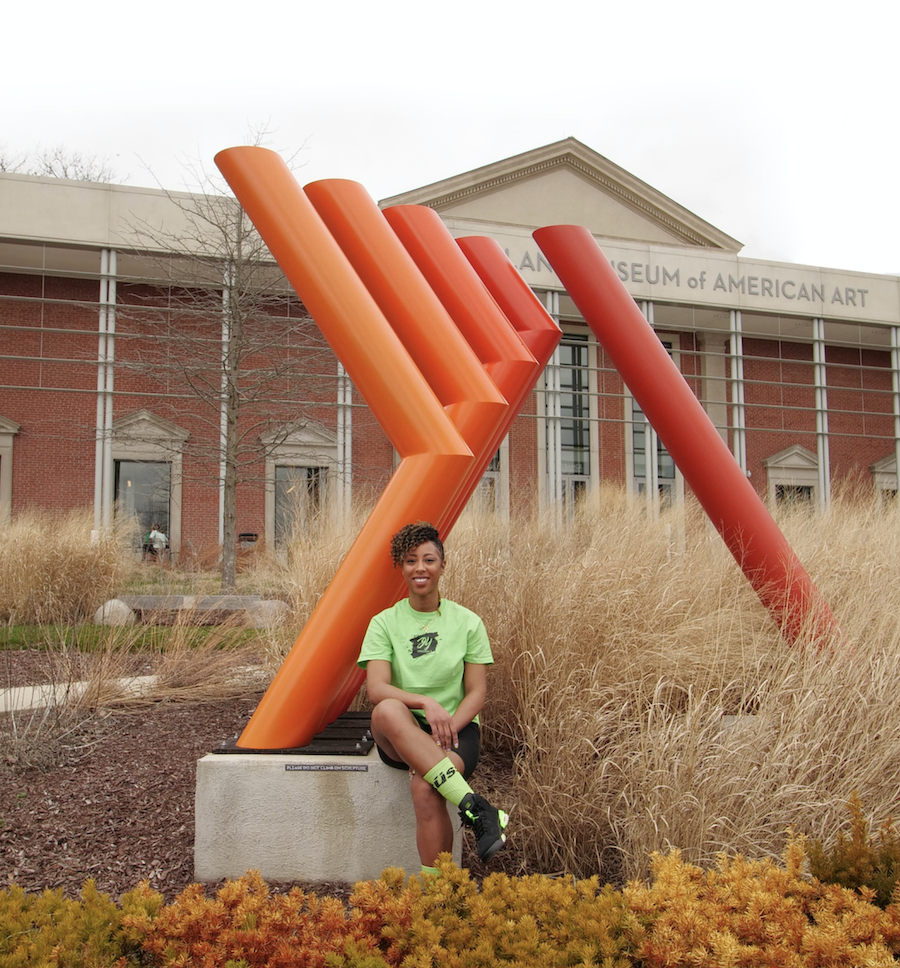 Rising artist Janel Young of JY Originals is The Westmoreland's current resident artist with her residency running through September.
Established in September 2020, The Museum's Artist-in-Residency Program is presented in partnership with Pittsburgh-based arts incubator and gallery BOOM Concepts, and the program is designed to engage and support Black and marginalized artists, promote equity in the arts and share compelling and meaningful cultural experiences with the regional community.
The past few years, Young has been making murals throughout New York and the City of Pittsburgh, turning a passion into a successful art career.
Before becoming the newest artist in residence at The Westmoreland this past March, Young completed three major projects, along with numerous commissions, in the past few years throughout Pittsburgh: Pathway to Joy, a large brightly colored geometric asphalt mural created for the Allegheny Overlook pop-up park experience; New Space Spheres, her first curated project – a series of pandemic-inspired social distance artworks appearing throughout the city, and Heroes on the Horizon, a permanent 3D mural in East Liberty's Bakery Square, which was completed in collaboration with students from local schools, Lincoln and Urban Academy, in the area.
Find out a little more about Young, her work, and what she's been up to so far during her residency with this short Q&A:
1. How would you describe your artistic style?
It's funny because someone just text me that question recently, and I was like, this should be an easier question, but it's not. So I usually say my style is geometric-inspired, masterful-blending, expressionist painting. Along the way, I have coined the phrase "fantasy landscape," because I do very much enjoy doing imaginative landscape scenes, but not as literal. So those are very fun.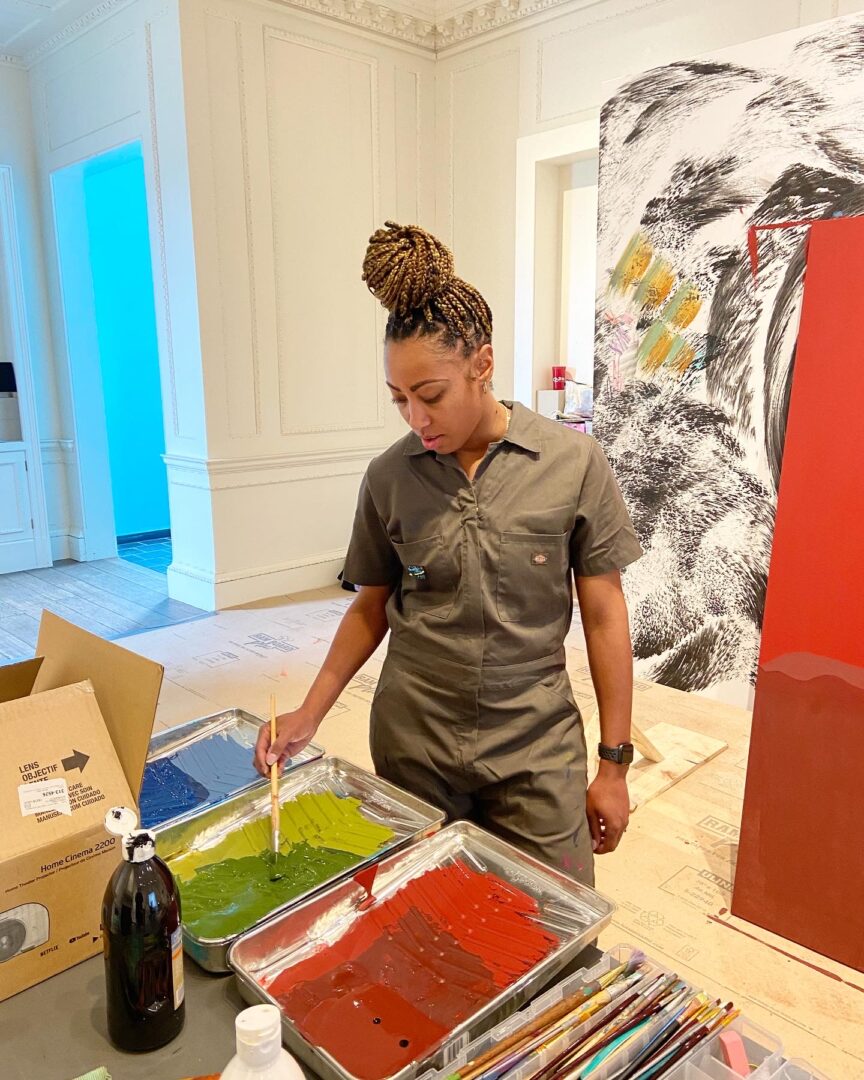 2. What is your favorite art form? Why did you gravitate towards murals as an art form?
Murals are definitely my favorite at this point. I always think about the stages of my artist career. I think right now I'm really deep in the public art phase of that, and I'm enjoying every moment of it. I really love taking up space physically, like doing grand scale work. It is not just that it's different or that it's just fun, it's really impactful in a lot of ways, and I talk a lot about how much more accessible public art is as well. It also happens to be quite lucrative for someone trying to make a career out of their artistry.
So, I make a joke and say as long as my knees will allow me to be on these lifts and on the scaffolding and doing all of that, then that's what I'm going to do, and then when that phase is done, we'll figure out the next.
3. Can you tell us a little bit about the symbols in your work?
I use a lot of geometric shapes, triangles and circles that can mean a lot of different things depending on the story they need to tell. I am known for my signature tribal triangles that represent togetherness, family, support, being part of a tribe. The original inspiration behind them does come from African tribes, from different patterns and different groups.
4. What are some of the biggest challenges that you face when working on a mural?
There are so many things. I would go back to the education piece of it. Getting people who love art and people who want to support local art, and helping them understand the ideal process. I have dealt with challenging projects, and I like to pull from that because it was a learning experience. Because of the nature of, not just art, but specifically large-scale outdoor artwork, a lot of times there are fluid shifts in the design due to the materials or condition of things, but also it can be noticing how much foot traffic is in that area. It just really depends on the site-specific context, so sometimes you might not even realize until you're up on the wall where you're like, I need to make a judgment call and here's how things might shift. So managing expectations for flexibility can be a challenge.
5. Could you tell us a little bit more about the installation within the Museum and the public art project that you are working on or going to be involved with this summer?
What's great about this residency is that it's not a production-based residency meaning there is no expectation of having to produce work at the end of the residency, but I am excited about the opportunities that the residency has brought about.

I'm not sure how much I can say and nothing has been finalized yet for the installation within the Museum, but there are a couple of different areas that have been discussed, with one having something to do with the main staircase. I've always wanted to do something with steps, so maybe the space near the indoor steps or the outdoor steps.

So, the public art project that I am working on is a mural on the Laurel Highlands Workforce Opportunity Center building. They are remodeling the space, and the mural would be on the outside façade of the tower near the entrance. What's cool about the building is that the mural will sort of wrap around a corner. The building has a lot of various surface materials, which results in different textures, so that will be interesting too. I'm a community visual artist, so during the engagement and planning stages I will be having conversations and sessions with the community and the groups that use this space to hear their stories and then incorporating and sharing their stories within the mural.
6. What is something most people don't know about you?
Most people don't know that I used to speak Japanese. I actually studied abroad when I was younger and lived with a Japanese family. They had a daughter and a son, who I recently met up with when they were visiting the United States
Interested in learning more about Young's residency and artist's residencies in general? Tune in on Monday, July 18, 12-1pm for a virtual discussion between Young, alum Artist in Residence Madame Christiane Dolores, Multimedia Producer Njaimeh Njie, and BOOM Concepts as they discuss what a residency is, how to find one, and what a residency can mean for emerging artists.
Stay tuned for more updates about Young's residency in August and make plans to join her during a Coloring Book Party, featuring her Color Your Crown Coloring Book available for purchase in the Museum Shop, on September 4, 1-3pm, or tune in for Virtual Artist-in-Residence Rewind Discussion, September 9, 12-1pm.
The Westmoreland's Artist-in-Residency program is supported by The Pittsburgh Foundation and The New Sun Rising Arts | Equity | Reimagined Fund.