Interview with The Westmoreland's Summer Interns
Internships have always been a vital part of the Westmoreland's growth and development. While making internships accessible for students gives the Westmoreland a wonderful opportunity to share the experience of what it's like to work within the many facets of a museum career, it also provides us the honor of growing with the next generation of museum lovers!
The Westmoreland had originally planned to execute the entire summer internship program virtually. However, with the recent lifting of restrictions, we were able to gather with our students to meet in person for the completion of their internship. We sat down with our three summer interns, Shelby Barthelemy, Akilah A.S. Hartgrove, and Kelli Slogan to ask them to share their experience as a Westmoreland intern.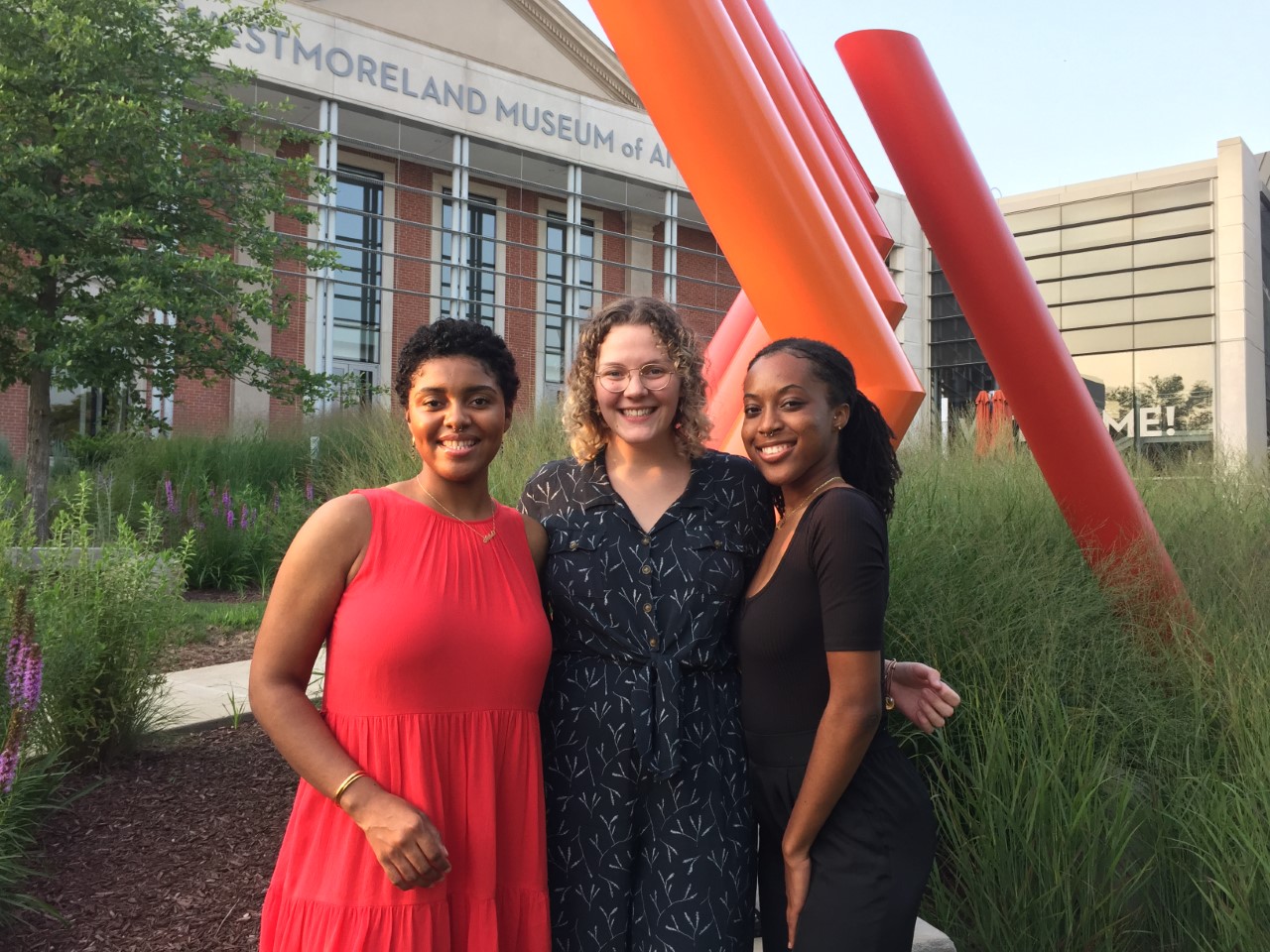 Fundraising Research and Data Analyst Intern: Shelby Barthelemy
Why were you interested in interning at The Westmoreland?
The internship program at The Westmoreland was the perfect opportunity for me to get some introduction into the museum world. I felt that the Fundraising and Data Analyst intern position best fit my skill set and would allow me to merge my degree in economics with the art world.
Can you describe your internship at The Westmoreland?
My internship at The Westmoreland was exactly as described. I was able to understand how a museum is funded and the work that goes into acquiring and sustaining these funds. Through my primary task of building the cultivation tool, I was able to understand the two major forms of giving that are essential to developing the museums funds which have been institutional and individual giving.
Was there anything you were surprised by?
I was pleasantly surprised at how involved I was able to be throughout this experience. Being able to sit in on meetings and work on projects that have a direct effect on the museum was a great part of the experience. I was surprised but grateful that I was trusted with that level of responsibility.
What has been one of the most rewarding parts of your internship experience so far?
I think the most rewarding part of my experience has been receiving feedback on the work I have done. Being able to see that the work I am doing is actually being utilized and is contributing to the success of the museum has been amazing.
Challenges of a virtual internship? Advantages of a virtual internship?
One major advantage to this internship program being virtual is that it allowed me to consider the program in the first place. With me living out of state, it would have been harder financially to move to the area for the duration of the program. With it being virtual, I was allowed the flexibility to work from home. I think one challenge has just been missing out on the experience of working in the office and being able to interact with the staff.
What do you believe the future holds for you career wise? or Where do you see yourself in five years?
Fortunately, I think the future holds many possibilities for me career wise. Getting this opportunity to work in the museum and learn more about the different roles within the museum has made it clear that there is definitely room for me in this space. It has also made it clear that the skills I have learned from my degree are transferrable and will support me in this path. I hope to explore more of the art industry to see where I best fit and in 5 years hopefully I would have solidified the role I want to play.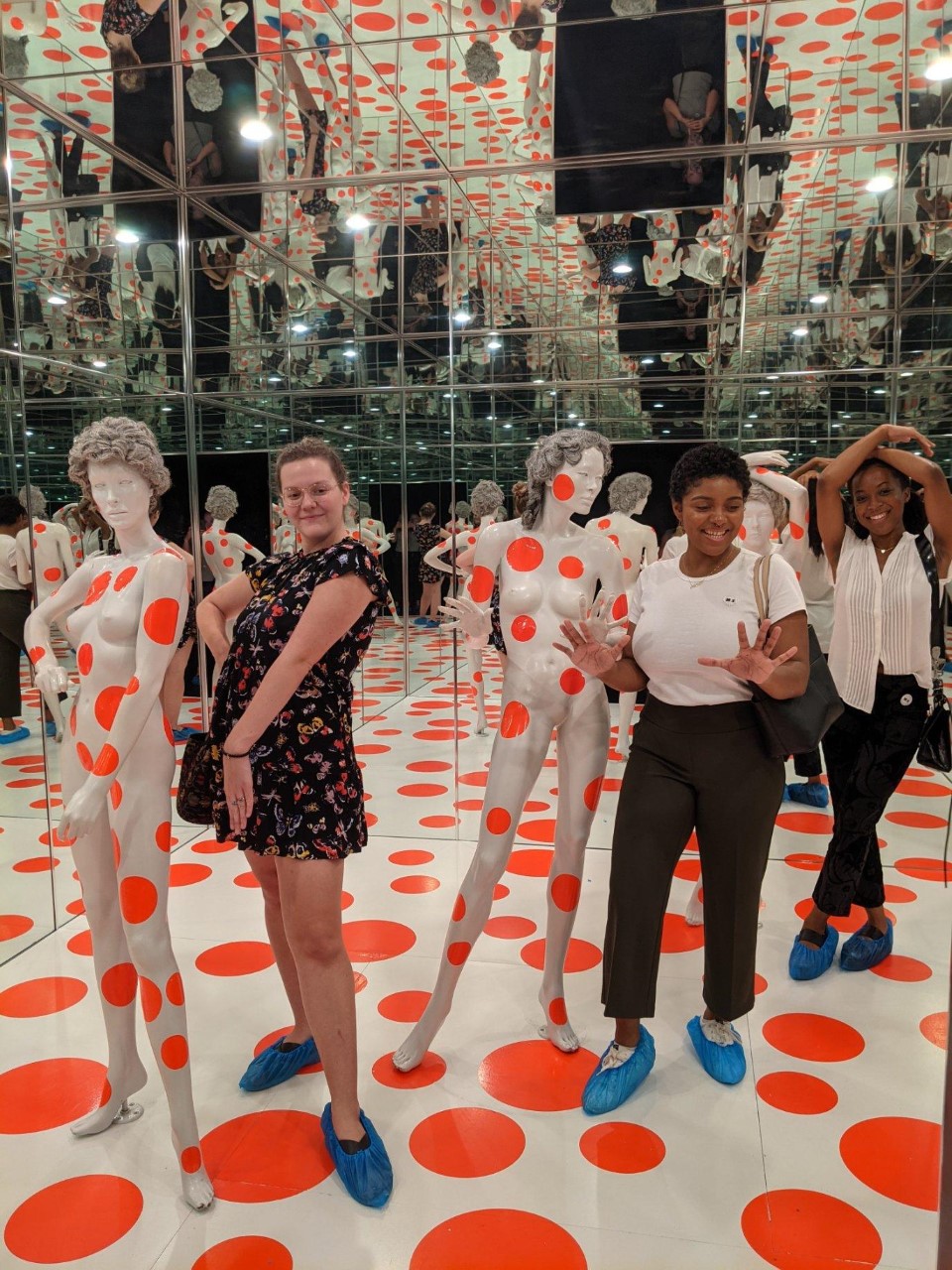 Exhibition & Public Programs Marketing Intern: Akilah A.S. Hartgrove
Why were you interested in interning at The Westmoreland?
I was interested in interning at The Westmoreland because I like the Museum's commitment to diversity, and I am interested in expanding the definition of American art. There are many cultures and backgrounds that shape America, and our country's art should represent those perspectives. As an artist myself, I know how important it is to feel seen. The Westmoreland is opening its doors and gallery spaces to allow new stories to be told. I am excited to be part of this moment in the Museum's history.
Can you describe your internship at The Westmoreland?
This summer I have had the opportunity to serve as an Exhibition and Public Programs Marketing Intern for The Westmoreland Museum for American Art. As part of my duties, I have been involved with developing an overall marketing plan for the Museum's upcoming exhibition, Simple Pleasures: The Art of Doris Lee. This has included writing a press release for the show, compiling a social media overview, and utilizing marketing strategies to attract a larger audience to visit the Museum.
Was there anything you were surprised by?
Since I did not major in Museum Studies as an undergraduate student, all of my experience this summer has been new and exciting for me. What was most surprising to me was how essential collaboration amongst departments is to ensuring a successful exhibit. Every department from marketing to curatorial to financing to advancement and more have to work together to make sure there is appropriate and not too much overlap in the work that needs to be completed. This takes a lot of coordination, and you have to be interested and/or familiar with more than just your own department and job duties.
What has been one of the most rewarding parts of your internship experience so far?
One of the most rewarding parts of my internship experience has been learning about marketing and public relations. Since I did not major in these areas as an undergraduate student, every conversation and topic has been valuable for me. I have been able to make solid connections between the work of the Museum and the topics I am learning about in graduate-level arts management courses I am taking. Planning social media postings, writing press releases, thinking about an overall marketing plan, and staying within budget are all key elements for me to learn in order to be successful in the arts management field. This hands-on experience has been extremely relevant and will serve as a base for my future career goals.
Challenges of a virtual internship? Advantages of a virtual internship?
One of the biggest challenges that I faced during the internship was not seeing people in person. There is a different experience that comes from the ability to physically immerse oneself in the Museum culture. Being able to actually see gallery exhibitions and the reaction of patrons to the artwork is really important. It helps to keep the work exciting. Part of my responsibilities was to determine how to attract younger audiences — specifically college-aged students — to patronize Museum. While I have been able to set up phone calls and virtual meetings, having an in-person internship would have allowed me to talk to student affairs/student life college representatives at the Museum or at their campuses. This would have created a stronger connection to build upon.
There are several advantages of participating in a virtual internship. First, I was able to get to work right away because I did not have to commute. I was able to arrange a flexible schedule and really focus on my projects without losing transition time. Virtual internships also helped me to strengthen necessary career-building skills such as the use of online platforms in a professional setting and effectively using organization and time management strategies. The most significant advantage of the virtual internship is that it allowed me to participate in this program from Newark, New Jersey although I do not physically reside in Greensburg, Pennsylvania.
What do you believe the future holds for you career wise? or Where do you see yourself in five years?
Currently, I am taking classes towards a graduate certificate in Arts Management from the University of Massachusetts Amherst. I plan to apply to graduate school to get a master's degree in Arts Management. One day I hope to start my own nonprofit that provides a safe, creative space for young girls of color to be artistic and build a collective. If this does not happen, I will be working with an arts-related nonprofit organization.
Curatorial and Collections Intern: Kelli Slogan
Why were you interested in interning at The Westmoreland?
I graduated from the University of Pittsburgh this past April with majors in Sociology, Political Science, and Gender, Sexuality, and Women's Studies, and a minor in Museum Studies. Throughout my undergraduate career, I was always interested in the intersections of these topics, and a public institution like the Westmoreland Museum of American Art was the perfect place to learn about these subjects while completing meaningful work. I learned about the internship through my former professor, Alex Taylor, in the History of Art and Architecture Department at Pitt- he taught my Exhibition Development class, which prepared me for my role as Curatorial and Collections Intern at the WMAA.
Can you describe your internship at The Westmoreland?
Throughout my internship, I have been working towards developing gallery checklists and overviews for future exhibitions in the third floor gallery, which has been closed due to COVID-19, but will be reopening soon. After a few days of virtual introductions and wonderful welcome videos, I began searching through the WMAA's Works on Paper collection online. When I found works that stood out to me, I began sorting them into a document based on common themes and similarities. It was so much fun getting to look through countless works of art- despite it being virtual, it really made me feel like I was back in a museum setting.
Was there anything you were surprised by?
Once I looked through all of the Works on Paper, I began creating gallery checklists for the first two exhibitions I was interested in pursuing. The first showcases the works of Teenie Harris (1908-1998), an iconic photographer from the Pittsburgh region who took photos of famous visitors to Pittsburgh, athletes, artists, and community members, often for the world-renowned African American newspaper, the Pittsburgh Courier. I had seen some works from Harris before, and was immediately intrigued by the works of his at the Westmoreland- his photographs showcase the importance of community, especially for often disenfranchised groups, who can build solidarity through works like Harris's. The second gallery checklist I completed was based on women's inner worlds, and the various roles that women may take on throughout their lives. Works by various artists throughout different eras will be displayed to showcase both the shared connections and differences that women have and continue to experience.
What has been one of the most rewarding parts of your internship experience so far?
One of the most rewarding aspects of this internship was getting to work with and gain mentorship from all of the amazing people who work here. Any time I had a question about a specific work, the Curatorial and Collections team was prepared to answer it, and often their knowledge of the works meant they would answer questions I didn't even know I had yet. It was truly educational and inspiring to have the opportunity to work with such a kind and knowledgeable team, and to see so many of the behind-the-scenes aspects of what makes a museum run smoothly. One of my favorite parts about this internship was getting to travel to Greensburg to visit and work at the Westmoreland in person- it was amazing to finally meet everyone in person, and to see all of the works that I had been studying virtually in their true form.
What do you believe the future holds for you career wise? or Where do you see yourself in five years?
In the future I plan to attend graduate school, and continue working in public institutions, like the WMAA. The information that I have learned about how the Westmoreland functions, the process of acquiring works of art and caring for them, and creating worthwhile gallery spaces for the public to enjoy and learn from will certainly stick with me no matter my job description.
We extend a special thank you to all of our summer interns! It was a pleasure to meet and work with each them, and the Westmoreland wishes them the best in their future endeavors.