Make a Hat Day: Art, History, and Hats!
Today is #MakeAHatDay! Get inspired by these artworks from our collection all of which feature people wearing hats! Find a little more about the history of the hats in these artworks and try your hand at creating a hat with every day materials you may have around your house!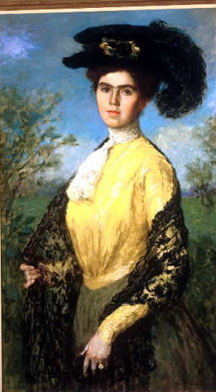 In Julius Garibaldi Melchers' Portrait of a Young Lady, the young lady is wearing a rather large hat with a plume of a feather gracefully curving behind her head. According to the Vintage Fashion Guild, in the early 1900's, roughly from 1901-1907, it was fashionable for a woman's silhouette to resemble an S-shape, and the hat was a crucial element in making this shape happen. To create this shape, a hat was worn on top of pined up hair and positioned to cantilever over the face, although in this artwork the hat seems to be positioned more towards the back of the head. The S-shape silhouette was also formed through the ladies clothing. In this work, the young ladies blouse cinches in at the waist and flows into what looks like a fuller skirt, helping create the S-shape silhouette.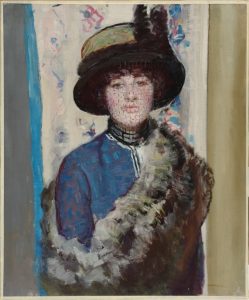 After 1908, hats became increasingly broader and by 1911 hats were at their largest, often with the brim extending beyond the width of the wearer's shoulders (Vintage Fashion Guild). Kenneth Frazier's Woman in a Veiled Hat, painted in 1913, does depict a woman wearing a much broader hat, extending to almost mid shoulder, ornately decorated with what looks like a fur detail around the middle, two feathers in the front, and a delicate veil over her face.
During World War 1, hairstyles decreased in size, so hats began to sit lower on the head and became quite plain. Ornate decorations were considered unpatriotic and frivolous, and hats began to have deeper crowns.
Artist Kenneth Hayes Miller' subjects were sales girls and women shoppers in New York. In Miller's Three Girls Meeting (below left) and Shoppers by an Awning (below right), he uses interlocking ovals and geometric shapes to depict the shoppers in cloche hats and chokers. During the 1920s through 1940s, the cloche hat was quite popular with its deep crown that eventually covered the entire head. On cloches, brims were optional and acted like a visor, protecting the wearer from the sun's rays or precipitation.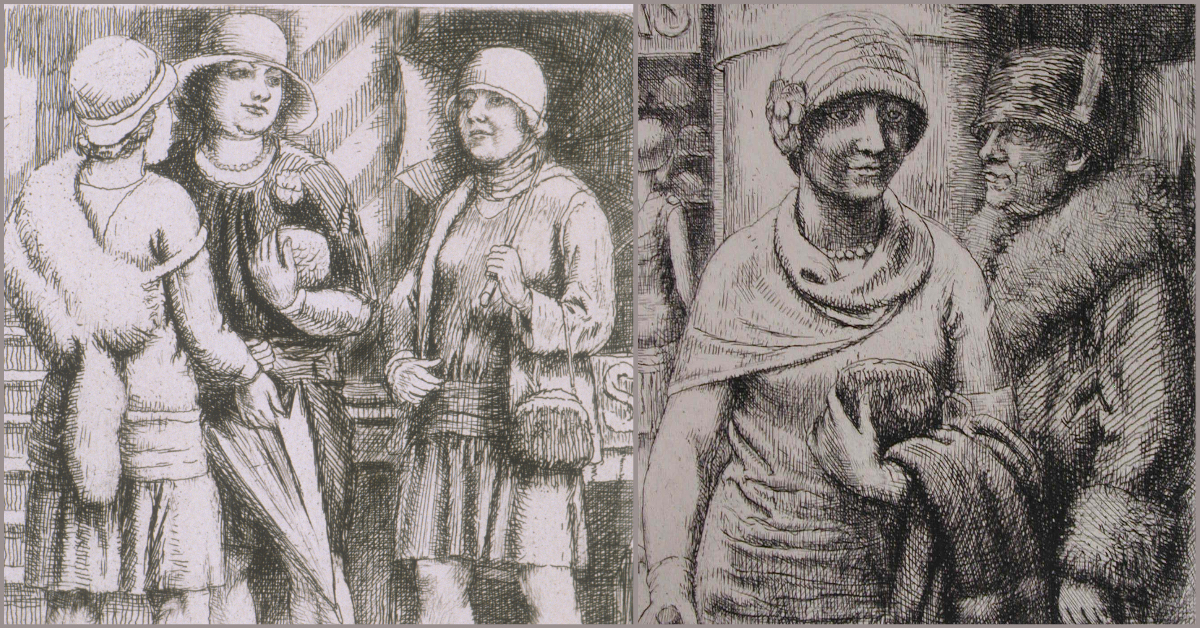 Mary Regensburg Feist's Self-Portrait, painted in 1937, showcases her wearing a smaller hat decorated with light blue and orange flowers perched towards the front of her head, which may reflect how in the early 1930s' the crowns of hats became more shallow again.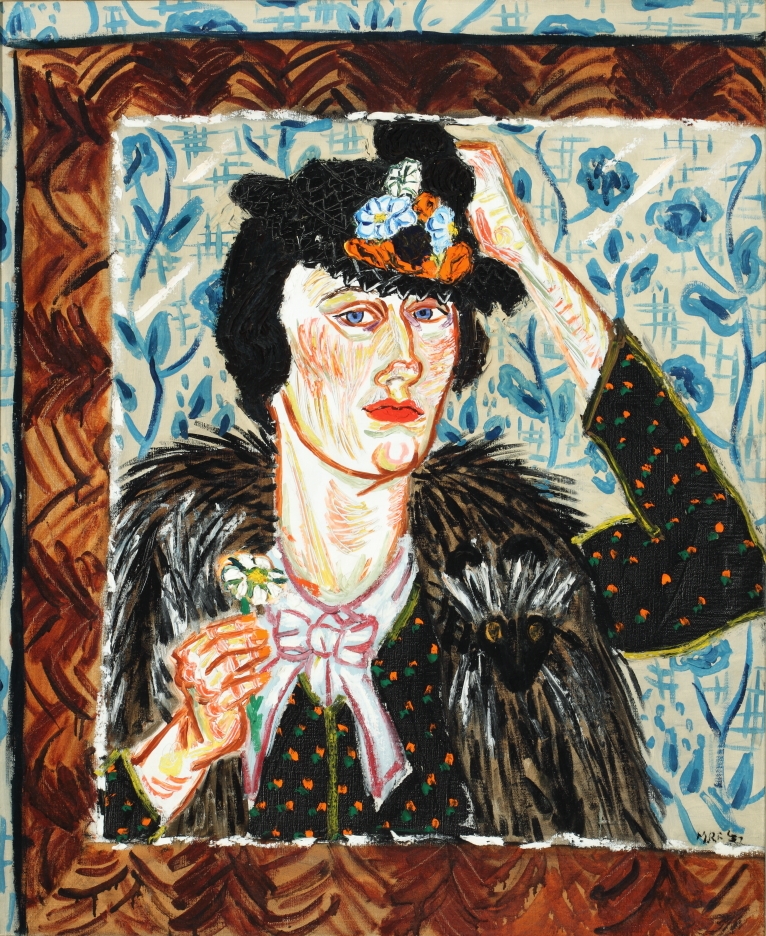 Feeling inspired?! Check out our Pinterest board Make a Hat Day where we have gathered some great paper hat tutorials. Make your own hat using construction paper or cardstock, glue stick or hot glue gun, or a headband (optional)!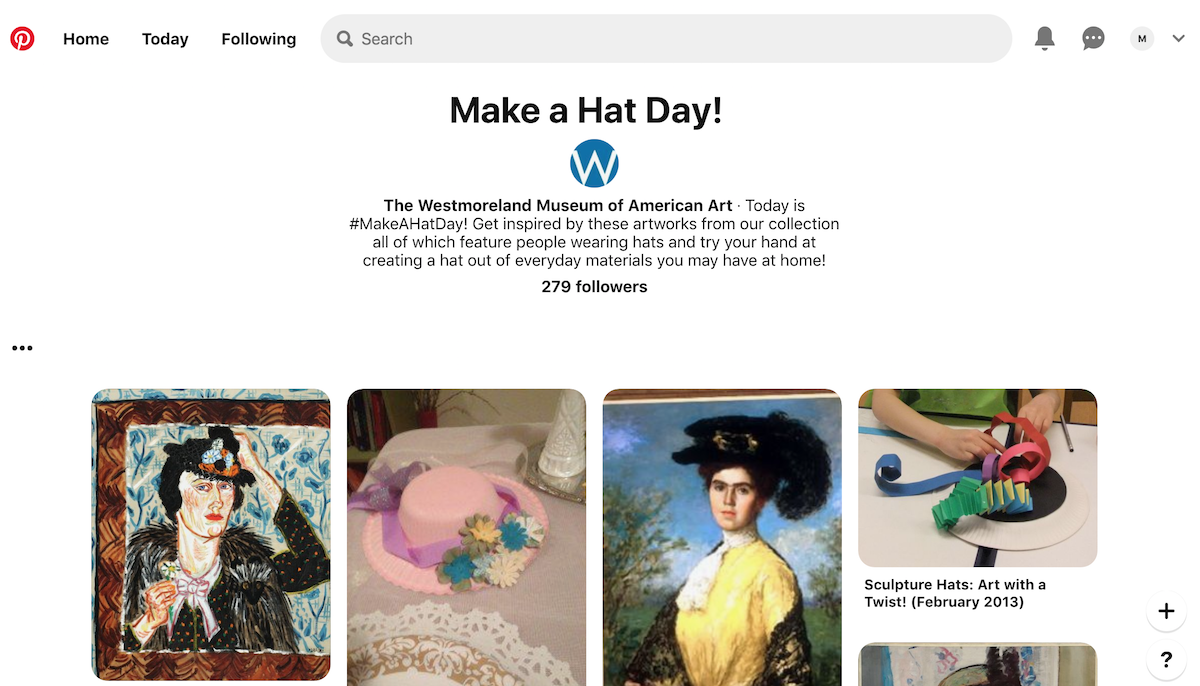 Artwork Credit Lines
Top Right: Julius Garibaldi Melchers (1860–1932), Portrait of a Young Lady, ca. 1900, Oil on Canvas, 47 in. x 27 in., Gift, 1974.197.
Middle Right: Kenneth Frazier (1867–1949), Woman with a Veiled Hat, c. 1913, Oil on Canvas, 37 x 32 1/2 in.,  Bequest of Richard M. Scaife, 2015.57.
Middle: Kenneth Hayes Miller (1876–1952), Shoppers by an Awning, c. 1929, Etching on Paper, Gift from Friends of the Museum, 1979.29. Kenneth Hayes Miller (1876–1952), Three Girls Meeting, c. 1929, Etching on Paper, 5 in. x 4 in. Gift from Friends of the Museum, 1979.28.
Bottom Right: Mary Regensburg Feist (1914–2014), Self-Portrait, 1937, Oil on Canvas, 34 in. x 28 in., Collection Westmoreland Museum of American Art, Greensburg, Pennsylvania, Gift of the Thomas Lynch Fund and Museum Purchase, #2008.1.
Information courtesy of Jonathan Walford the Vintage Fashion Guild.