The Making of Pattern Makers
Like many art museums across the county, The Westmoreland postponed its temporary exhibition program due to the COVID-19 pandemic. This provided the Museum with an opportunity to examine and exhibit our permanent collection in new and innovative ways, and it afforded graduate and upper classman art history students with an opportunity to have real world curatorial experience. The Westmoreland collaborated with Professor Alex Taylor from the Department of History of Art and Architecture at the University of Pittsburgh to offer a Virtual Curatorial Practicum during the Fall 2020 semester.
This graduate-level class provided students with an opportunity to conduct new scholarship as well as a practical understanding of exhibition development, interpretation and engagement for a public art museum by developing exhibition storylines from a range of works currently in Museum storage. The University of Pittsburgh student curatorial team consisted of Annie Abernathy, Isaiah Bertagnolli, Alan London, Katie Loney, Janina Lopez, Emily Mazzola, Morgan Powell, Olivia Rutledge, Alex Taylor and Vuk Vukovic.
Working with Professor Taylor and Museum staff, including the Director/ CEO, Chief Curator, and Director of Collections and Exhibition Management, the students learned to use digital resources to analyze a museum collection and generate display ideas; to undertake artist and object-based research; to apply their research in a collaborative way; to develop an exhibition proposal; to draft exhibition label texts that further interpret works of art; and to collaborate with fellow students to refine and finalize one exhibition proposal while also considering audience engagement and exhibition organizational details.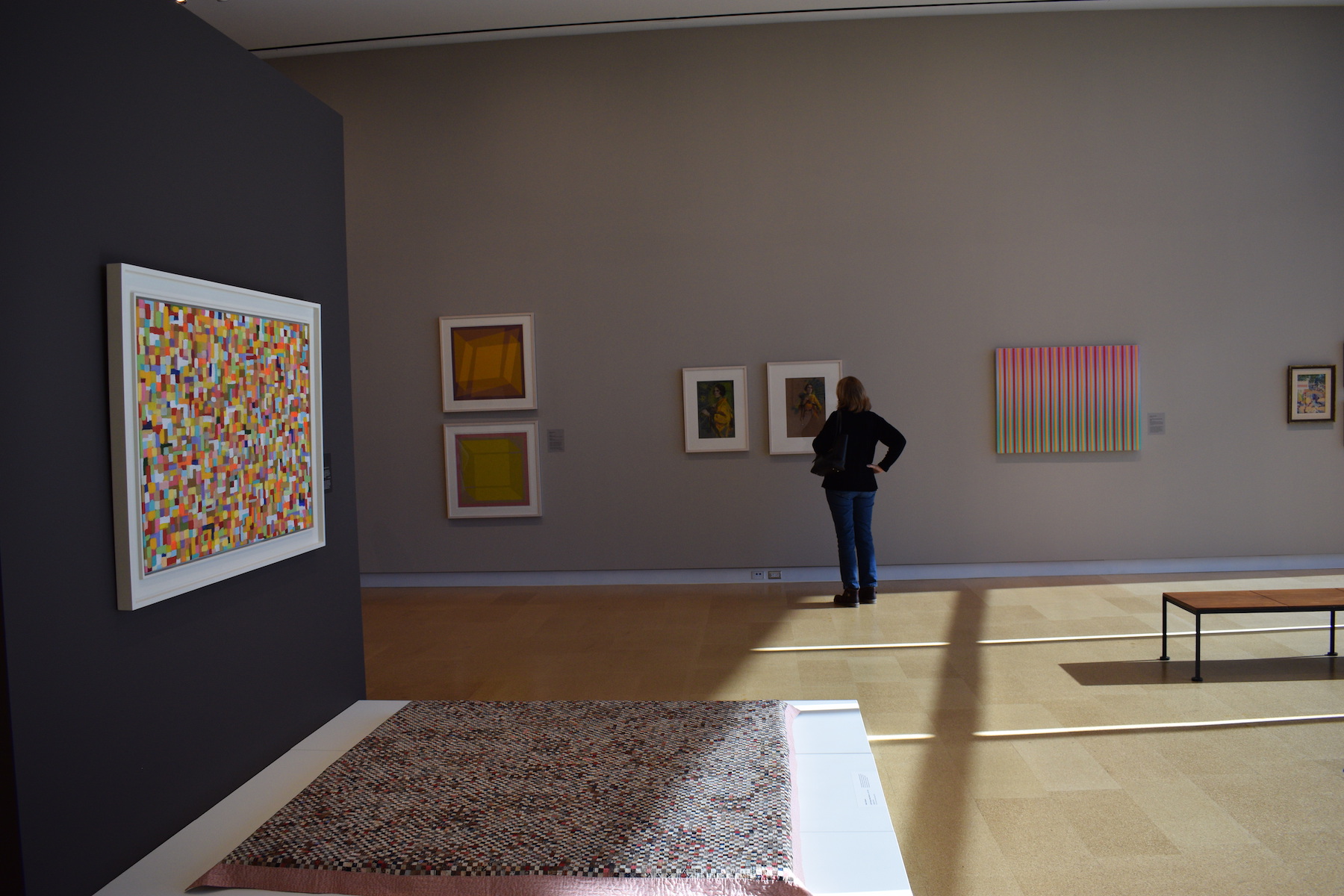 Working in three teams, the students explored The Westmoreland's permanent collection to delve deeper into the stories of American art and develop an exhibition proposal. As each team refined their research, they developed a proposal and presented their concepts to the Museum's senior staff from which one was selected to mount a full-scale exhibition of up to 50 works of art in the Cantilever Gallery.
The selected exhibition concept, Pattern Makers, concerns the visual effects of pattern and how artists have used patterns drawn from nature, created by the imaginative manipulation of geometry, or that reflect social, cultural and economic life. Patterns are all around us, and making pattern is a profoundly human activity. Some are designed to catch and delight the eye while others are harder to see, operating more like camouflage. Patterns can even contain coded political messages. This exhibition tracks the presence and meanings of patterns across a selection of objects from The Westmoreland's collection that are not often on view.
Using the Museum's permanent collection database and collection files, students mined the collection to discover relationships between objects, revealing new patterns that connect a diverse range of works of different styles and periods.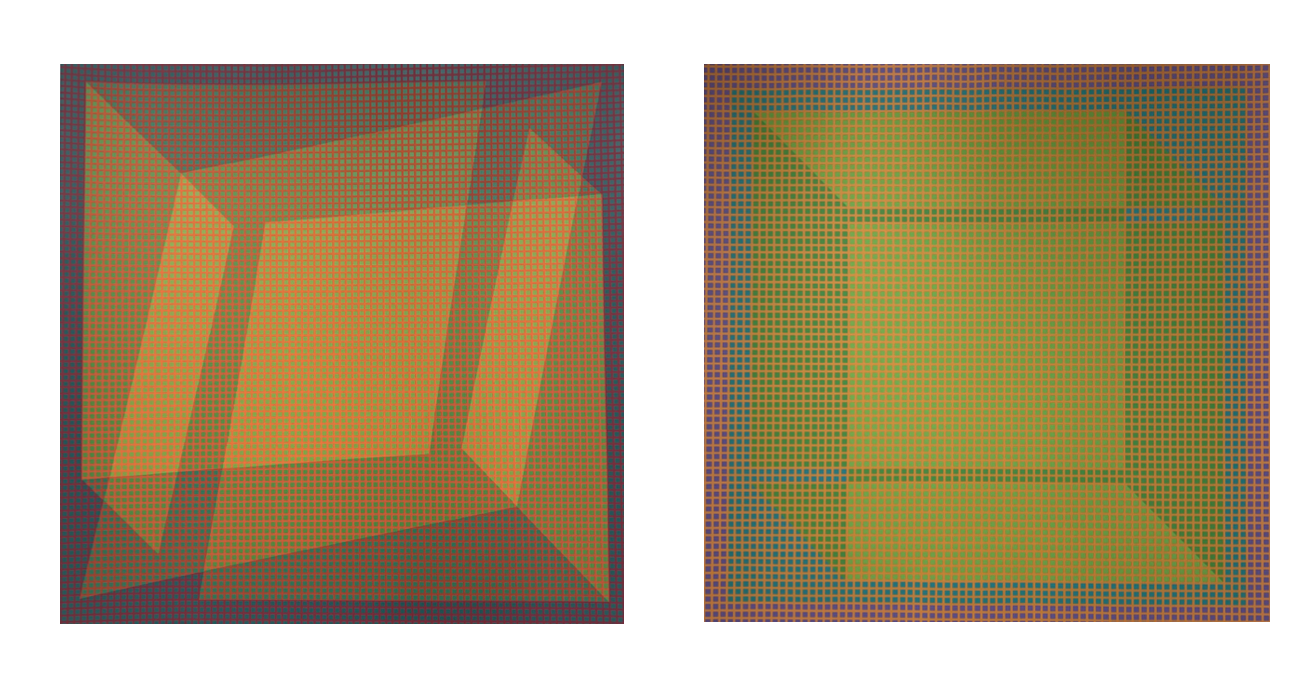 Beyond the visual effects of spots, stripes and other repetitive motifs, as seen in James Romaine's photograms or the op art graphics of Julian Stanczak, a pattern can also be a plan by which something is reproduced, like the pattern for a dress or a quilt. When an artist uses a preexisting image, such as a photograph as the basis for their work as John Kane was known to do, they too are working from a kind of pattern.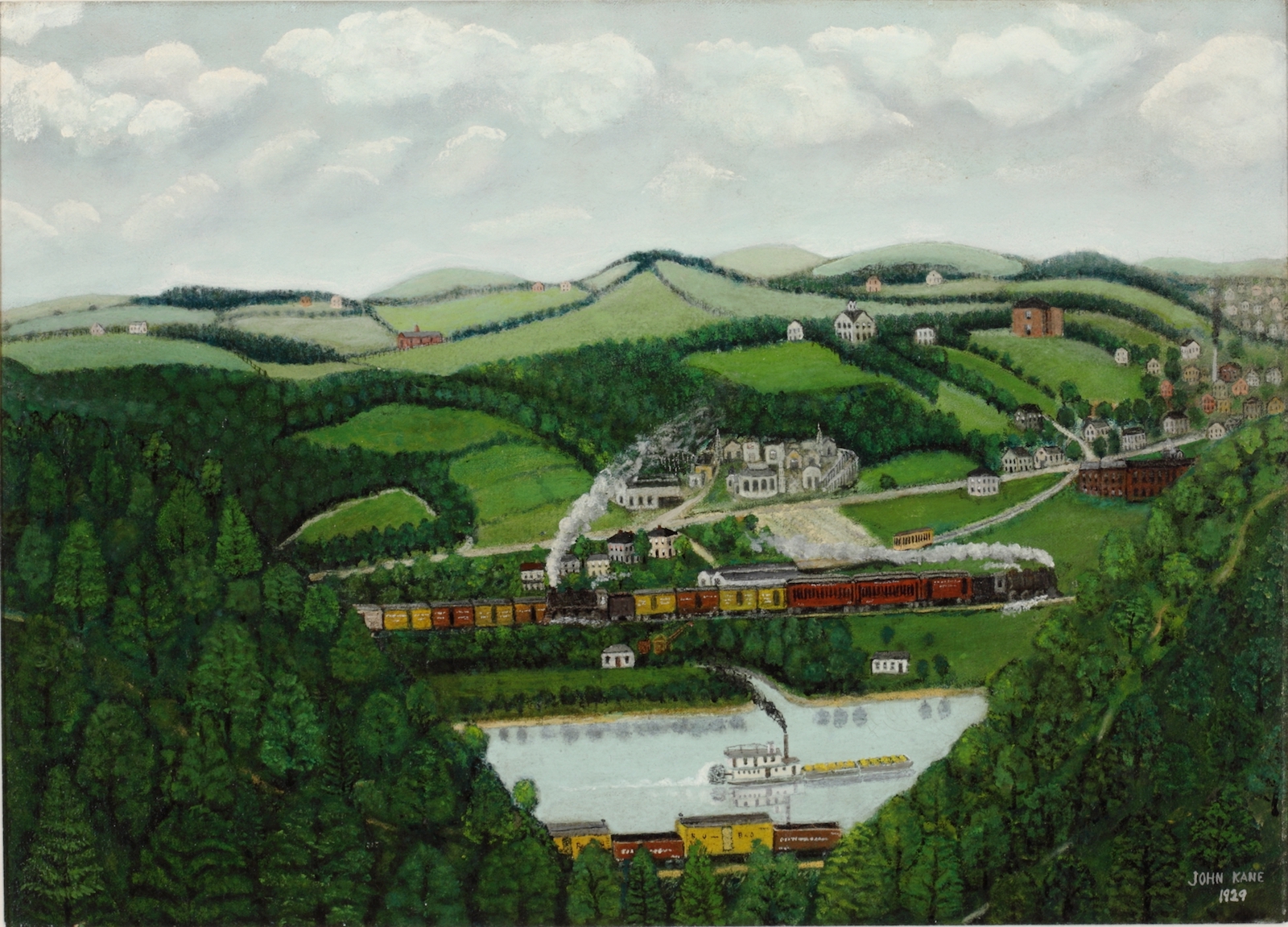 By focusing on how patterns are made, this exhibition considers who is and isn't recognized for this work. Why, for instance, are the geometrical abstract patterns made by modern painters more valued than similar designs created by anonymous craftspeople for more everyday objects? A compelling juxtaposition between an abstract painting such as John Grillo's Untitled (1951) and the intricate grids of a late nineteenth century Postage Stamp Pattern quilt make startling connections across divergent styles and mediums (pictured below).

More broadly, the exhibition includes works that are not patterned in themselves but are energized by depictions of patterned objects such as William Henry Clapp's Neptune Beach No. 1 with striped umbrellas, or self-taught Anthony DeBernardin, who worked as a bricklayer, and spotlights a patterned brick column in his painting A Cheerful that Turned Sorrowful.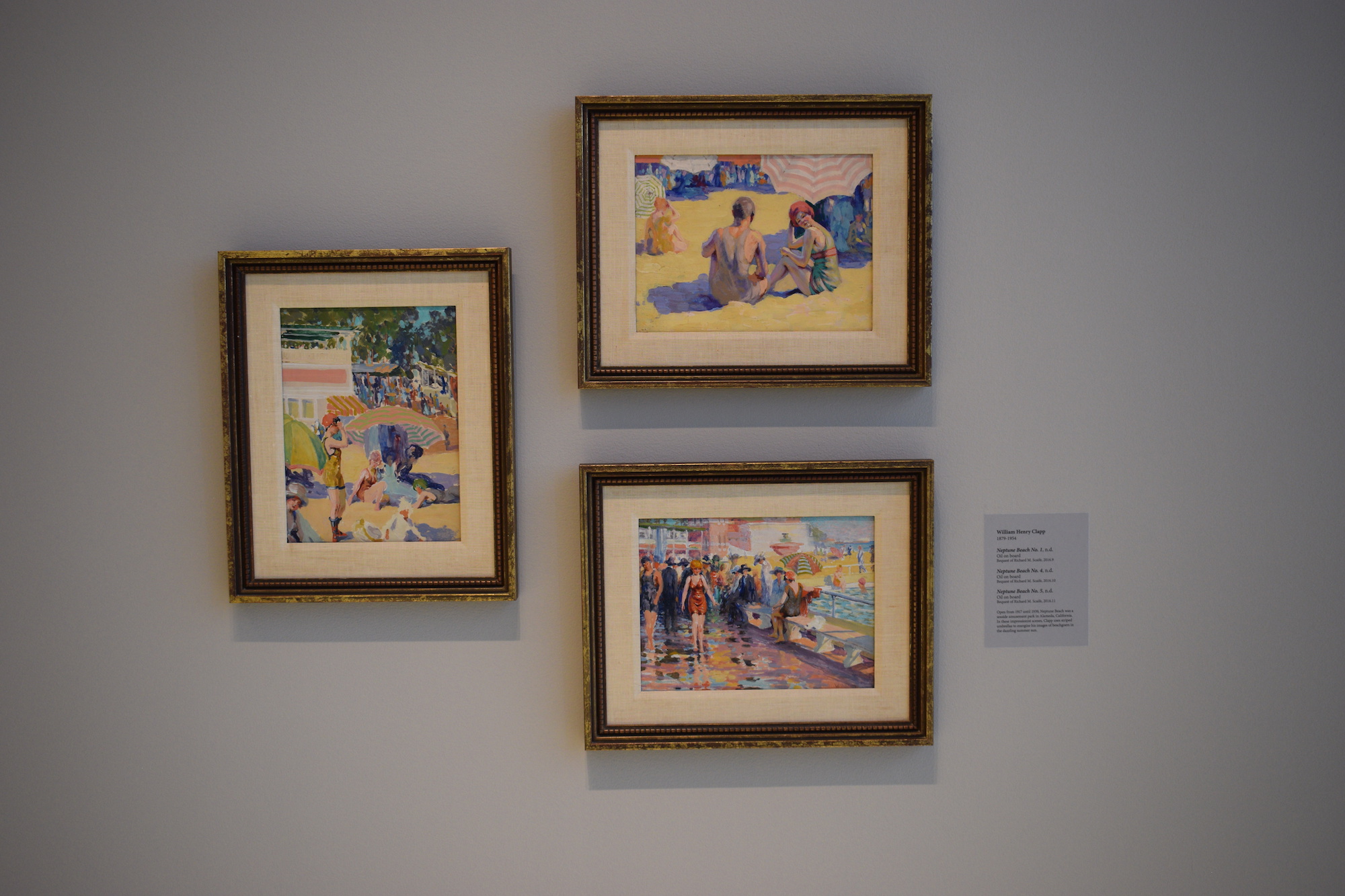 Geometrical patterns in such objects as Donald Judd's Untitled (84-10 Lehni) will be seen alongside works that seem far removed from minimalist abstraction, such as 'spongeware' pottery and the repetitive chip carving of so-called 'tramp art.'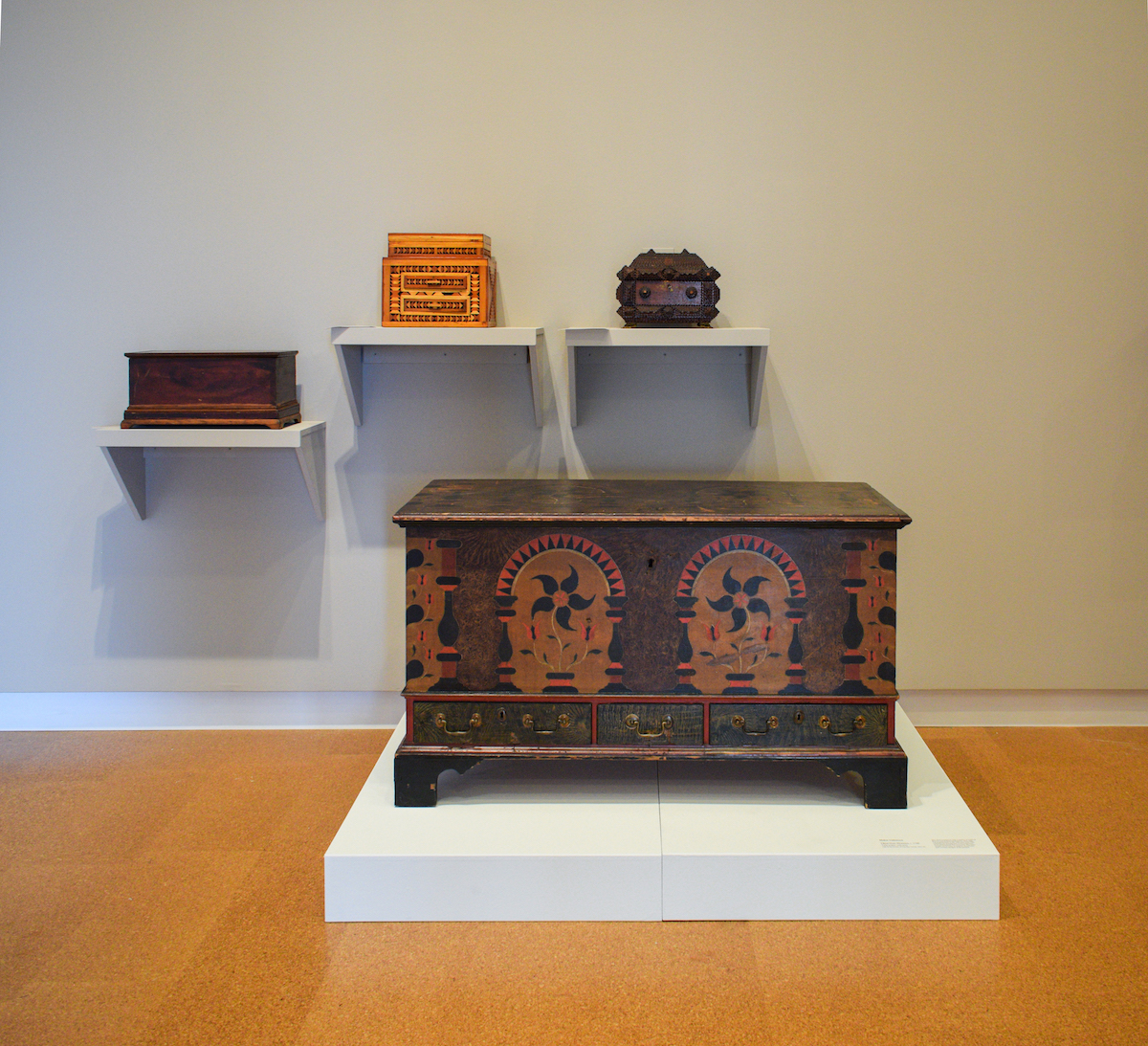 Approaching pattern holistically, the students looked at the environment for evocations of patterns in nature in such works as Charlie Pitcher's Long Live the Virgins and their abstract equivalent in a work such as Larry Poons' Stanley's Traveler as well as pattern in fashion with Milton Weiss's Harlequin and Rachel McClelland Sutton's Butterfly Lady.
The exhibition offers visitors engagement opportunities, both in-person and online, to learn about objects that are not always on view and see objects juxtaposed in new ways. The virtual In Conversation: Patterns in Quilts features a group discussion about the quilts in the Museum's collection and during the virtual In Conversation: the Process of Curating a Museum Exhibition Virtually, you can hear from four of the University of Pittsburgh students, Emily Mazzola, Katie Loney, Janina Lopez, and Olivia Rutledge, involved in the concept development for the Pattern Makers exhibition. To attend one of these virtual programs, click here!
A 3-D model of the exhibition installation, available for a virtual tour, is available below.
[embedyt] https://www.youtube.com/watch?v=FWaflqmu_ds[/embedyt]
Inviting these students of art history to really look at the collection with fresh sets of eyes allows us to explore new narratives and encourages you, our visitors, to think more fully about the processes of exhibition making, and the connections and relationships across the history of American art.