National Train Day & Otto August Kuhler
Did you know that the Saturday before May 10 used to be #NationalTrainDay, a day observed annually since 2008 to spread information on the history of the railway system, but then Amtrak discontinued it in 2016? We didn't either.
What we do know is that there's something intriguing about trains, about the way they move, sound, how they helped fuel the industrial revolution, and how they literally helped shape America, for better or worse, into what it is today.
Artist Otto August Kuhler thought so too, and helped shape the American railroads as a well-known, if not one of the best known, locomotive design engineers.
In 1894, Kuhler was born in Remscheid, Germany, to a family, who since 1782 had owned and operated an ironworks in the Ruhr Valley, where he first learned his love of industrial scenes. From early childhood, he was fascinated by locomotives and cherished the Baldwin Locomotive catalog he received from the company's president.
Kuhler attempted to study art at the Royal Arts Academy in Dusseldorf but lasted just three days due to only wanting to draw mills and machinery instead of apples and flowers. He continued on as  a self-taught artist and worked in the mills in Germany with the railroad. Then, after World War I, he found work as a commercial artist.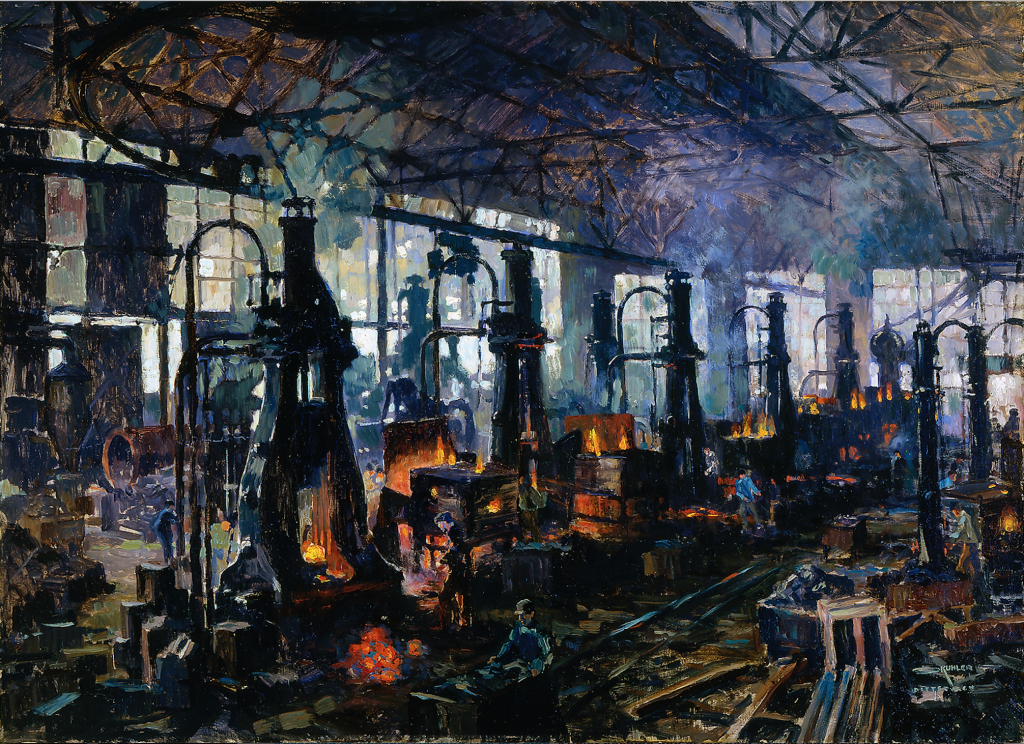 In 1923, Kuhler emigrated to America, specifically to Pittsburgh. He came to "The Steel City" because his father's cousin had offered him a place to live and quickly found himself captivated by the industrial scenes. "I was deeply impressed by the endless procession of mighty blast furnaces, flame-spawning Bessemer converters, the white-hot snakes of steel crashing back and forth through the rolling mills. This I realized was the mighty steel-making heart of America."
While in Pittsburgh from 1923 to 1928, Kuhler created one of the largest and most accurate records of the industrial center of the country. His work featured locomotives, steelworks and industrial landscapes, including his iconic oil painting Steel Valley, Pittsburgh, which is part of the Museum's Born of Fire: Scenes of Industry collection along with twenty-eight works by the artist.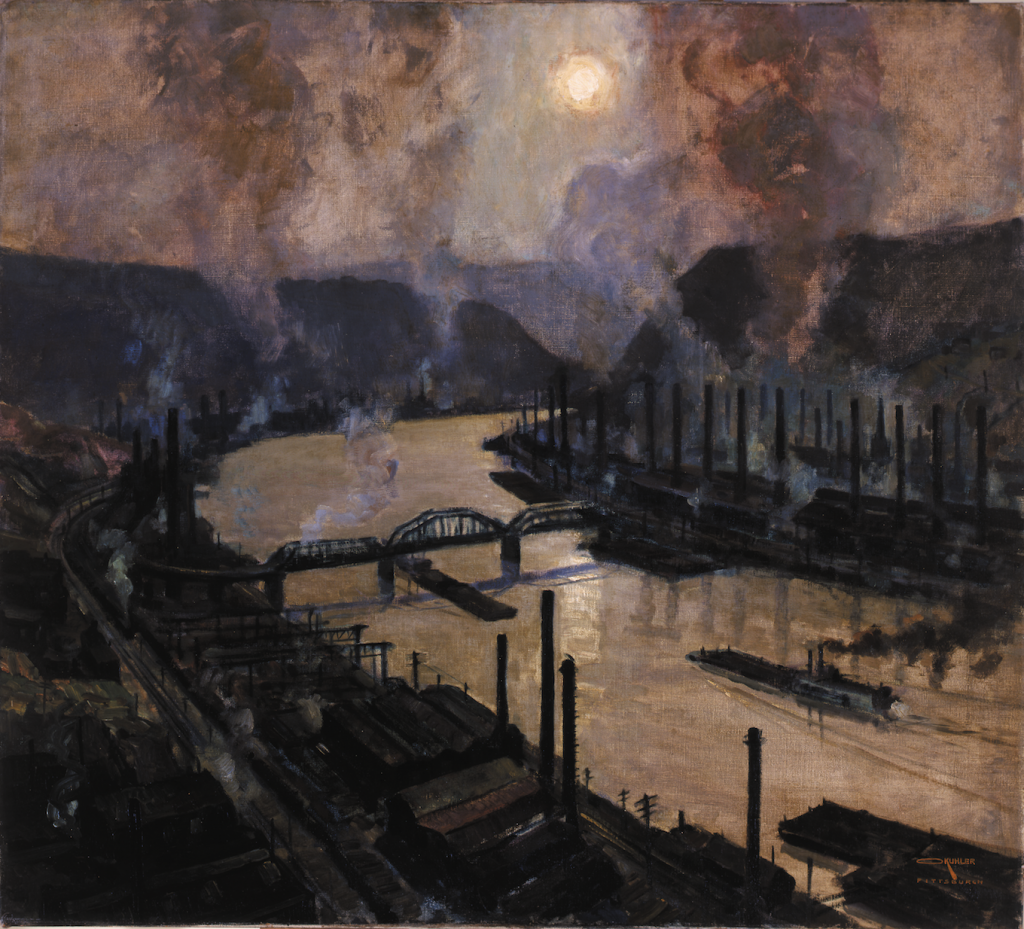 Whenever Kuhler traveled, he gravitated to the rail yards and would sketch as many different types of trains as he could. In 1928, Kuhler left Pittsburgh for New York. Fulfilling his lifelong ambition, he became a design engineer for the American Locomotive Company in New York. Kuhler designed their first stream-line train, the famous Hiawatha engine, unveiled in May 1935, which was advertised as the "fastest steam locomotive in the world."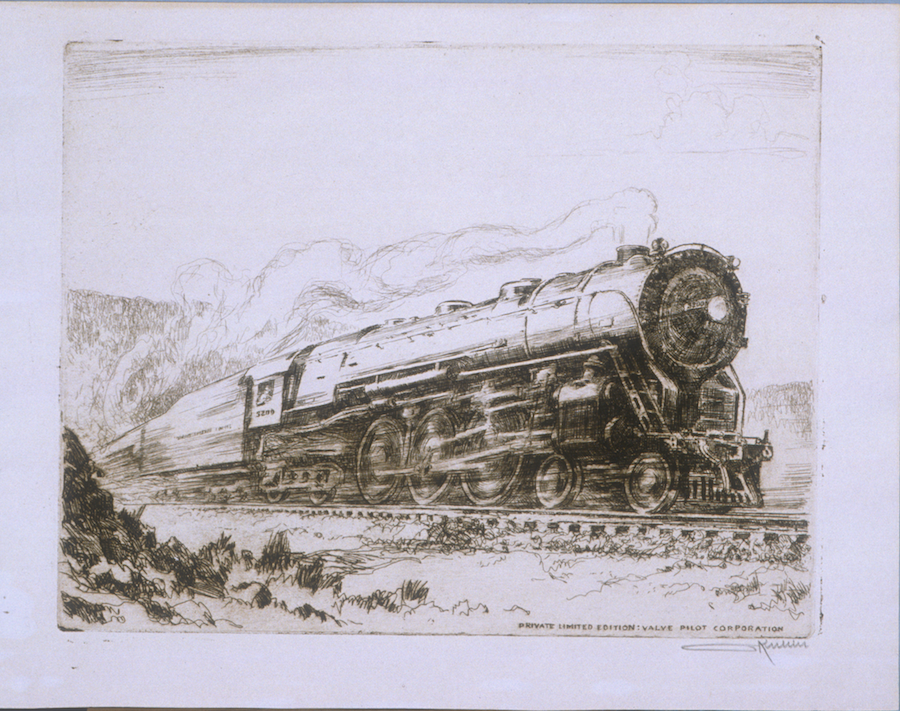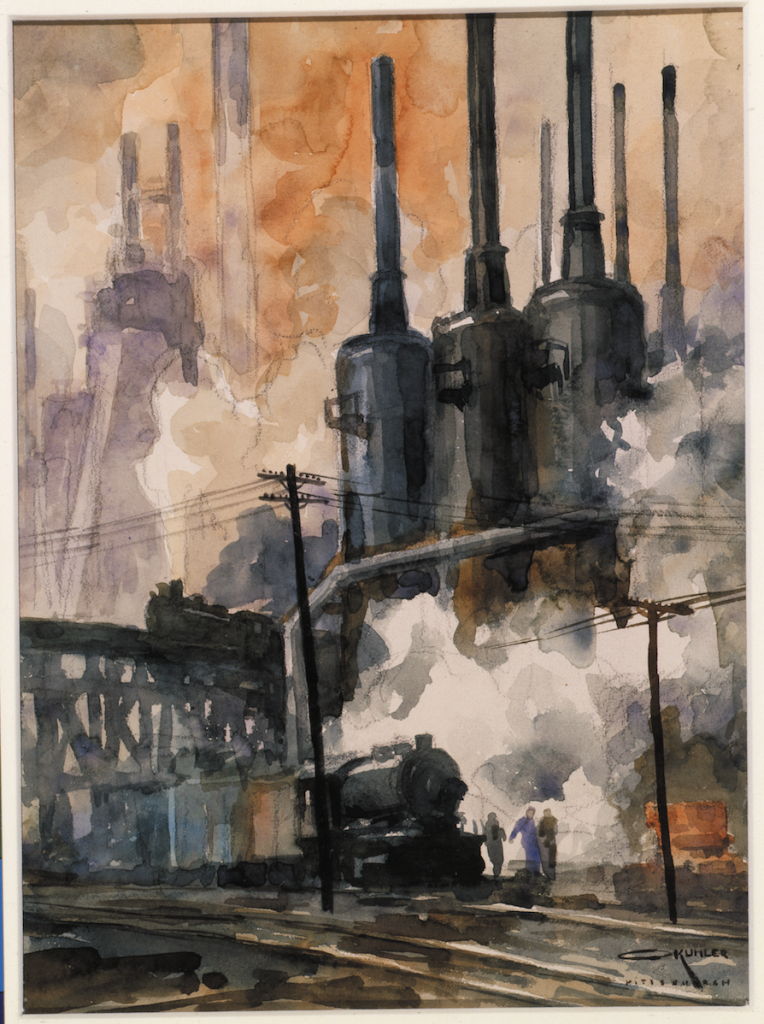 According to National Railroad Hall of Fame, Kuhler became one of the best-known industrial designers of American railroads, yet he was also a talented artist. Whether using oil, watercolor, or etching techniques, Kuhler was a master at whatever medium he chose, demonstrating his proficiency at all of them during his career. Combined with his love of industry, Kuhler's natural artistic ability to render technical processes resulted in a body of work that is unparalleled.
So, in remembrance of the discontinued #NationalTrainDay, Kuhler's industrial and locomotive artwork, and the historic legacy of our region – or if you really just like trains – print out our Train Coloring Pages, featuring Kuhler's etching Steam Train, and color your own locomotives!

Bibliography:
1. Jones, Barbara L. "Otto Kuhler (1894-1976) Steel Valley, Pittsburgh, c. 1925." Picturing America: Signature Works from the Westmoreland Museum of American Art, Barbara L. Jones et al. (Greensburg, PA: Westmoreland Museum of American Art, 2010), 191-193.