The Fine Art of Conservation: A Crucial Component
Art is glorious to behold. It can be awe-inspiring, shocking, moving, challenging, and motivating. A work of art doesn't remain that way by itself though.
There's a lot of maintenance, cleaning, and care that goes on behind the scenes to preserve a work of art and keep it looking pristine and powerful.
Specifically, the somewhat unsung heroes of the art world are collection managers and conservators. Collection managers are responsible for implementing and following museum professional standards for acquisitions, conservation, and display, while conservators are highly trained individuals in art chemistry and history, who specialize in one particular type of object and understand how a material will age over time and react when treated
A collection manager and conservator's goal is to stabilize and preserve works of art so that they can be enjoyed for years to come, and their job is never ending. Collection mangers are continually monitoring, cleaning, and repairing. They monitor temperature, relative humidity, and light levels to provide a comfortable, safe environment for the artworks in their museum's collection. What makes collection managers and conservators jobs quite complex is the fact that different media has drastically different needs and requires different conservation approaches.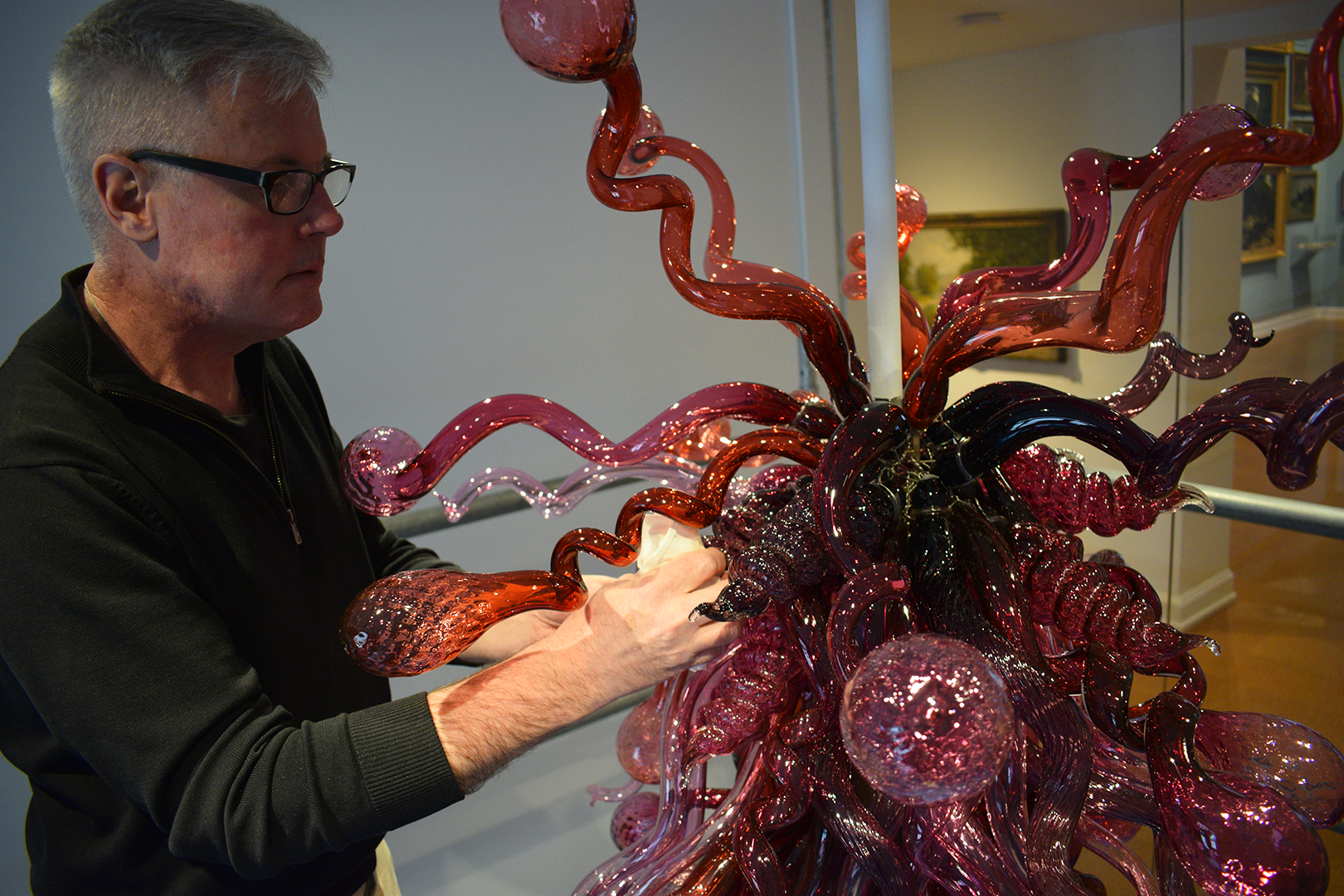 When refreshing galleries with works from the vault, acquiring new works, transporting artwork, and installing a new exhibition, The Westmoreland's Collection Manager Doug Evans takes all of these variables into consideration.
Ever noticed a slightly dimmer area inside of a museum's gallery? No, a light didn't burn out!
According to Evans, a work on paper is in close proximity. The lighting is dimmer because works on paper, such as drawings, photographs, prints, and watercolors, are more sensitive to light damage than a work on canvas or metal sculpture.
Light damage accumulates, so the length of time that a work on paper remains on view is monitored and limited. At The Westmoreland, Evans explains that between exhibitions works on paper are removed from their frames and rested in their acid-reduced mats within flat-files inside a museum's vault where they are not exposed to any light.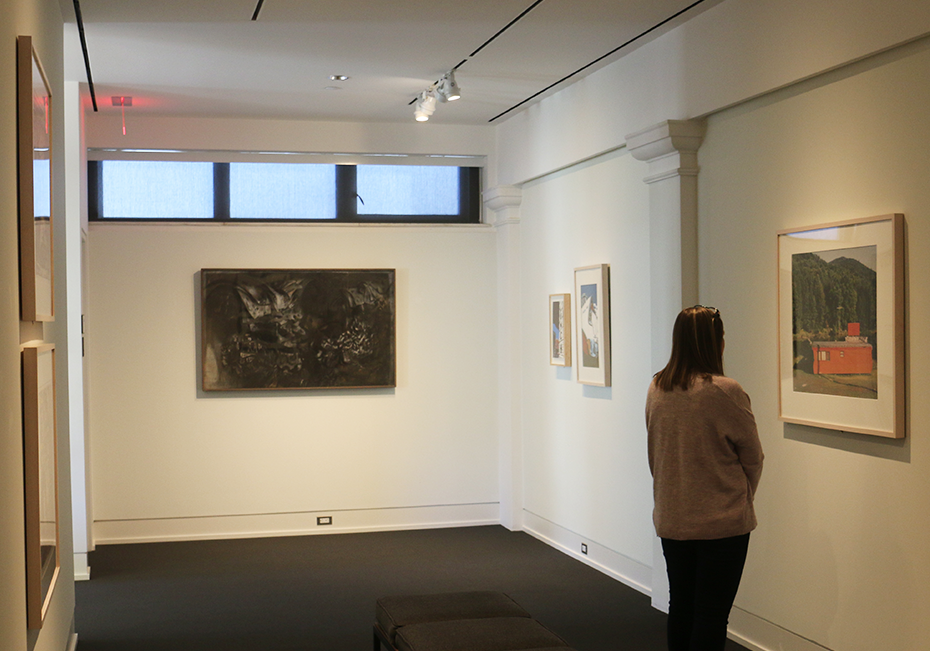 The bulk of The Westmoreland's permanent collection consists of works on paper and the Museum's special Carol R. Brown Gallery is dedicated to displaying a changing selection of these delicate artworks.
Evan's also notes that all works of art have needs and even under ideal conditions, accidents and aging can occur.
Whenever new works of art are acquired, they are examined for their condition. If conservation treatments are necessary, the appropriate conservator is engaged. For example, when George Inness' Moonrise, Alexandria Bay, was acquired in 2015, it underwent a review that revealed embedded dust and an old varnish, which had darkened the piece and resulted in a loss of depth.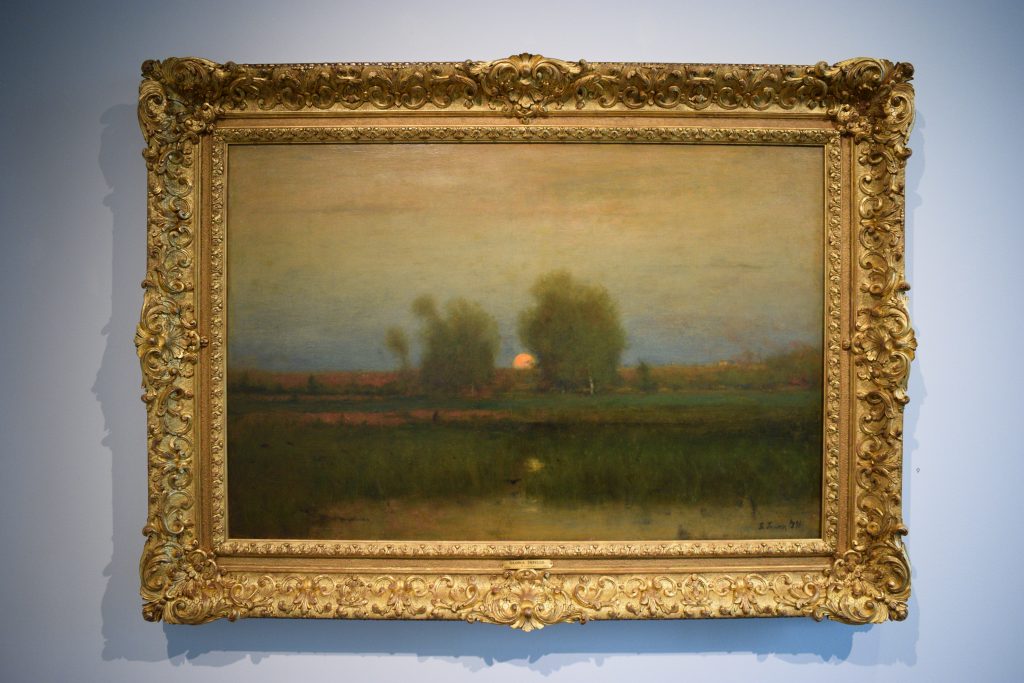 The surface dust, grime, and discolored varnish layer were removed as well as layers of oil-based overpaint from previous treatments. Scuffs and other areas of discoloration were inpainted or retouched, which is a restoration process to cosmetically reestablish color and detail to losses in the paint layer. To preserve the Inness work's subtly gorgeous colors, a protective non-yellowing synthetic resin varnish was applied to the entire work.
Additionally, the frame for Inness' Moonrise, Alexandria Bay had so much embedded dirt and grime that it was almost black and in need of a thorough cleaning, so a specialized conservator was contacted. Surface cleaning tests were performed to determine the precise blend of solvents or enzymes that would remove the grime or varnish without damaging the material underneath. During the surface cleaning tests, the conservator removed the painting's nameplate to reveal a beautiful gilded surface. After forty hours of skilled labor, the conservator provided a stunningly intricate gold frame that wonderfully highlights the painting.
Another example of conservation at The Westmoreland occurred with the acquisition of Louis Comfort Tiffany's The Thomas Lynch Tiffany Window in 2001. It underwent a conservation treatment over a series of days by a senior conservator of restoral stained glass with help from his assistant.
The three-paneled window was removed from its frame and approximately eight broken pieces of glass were also removed in preparation for edge gluing using an appropriate apoxy. All restored glass was thoroughly cleaned as were the newly exposed surfaces of the plated areas. The restored pieces received new copper foil and were soldered into their places. Finally, before the three panels were reinstalled within the frame, they received an overall cleaning.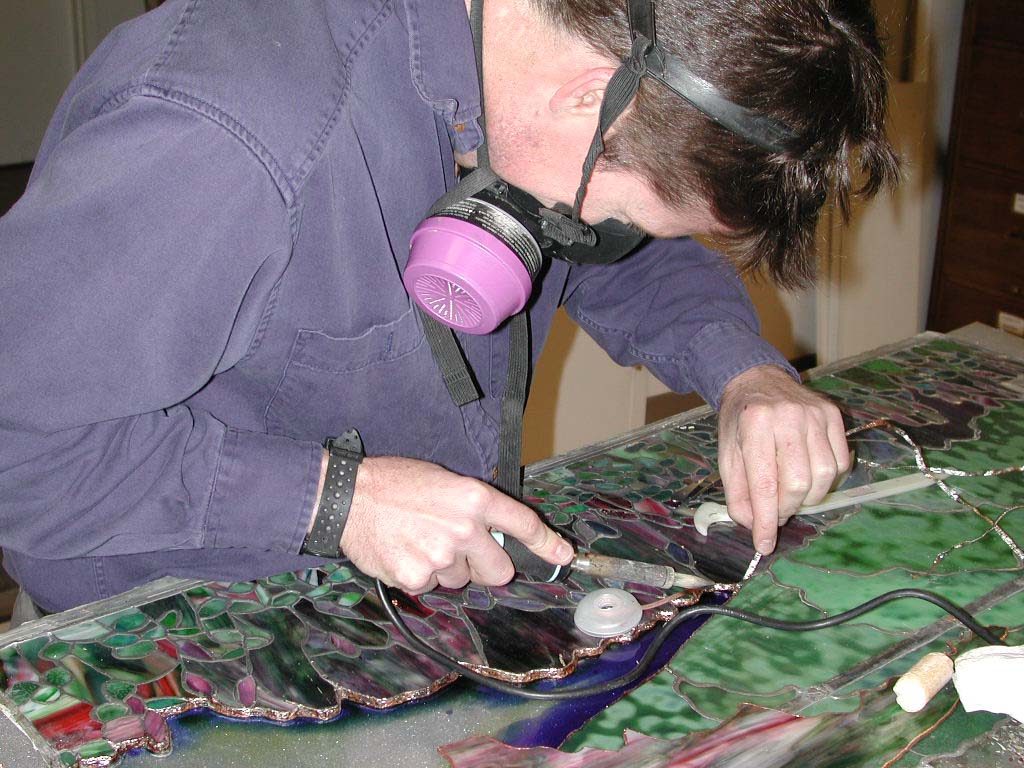 Initially, the restored stained glass window was installed in the 20th Century Gallery, but after the Museum was renovated in 2015, The Thomas Lynch Tiffany Window received new framing and LED light pads, allowing visitors to experience Tiffany's artistry at all times of day and night!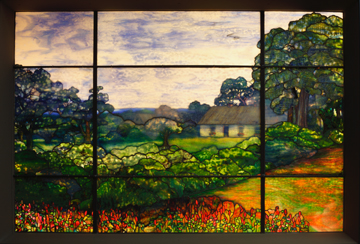 Interested in The Westmoreland's conservation efforts? Visit the exhibition, Conservation of the Permanent Collection, on view in the Robertshaw Gallery until March 22, and learn about the varying assessments and treatments that works have undergone in this exhibition!