Virtually Attend an Upcoming Artist-In-Residency Public Program!
Partnering with BOOM Concepts to host a new Artist-in-Residency program, made possible by generous support from The Fisher Fund of The Pittsburgh Foundation, The Westmoreland welcomed Anqwenique and D.S. Kinsel in September of 2020 as the first resident artists!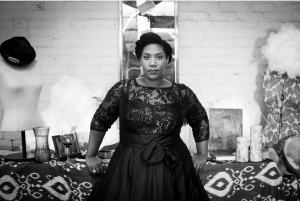 Pittsburgh native, Anqwenique is an extremely versatile vocalist and educator specializing in opera, classical music, jazz, and soul. She holds a Bachelor of Fine Arts degree in Voice Performance from Indiana University of Pennsylvania. Anqwenique is also the founder and director of Groove Aesthetic, a Pittsburgh based multidisciplinary artist collective experimenting with contemporary performance and collaborative processes. She has performed and collaborated with Staycee Pearl Dance Project, Attack Theater, Pittsburgh Symphony Orchestra, David Bernard Romain, Luna Loba Collective/Shey Rivera-Rios and many others.
Anqwenique has been very active in the arts and education community as a teaching artist, consultant, program manager and advisor. Currently she serves as Director of Programs for Arts Education Collaborative. She is also the Studio Manager of BOOM Concepts, working to provide affordable studio space and resources to artists and creative entrepreneurs.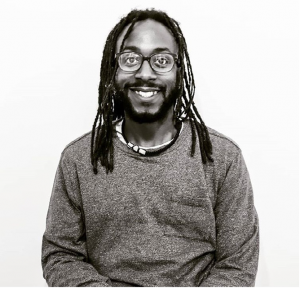 D.S. Kinsel is an award-winning creative entrepreneur and cultural agitator, who expresses his creativity through the mediums of painting, installation, curating, non-traditional performance and public art. Kinsel's work puts focus on themes of space keeping, urban tradition, hip-hop, informalism, and cultural re-appropriation. D.S. has served creative residencies at Most Wanted Fine Art, Artist Image Resource, The Homewood Residency Program, Kelly Strayhorn Theater, Pittsburgh Public Schools Carnegie Mellon University Digital Arts Studio, AS220, the Pittsburgh Glass Center and the Sedona Summer Artist Colony. He also served as the curator of #ACTIVISTprint, a collaborative public art program of The Andy Warhol Museum and Artist Image Resource and as Senior Producer at the Kelly Strayhorn Theater.
D.S. is the co-founder of BOOM Concepts, a creative hub dedicated to the advancement of black and brown artists representing marginalized communities founded in 2014. Located in Pittsburgh, BOOM Concepts has curated 50 exhibitions on-site, paid out over $45k in artists' and contract fees, and produced 200+ events across the country.
To find out more about D.S. and Anqwenique, click here and turn to page 7.
The duo, who happens to be married, has developed an exciting line up of free public programs, including a live chess match, singing workshops, and an engaging in conversation!
"King vs. Queen" Chess Match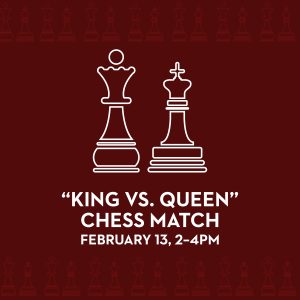 Saturday, February 13, 2–4pm
Watch Anqwenique and D.S. play a live chess match on a special board designed by Keith Harring while providing insights into their artistic practice and more. You can even suggest moves to the artists as they play! To register for this free program, click here.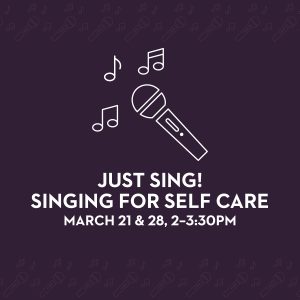 Just Sing! Singing for Self Care
Sunday, March 21 (students)
Sunday, March 28 (adults)
2–3:30pm
Sing for self care, de-stress and build your singing confidence during a free guided workshop with Anqwenique! During the 90-minute session, participants will learn techniques for breathing, strengthening their voices, building confidence for presenting, and more. Limited amount of spots available.
To register for the Just Sing! Singing for Self Care middle to high school student workshop on March 21, click here.
To register for the Just Sing! Singing for Self Care for adults workshop on March 28, click here.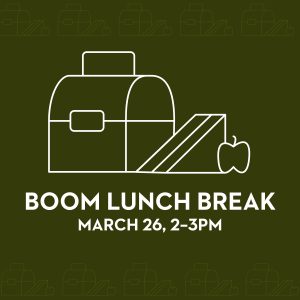 BOOM Lunch Break
Friday, March 26, 2–3pm
Wondering what's next for Anqwenique, D.S. and the BOOM partnership? Tune in for a virtual conversation between Anqwenique, D.S., Director/CEO Anne Kraybill, and BOOM Concepts Co-founder Thomas Agnew. The four will discuss the process and works created during the residency, the Greensburg experience from a Pittsburgh point of view, and what's next!
To register for BOOM Lunch Break, click here.
Kinselland Radio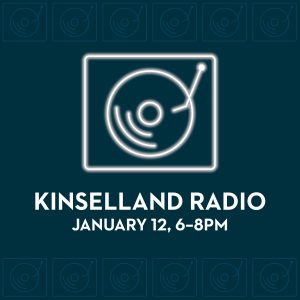 Please note this event has already passed!
Listening to their hearts and trusting their hands to guide the groove, Anqwenique and D.S. explored throwback deep cuts of classical, jazz, hip hop, rhythm and blues, rock and retro pop records from their family's inherited personal collection. This vinyl DJ set was inspired by the African American Art in the 20th Century exhibition and celebrates the rich legacy and contributions of Black artists.