Q&A: Photographer Jason Starr on Living in a Time of Distance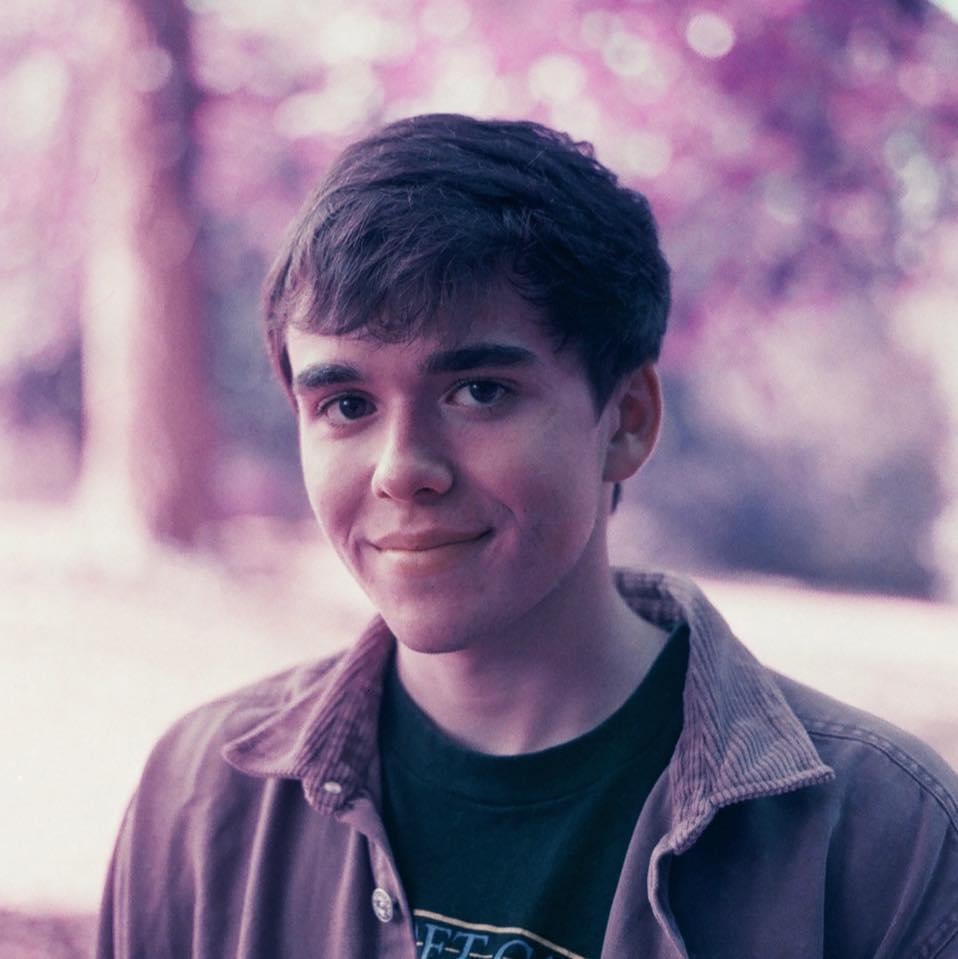 Jason Starr's poignant exhibition, Living in a Time of Distance, features a body of photographs documenting the impact of the COVID-19 pandemic in communities and regions across the continental United States, and is only on view at The Westmoreland until Saturday, April 3. Starr, who is a junior at James Madison University pursuing a Bachelor of Arts in political science and studio art, took these images on a month-long cross-country road trip during July and August 2020. In this in-depth Q&A with Starr, find out a little more about his exhibition Living in a Time of Distance, his journey across the country, why he became interested in photography, and what he plans to do next!
1. Why were you interested in documenting how COVID-19 affected this country?
Originally, I actually received the grant which funded the creation of Living in a Time of Distance to document the refugee crisis in Europe. However, with the rise of the pandemic I was compelled to meet the moment we are all in and switch my project to documenting how COVID-19 affected this country. During a time where we are so disconnected from one another, I found it important to photograph the vast experiences with the pandemic in order to create a space of empathy, reminding us all that everyone is impacted by the pandemic.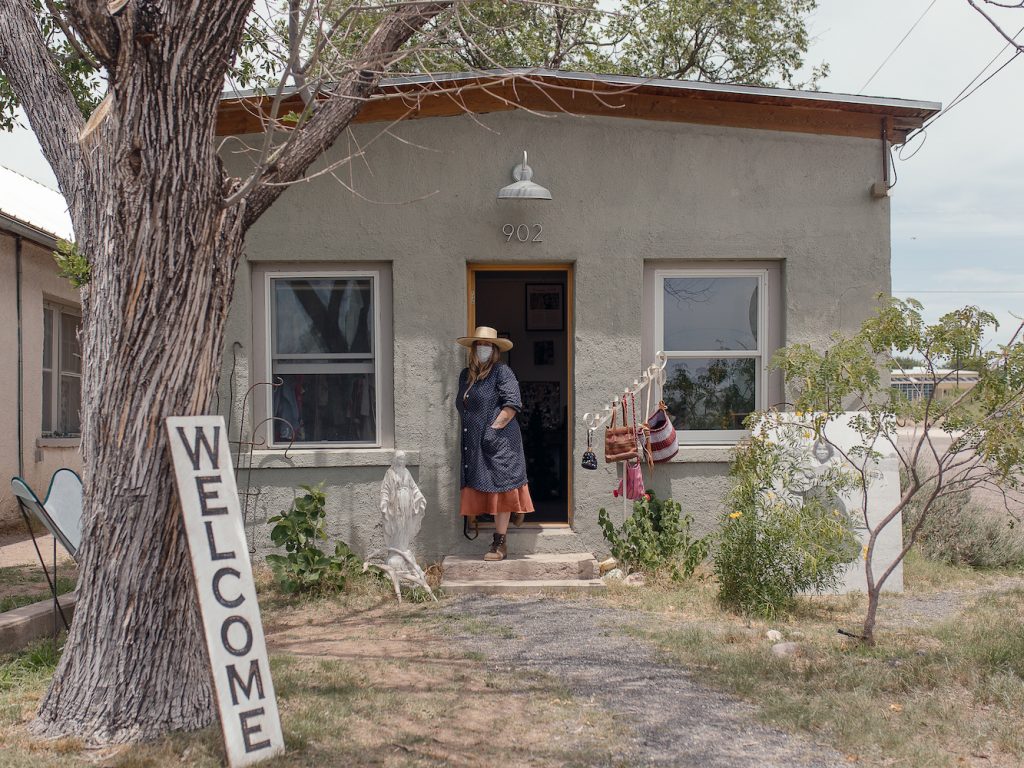 2. Could you explain how Living in a Time of Distancewas similar or different compared to photographs that you have previously taken or projects that you have previously worked on?
Living in a Time of Distance is very different from my larger body of my work. My work is usually focused on portraiture. Captivated by nostalgia, my work deals with memories and time to shape a conversation between the human form and how it's perceived. This usually involves set up scenes where I am able to direct the subject and scene freely. This project was my first time fully immersing self in in the documentary style of photography. However, while the subject matter is different, I find the melancholy mood of the exhibition parallels photographs that I have previously taken.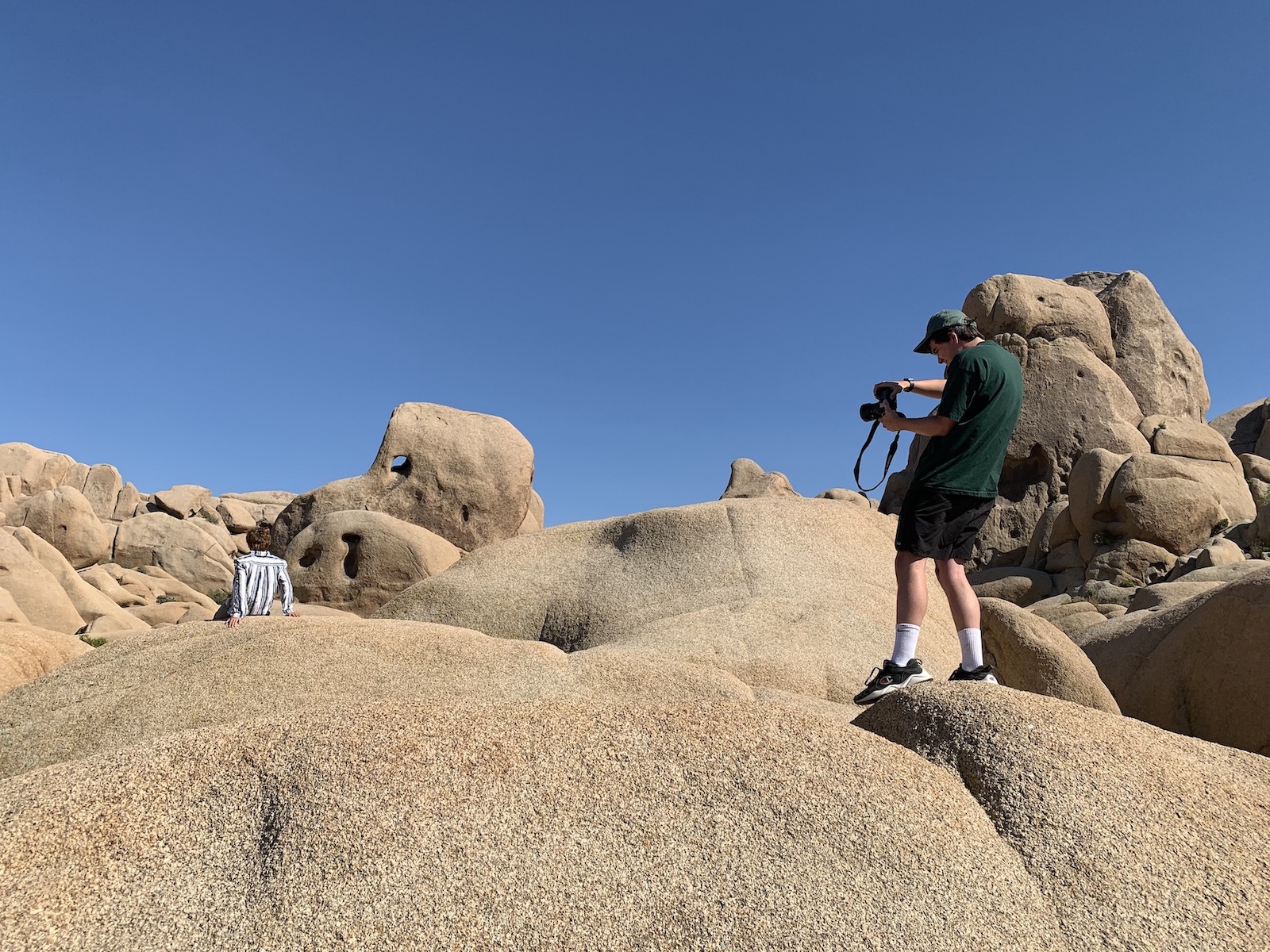 3. Tell us a little bit about your trip and all of the locations (Washington D.C.; New Orleans, LA; Marfa, TX; Taos, NM; Las Vegas, NV; San Francisco, CA; Portland, OR; etc.) you stopped? Was there a reason you chose to stop in certain regions or cities?
When deciding on locations to stop at along the trip I wanted to sure I included small towns, communities, and large cities in various regions across the United States to capture the diverse array of experiences with pandemic. Specifically, I chose to go to cities where COVID-19 had a particularly heavy impact. I spent a lot of time in New Mexico hoping to photograph indigenous accounts of the pandemic. However, I was unable to have direct contact with any of those individuals because of the severity of the pandemic on the Navajo Nation.
4. Please, describe any challenges you had while completing Living in a Time of Distance?
The biggest challenge was being careful and taking as many COVID-19 precautions as possible. This included countless bottles of hand sanitizer, wearing a mask at all times, and maintaining strict social distancing guidelines. This was particularly difficult in regions where individuals were hostile towards mask wearing.
Also, since experiences with the pandemic are so diverse, I found myself constantly struggling to capture varying subject matter even when the conditions are not ideal. This led me to often shooting in less-than-ideal lighting.
5. Among the photographs in the exhibition, which one is your favorite? Why?
My favorite would have to be Colliding Crises: Portland. The spotlight on the speaker in the image creates a feeling of being frozen in time, bringing me back to the experience of listening to and learning from the Black Lives Matter activists outside the Portland Justice Center. It serves as a personal reminder to support the black community in any way I can and to be the best ally I can in the fight against systematic racism.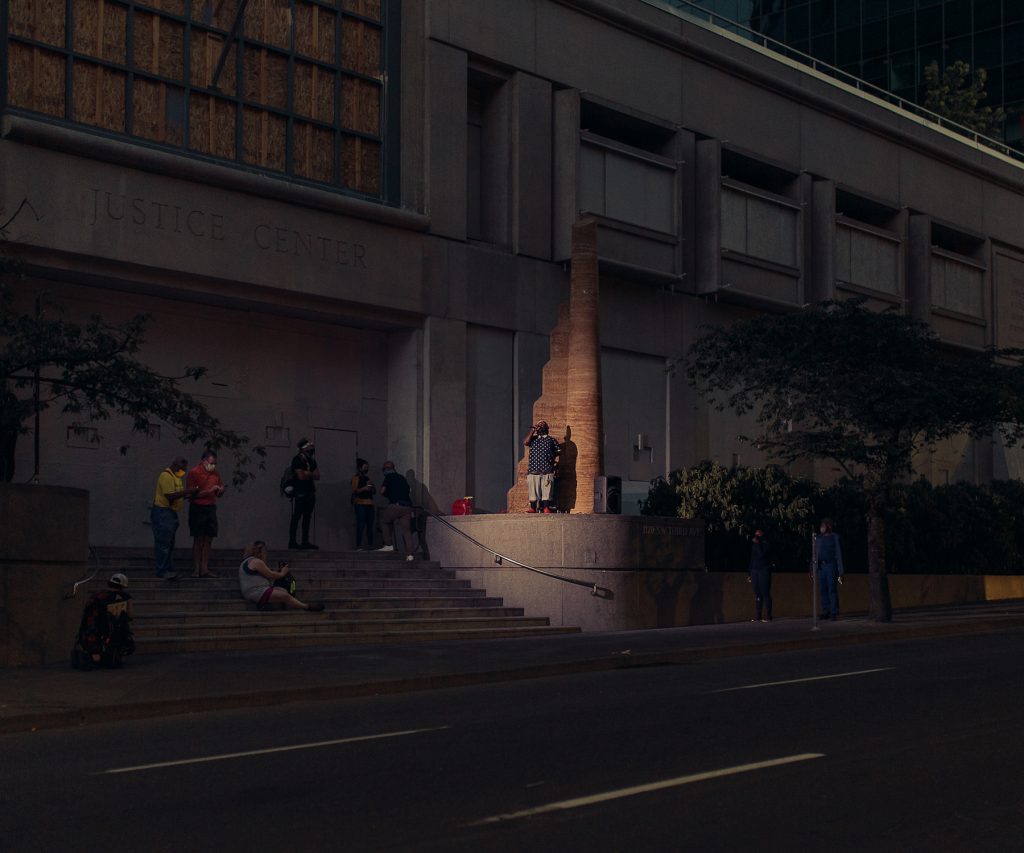 6. Can you describe when and why you first became interested in photography?
I started taking photos on my phone around the age 14 because I liked using photoshoot to create silly imagery. Thinking about it makes me cringe a bit. Little did I know it would spark my passion for image-making and lead to something much greater.
7. What kind of gear did you use for this project?
I wouldn't consider myself a technical photographer. But I did keep my gear light for this project because I was traveling from place to place so quickly. I used my Canon 6D, my 35mm 1.4 lens, and my laptop. My 50mm 1.4 also occasionally made an appearance.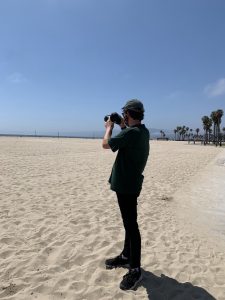 8. Which is your favorite lens? Why?
I love my 35mm 1.4 lens because it allows me to create portraits that are able to incorporate my subject with the environment. It helps me form a narrative between the different elements in an image. Nevertheless, I also enjoy my 24mm 1.4 lens, because I can create some funky distortions when shooting portraits.
9. What kind of tools do you use for post processing? Could you explain your work flow?
I use Photoshop and Lightroom! First, I spend a while deciding which image, I will edit. Then, I begin to clean up the image, removing any unwanted elements. Then, I move into actually editing the tones and colors of an image to create an intended mood. I have a similar coloring style I apply to all my images, but I will usually play around with a few different variations before I decide on a final image. I keep a pretty muted pallet in my images.
10. Which photographers influenced you, and how did they influence your thinking, photography, and career path?
Tim Walker and Gregory Crewdson are some of biggest influences. Tim Walker's work taught me that photography doesn't have limits and that it's okay to be absurd. Gregory Crewdson's work is showcases of the importance of storytelling. While my style varies greatly from his tableaus, I find his work to serve as a conceptual reminder of the importance of pose, lighting, and setting in creating a captivating story in image-making.
11. What are your plans following graduation from James Madison University in 2022?
I wish I had a more specific answer for you! I am hoping to continue on with my photography in New York after I graduate whether that be through an agency or graduate school. I plan to pursue opportunities in the intersections of the fields I am currently studying, political science and art.